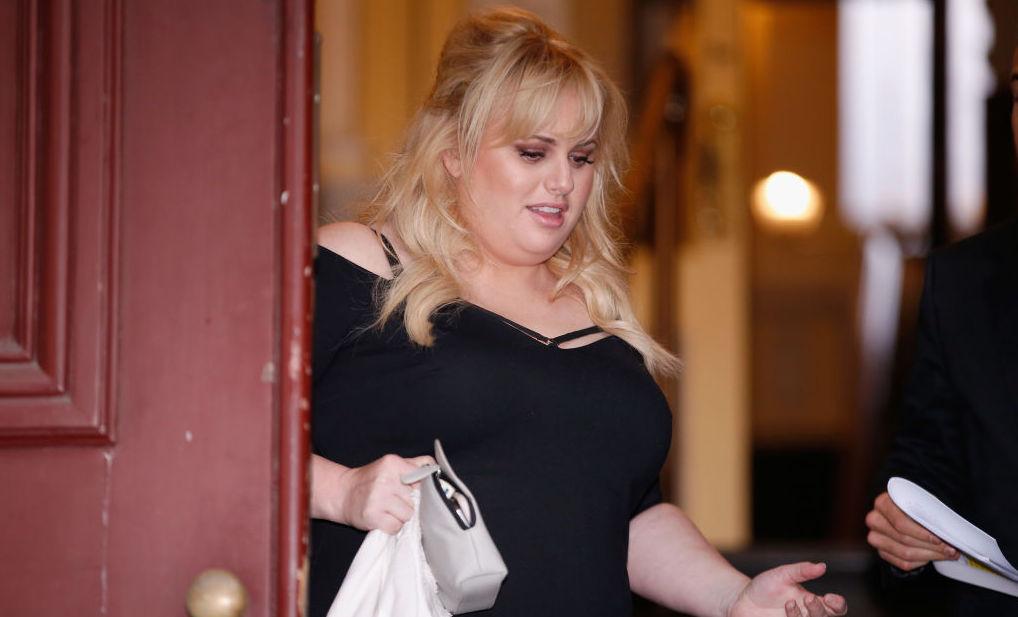 Twitter Is Invoking Plus-Sized Legends of the Past to Drag Rebel Wilson
On Halloween, Rebel Wilson posted a trailer of her upcoming film Isn't It Romantic as a "treat" for her social media fans. The clip opens with a scene of a chubby girl watching TV, whose mother walks into the room urging her not to daydream about on-screen fairy tales because "girls like us don't get that."
Article continues below advertisement
Flash forward 25 years and the protagonist is going through the motions of balancing the struggles of dating and work when she is suddenly pick-pocketed and rendered unconscious in a New York City subway station. When she wakes up from hitting her head, she finds everything around her looks like it's been manipulated with "a beauty filter," and the audience is invited to watch as Rebel's character's world becomes the romantic comedy she wished for as a child.
When Rebel went on Ellen to discuss her upcoming project, in which she stars alongside Liam Hemsworth and Priyanka Chopra, she was quickly dragged by the internet for a thoughtless comment she made. Chuffed about her newest film, she told the daytime host, "I'm proud to be the first-ever plus-sized girl to be the star of a romantic comedy" and social media lurkers and celebrities alike urged the actress to walk it back immediately.
Article continues below advertisement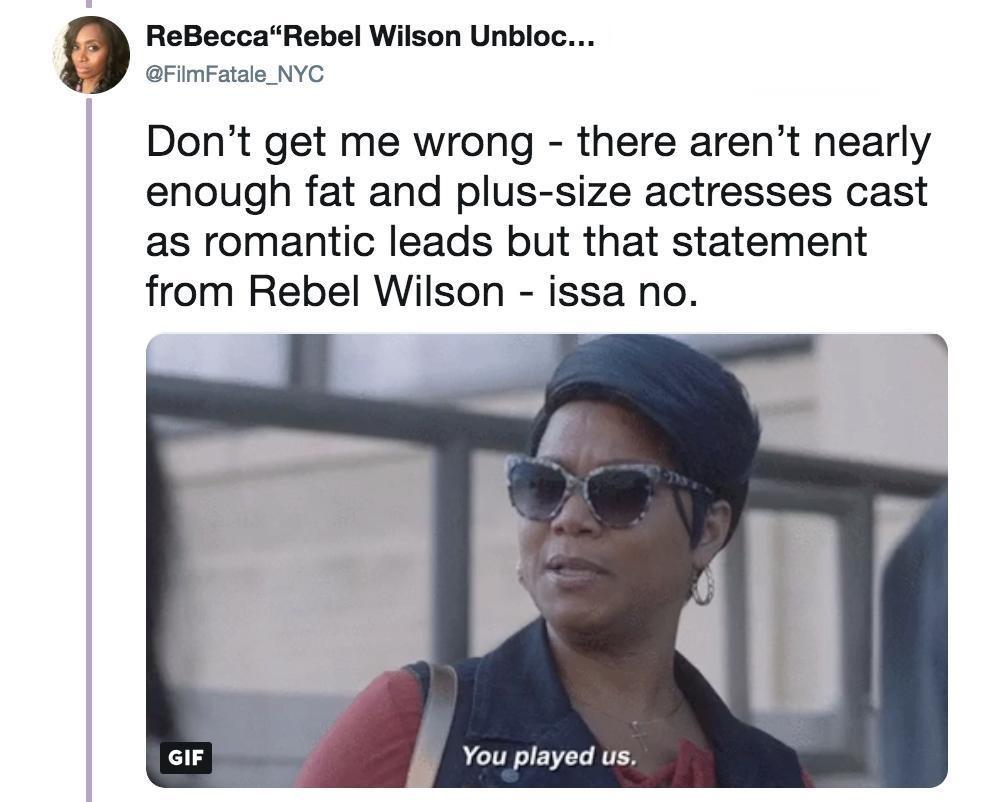 Twitter user @halfinapintdoll made the rounds on social media for her comment to Rebel's claim, in which she tweeted, "I love @RebelWilson as much as the next girl, but she isn't the first plus-sized woman to play the lead in a romantic comedy. Queen Latifah and Mo'Nique have both played romcom leads."
Article continues below advertisement
Like, hello! It's 2018 and Rebel should acknowledge the actresses who paved the way for her — not doing so is a blatant form of feminine and POC erasure. Thinking she's the first of her kind is arrogant, ignorant, and slightly reminiscent of the way Kylie Jenner was championed as self-made a few months ago, but I digress.
To give Rebel the benefit of the doubt, let's imagine she misspoke in a moment of excitement. After all, this movie is a big step for her and for Hollywood alike. But it's the response she sent to @halfinapintdoll that sent the whole internet into a cringe spiral.
She tweeted, "Hey girl! Yeah I of course know of these movies but it was questionable as to whether: 1. Technically those actresses were plus size when filming those movies or 2. Technically those films are catorgorized [sic]/billed as a studio rom-com with a sole lead. So there's a slight grey area." Then Rebel continued, "I fully take all the comments onboard though so thank you <3."
Ooh boy. Anyone else think that "hey girl" opener was a bit too familiar?
Article continues below advertisement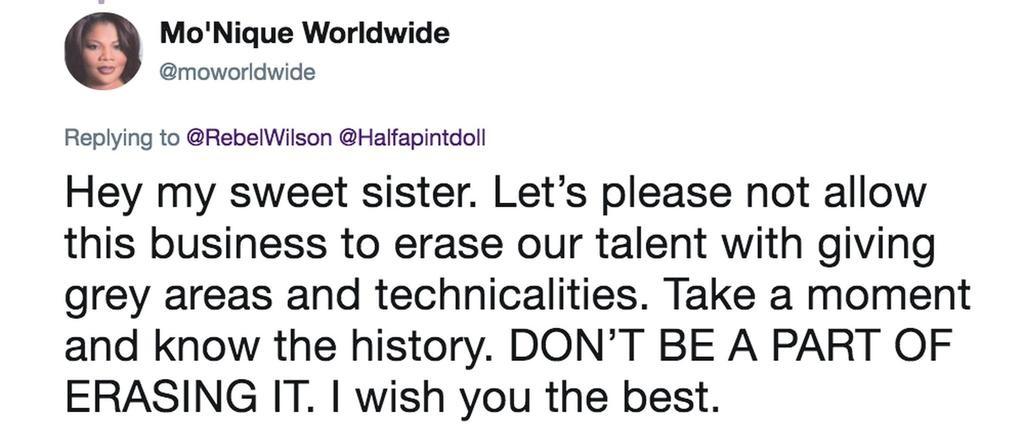 Mo'Nique chimed into the conversation herself, urging Rebel to, essentially, get woke. "Hey my sweet sister. Let's please not allow this business to erase our talent with giving grey areas and technicalities. Take a moment and know the history. DON'T BE A PART OF ERASING IT. I wish you the best," she tweeted.
Article continues below advertisement
And Rebel, 38 and a bit too thin-skinned for the entertainment industry, did what no celebrity should do after this kind of blunder: shoot out more reactive tweets and go about blocking people left and right on the platform.
To Mo'Nique, she responded (misspelling her name, likely not even bothered enough to copy-paste it), "Hi Monique, it was never my intention to erase anyone else's achievements and I adore you and Queen Latifah so so much x I support all plus size ladies and everything positive we are doing together."
The other non-famous and often black critics who called her out on her statement didn't receive as thoughtful a response as Mo'Nique did. In most cases, they were outright blocked.
Article continues below advertisement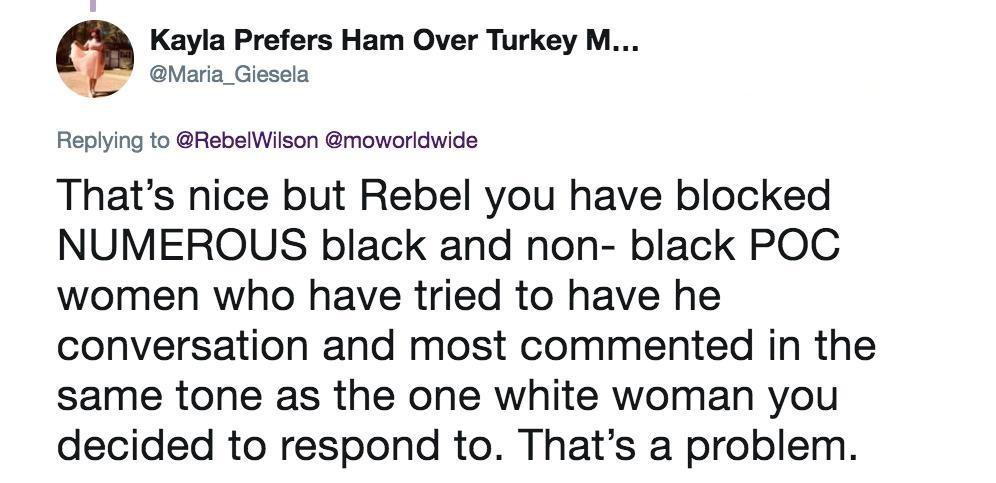 And that "grey area" she alludes to in her first attempt to justify her comment on Ellen? People were absolutely not here for it.
"I'd also like to know what you mean by 'gray area' on whether these movies w/ Black female leads can be truly categorized as rom-coms because I don't think you understand how that sounds. What about you and your rom-com would be different (I reckon nothing, but I digress?)," wrote one person on Twitter. "Oh My God! These mother*#&$)@s done invented a time machine, went back in history and killed Mo'Nique, Loretta Devine, Queen Latifah, Jennifer Hudson an Errrbody!," added another.
Article continues below advertisement
Once Rebel Wilson became sufficiently fed up with the heat she was getting on Twitter, she decided to issue a — mmm, I'd call it a 7/10 — apology.
In a couple of well-intentioned moments, hoping to lift my fellow plus sized women up, I neglected to show the proper respect to those who climbed this mountain before me like Mo'Nique, Queen Latifah, Melissa McCarthy, Ricki Lake and likely many others. With the help of some very compassionate and well-thought out responses from others on social media, I now realize what I said was not only wrong but also incredibly hurtful. To be part of a problem I was hoping I was helping makes it that much more embarrassing & hard to acknowledge. I blocked people on Twitter because I was hurting from the criticism, but those are the people I actually need to hear from more, not less. Again, I am deeply sorry.
Schooling privileged celebrities can be exhausting, as Twitter knows all too well. Here's hoping her blunder doesn't cause Isn't It Romantic? to flop before it comes out on Valentine's Day next year.