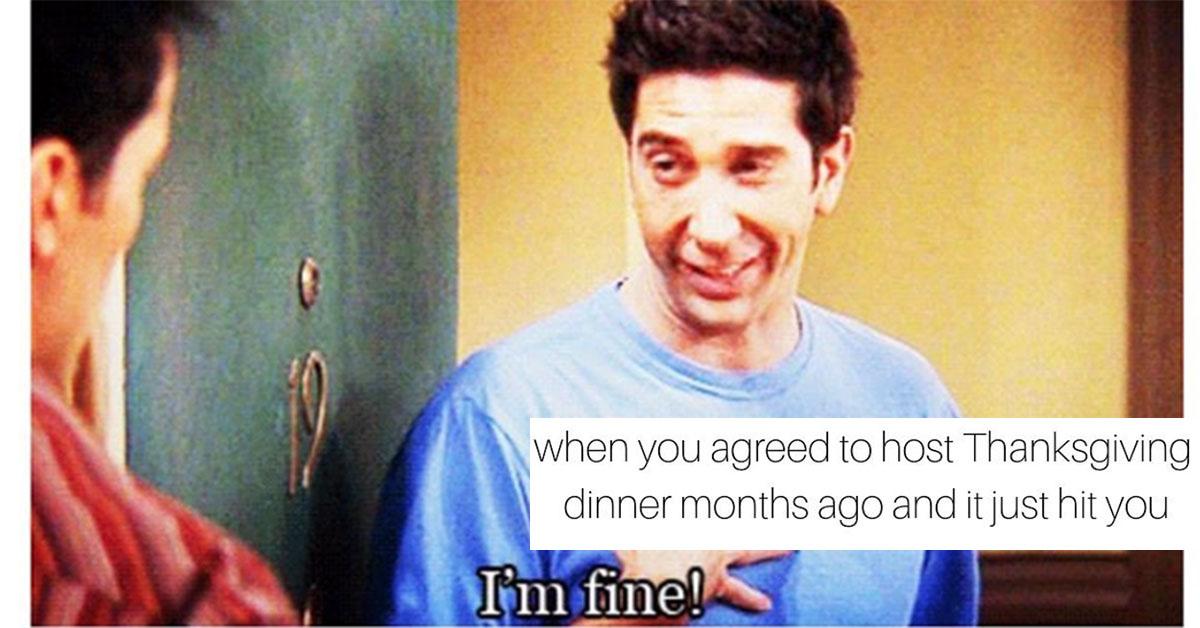 23 Hilarious Thanksgiving Memes Everyone Can Relate To
By Anna Quintana

Updated
It's a new year, so that means all new Thanksgiving memes to celebrate the best holiday of the year (don't @ me). Sure, you might not get along with your family, but there is turkey, stuffing, and more pie than you can dream of, which will make any uncomfortable dinner table conversation totally worth it. At the very least, your mouth will be full of cranberry sauce when you're asked why you are single for the third year in a row.
Plus, if you are really in a tight spot, there are plenty of Thanksgiving jokes to lighten the mood. This Turkey Day, celebrate the right way, with a few memes to share on social media that perfectly capture the essence of Thanksgiving — before Black Friday comes along and steals the spotlight.
1. Thanksgiving clapback.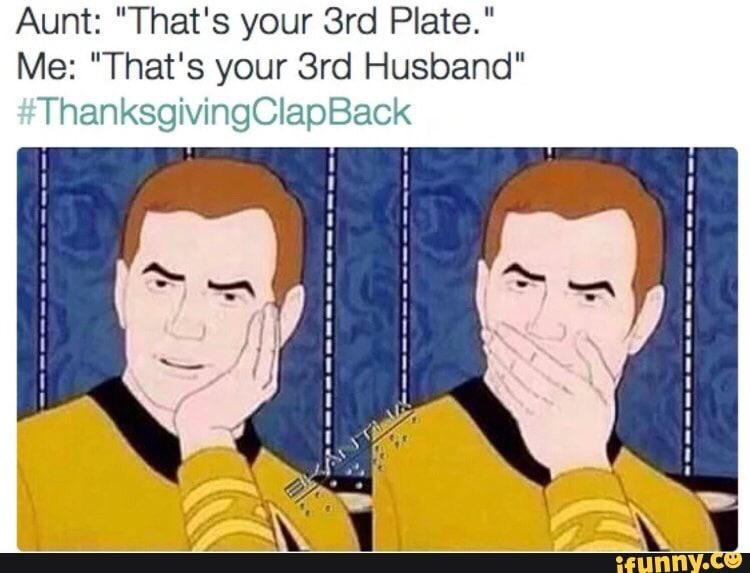 Oh, the Thanksgiving clapback meme is back — and still providing the LOLs. We don't recommend using any of these IRL, but they are definitely a highlight of the holiday.
2. Microwave turkey?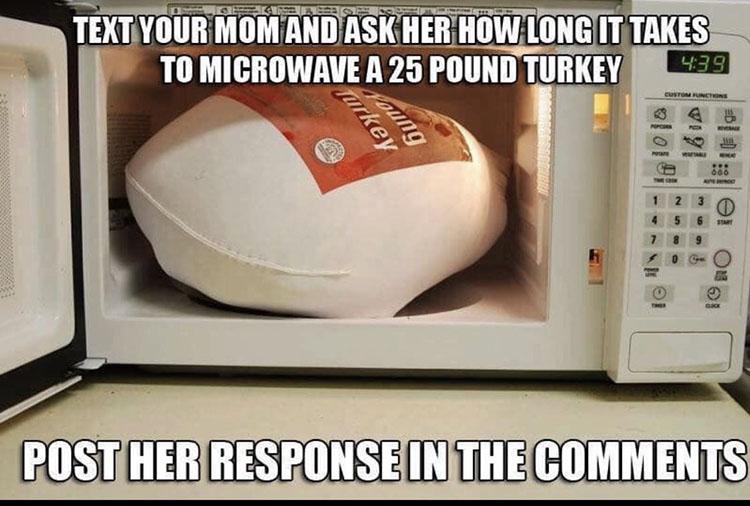 Want to scare your mom? Follow the instructions on this meme and share the results on your social media. You might even go viral.
3. Insert fake smile.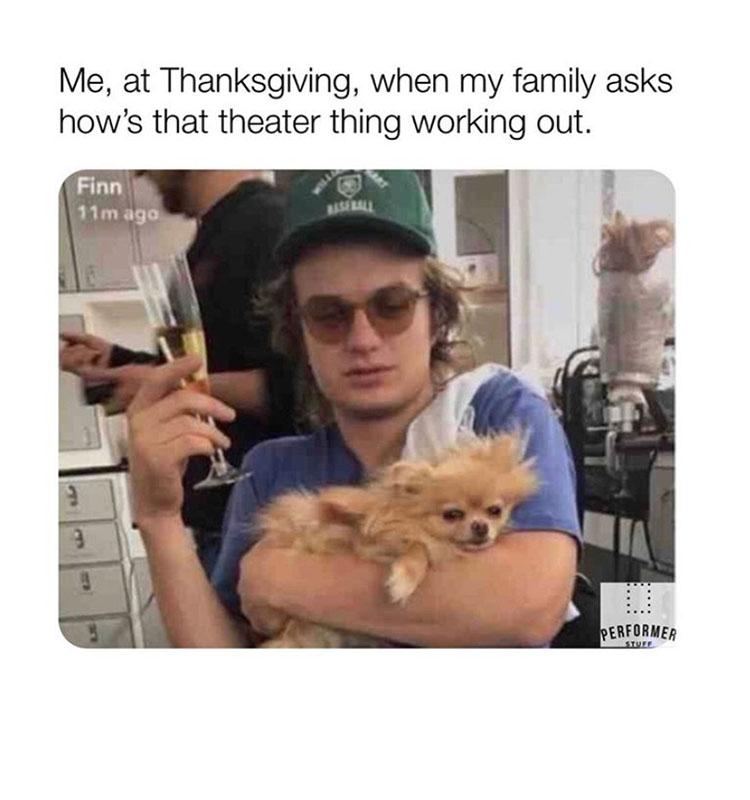 If you're not a doctor, lawyer, or accountant, you can relate to this meme.
4. Cousins are the best.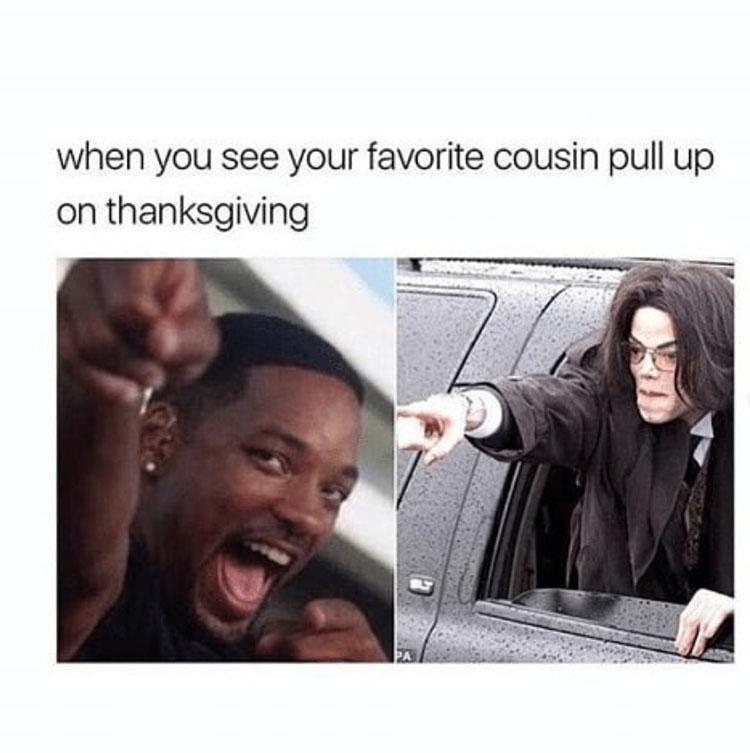 We all have that one cousin.
6. "Don't ask me that again."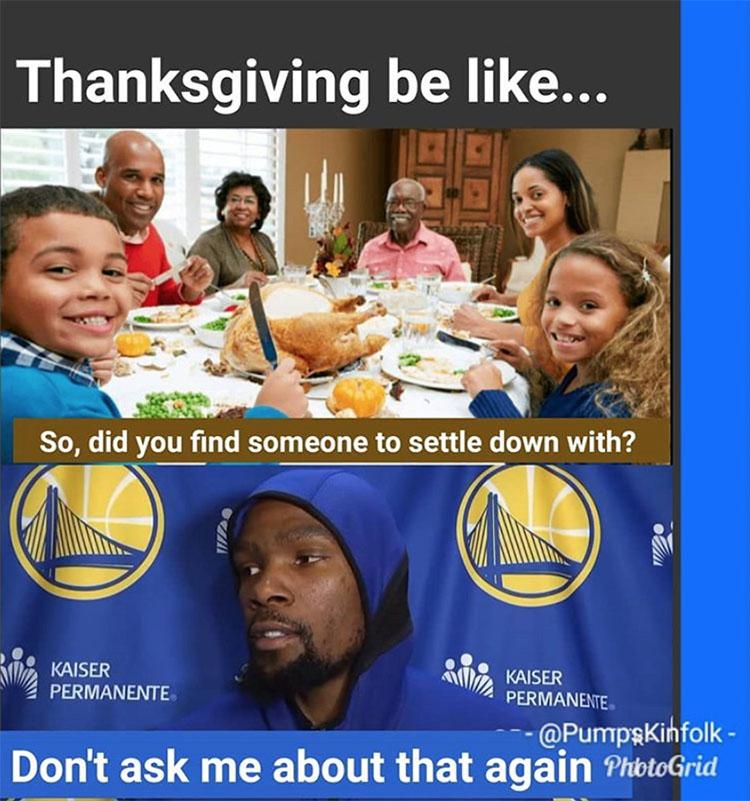 This year, channel your inner Kevin Durant if a family member gets too personal.
7. Sugar daddies not allowed.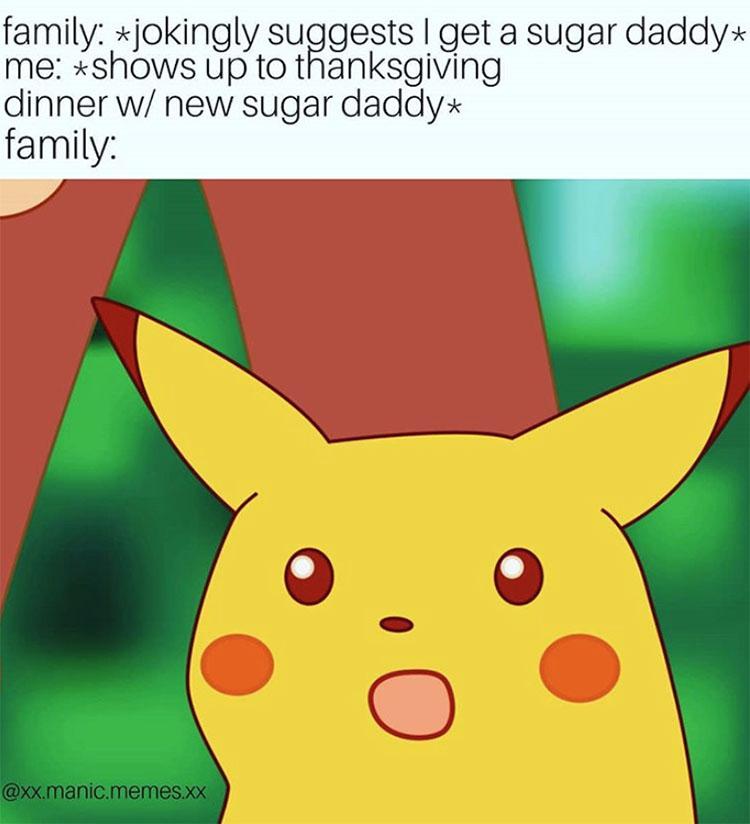 Or you can bring home a sugar daddy, and solve that "did you find someone?" problem.
8. That's it.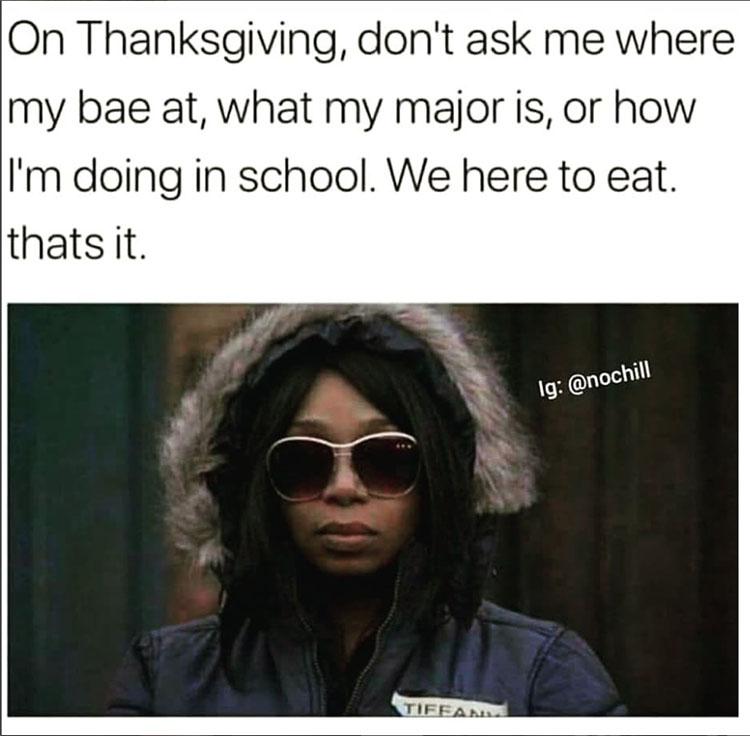 Pass the sweet potato casserole, Aunt Karen.
9. Is it Thanksgiving yet?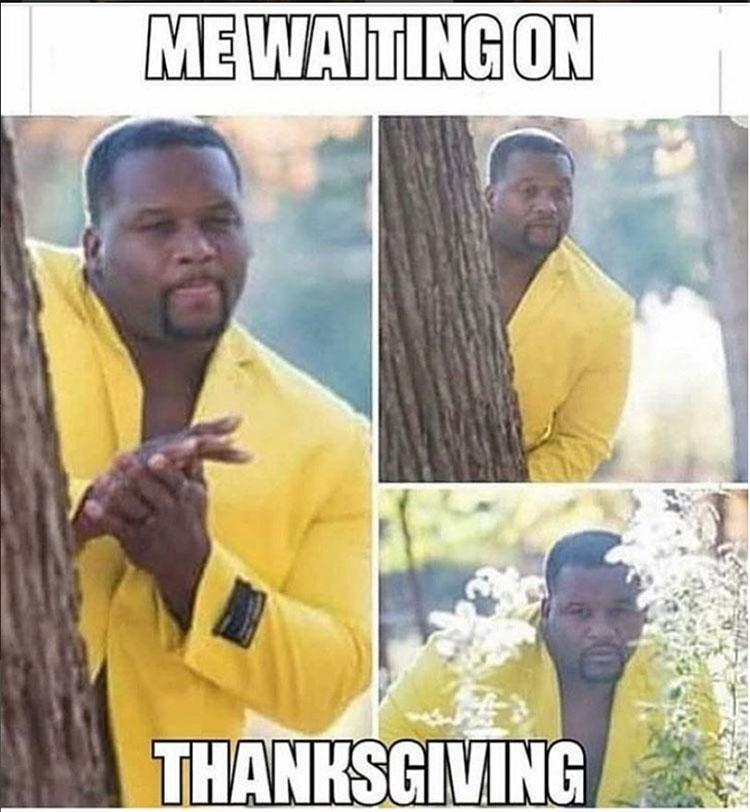 We are counting down the days until Turkey Day.
10. Evil Kermit wins.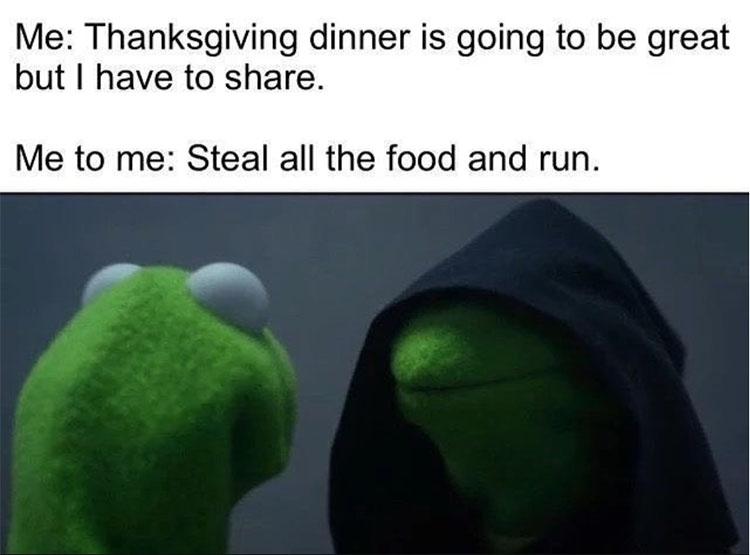 This Thanksgiving, it's OK to be a little bit selfish with the leftovers.
11. Listen to Drake, literally.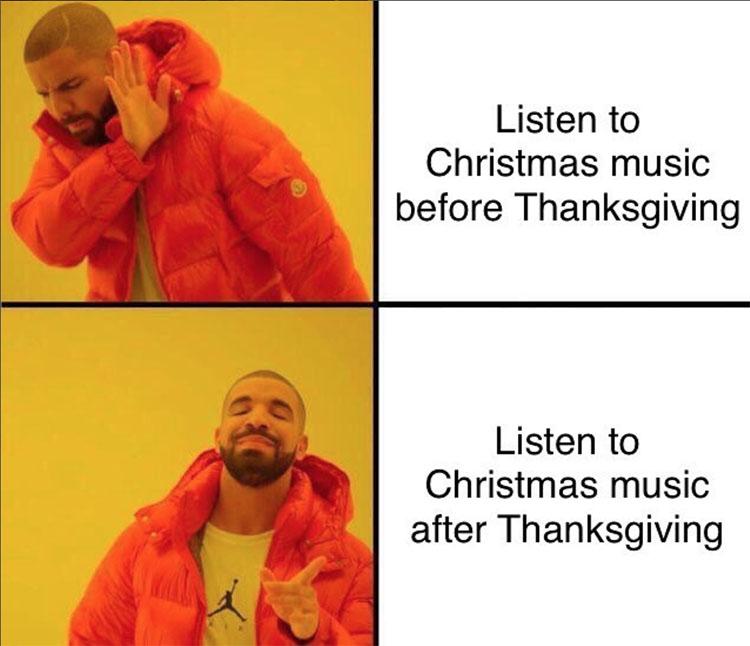 There will be absolutely no Christmas music allowed at my Thanksgiving table.
12. Poor Stephanie.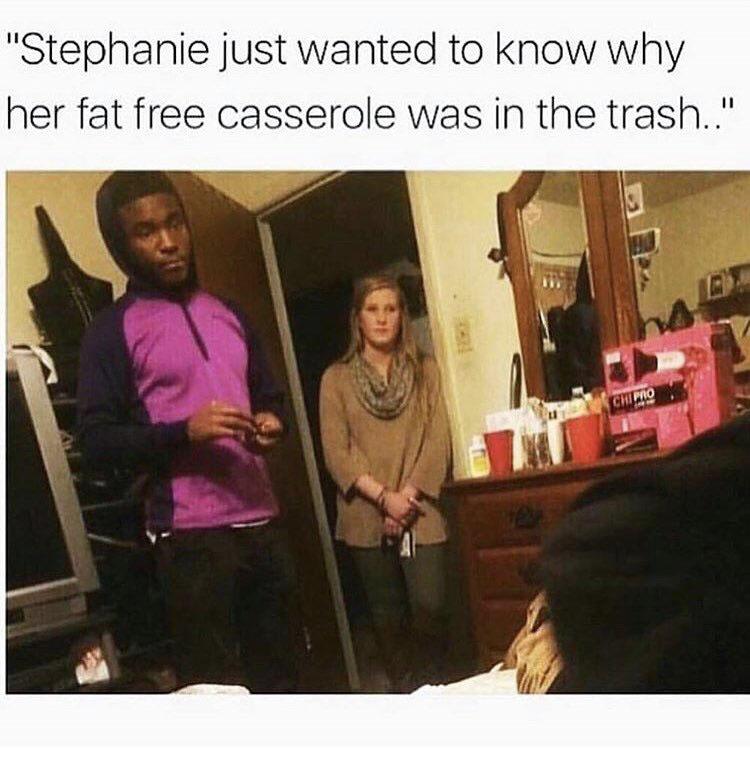 Fat-free is not a recognized Thanksgiving term.
13. A friendly reminder.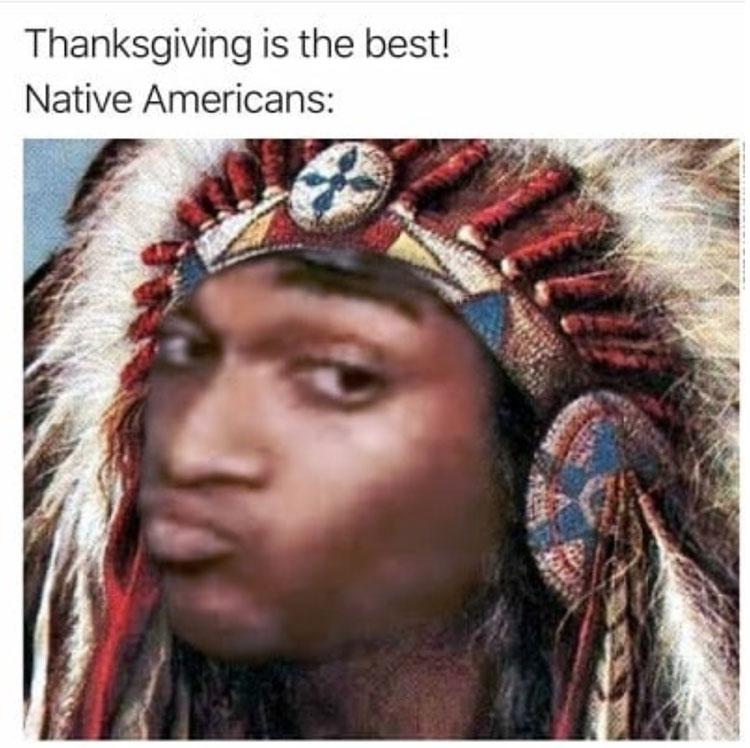 The Pilgrims and Native Americans weren't really "friends."
14. It wasn't me.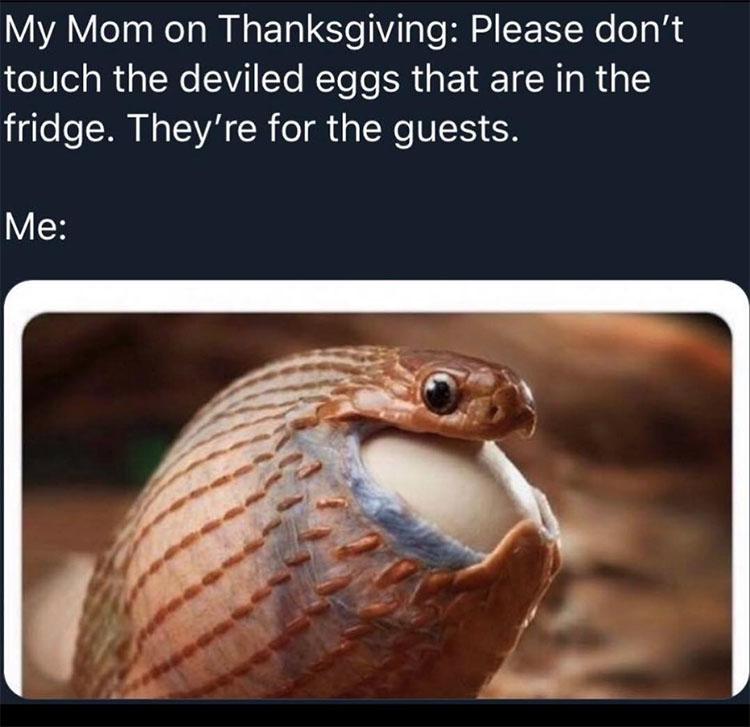 On Thanksgiving, all the food is up for grabs. Sorry, mom.
15. "I'm fine!"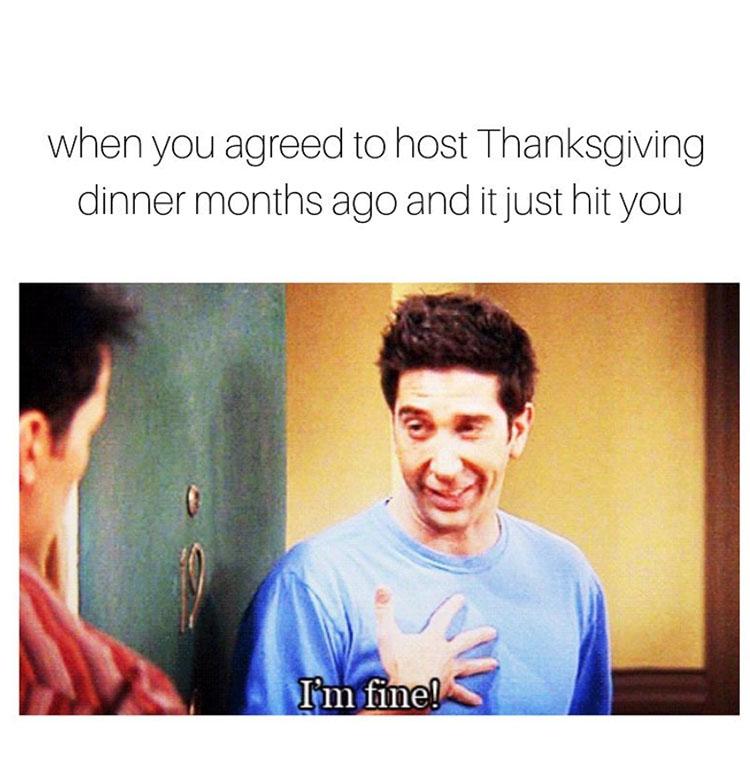 Hosting Thanksgiving is not as easy (or as fun) as it sounds.
16. Not all cousins are created equal.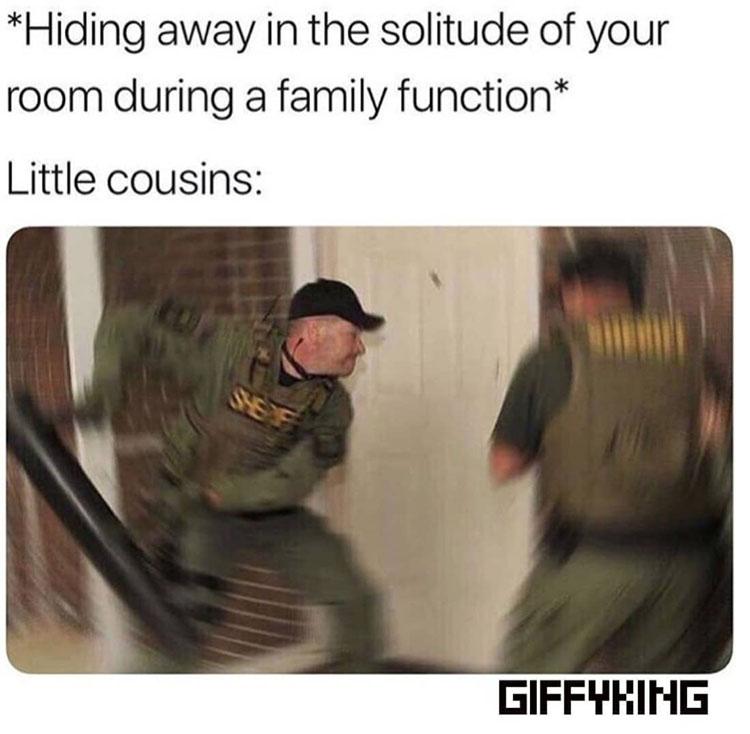 There is a reason there's a children's table at Thanksgiving.
17. Who's ready?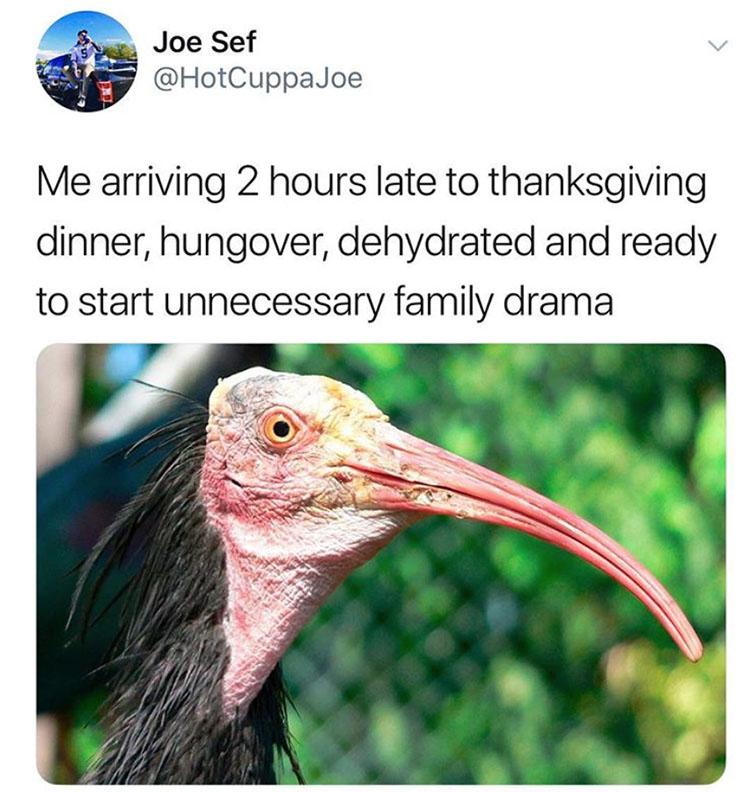 Just make sure you're not too hungover to enjoy the food — or the drama.
18. Turk the carvey!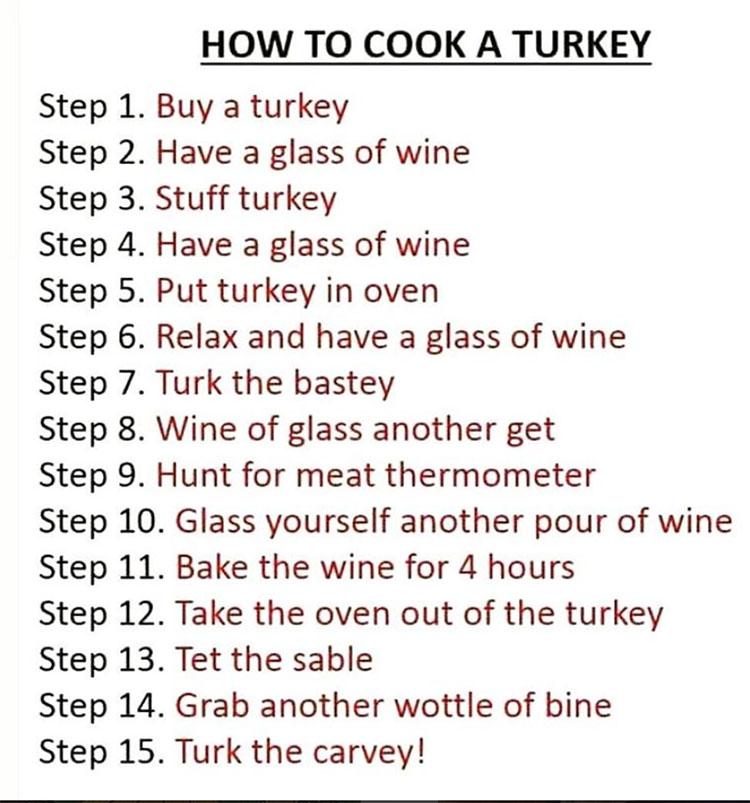 We're really good at step No. 6.
19. What's an early dinner?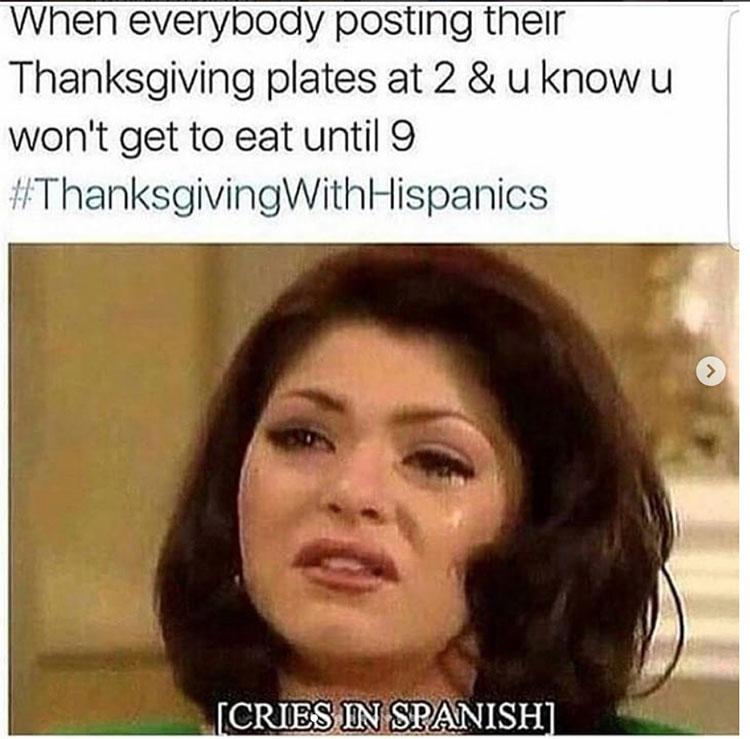 Eating dinner before 9 p.m. is a crime in all Hispanic households.
20. Turkey < everything.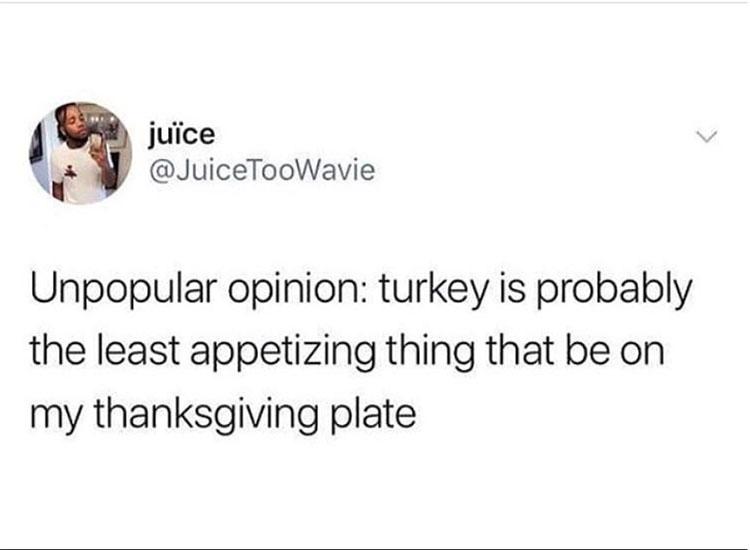 I want a side of turkey with my mac and cheese, stuffing, and corn bread.
21. Say, what?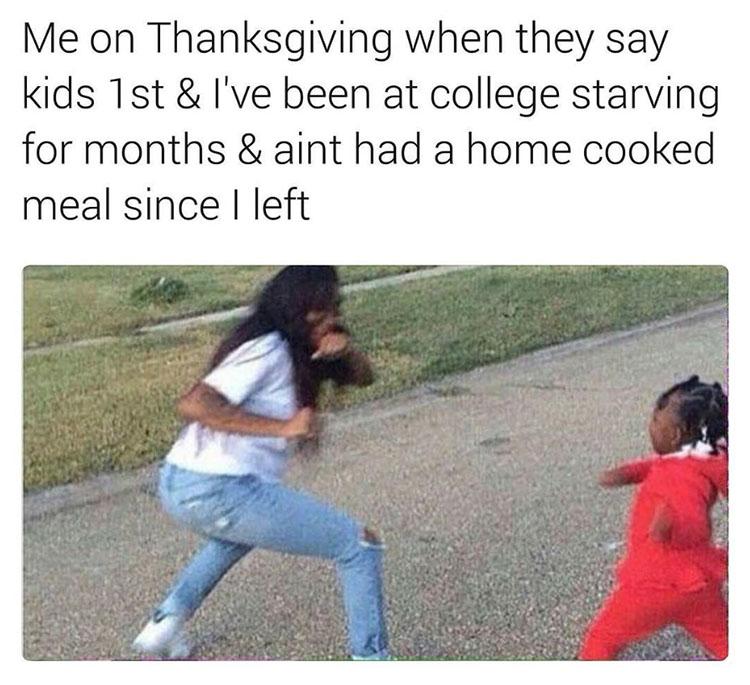 Everyone needs to move out of the way.
22. Boo.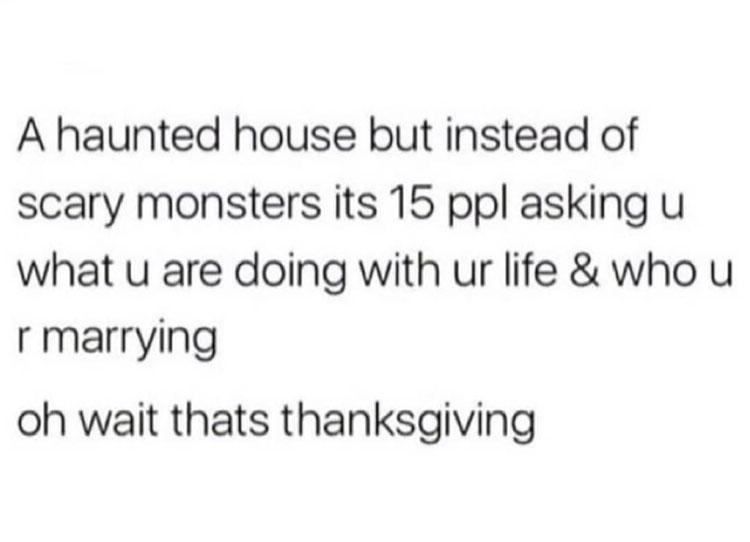 And you thought Halloween was over.
23. And the official Thanksgiving anthem.
Thank you Pastor Shirley Caesar and DJ Suede the Remix God.
Happy Thanksgiving everyone!