NBA Legends Kevin Durant and Charles Barkley Really Don't Like Each Other
Most know that Kevin Durant and Charles Barkley aren't too fond of each other, but for those who don't, here's everything to know about their feud.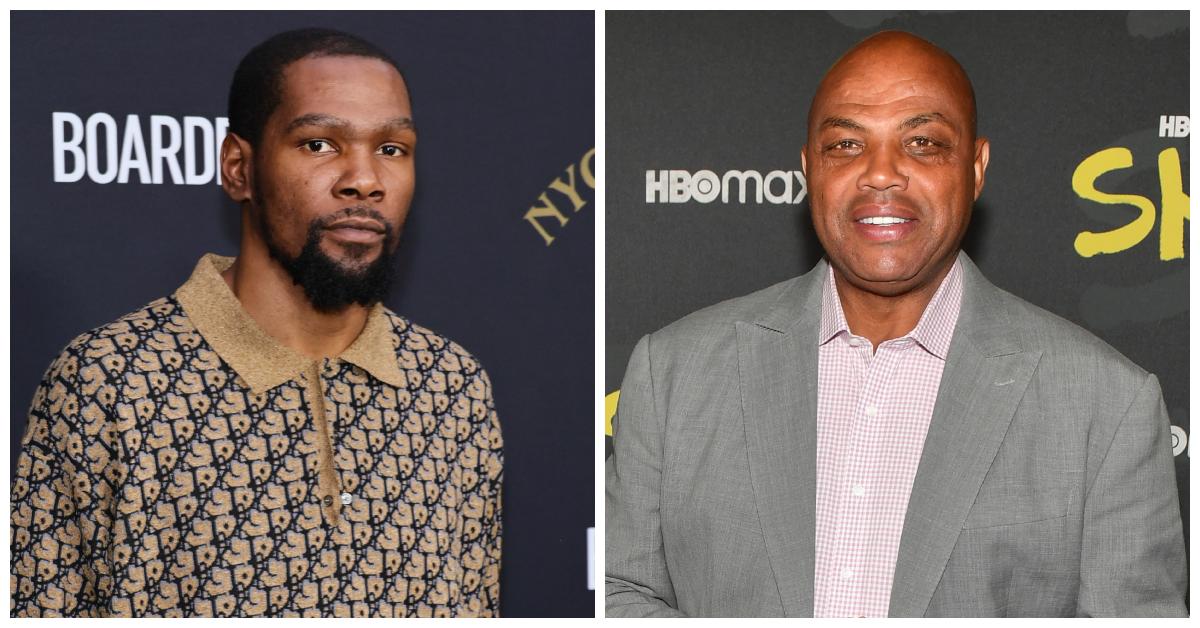 With the 2022-23 NBA regular season coming to an end, the feuds are getting stronger and more vicious than ever. One of the most prominent feuds is that of Kevin Durant and Charles Barkley — the Hall of Famer and current NBA analyst has exchanged harsh words with the Phoenix Suns forward on numerous occasions, and things are ramping back up.
Article continues below advertisement
On that note, stick around as we break down Kevin Durant and Charles Barkley's never-ending feud.
Article continues below advertisement
When did Kevin Durant and Charles Barkley's feud start?
For those wondering, Chuck and KD began feuding during the 2022 NBA playoffs when the Boston Celtics swept Durant's then-team, the Brooklyn Nets, in the first round. The 60-year-old analyst commented on the 13-time NBA All-Star's performance on an Arizona radio station, claiming he's more of a "bus rider" than a "bus driver."
This implied that Durant piggybacked his way to two NBA titles behind Steph Curry, Klay Thompson, and Draymond Green while with the Golden State Warriors. Chuck added that despite everyone giving him "everything on a silver platter," Durant will never be happy (hence the nickname, Mr. Miserable).
Article continues below advertisement
In response, the current NBA superstar took to Instagram and shared old photos of Chuck and his teammates during his playing days, writing, "Where would Chuck be without the homies."
Article continues below advertisement
After that clap back, things settled down between the two ... until KD threw some insults at Chuck on his podcast, The ETCs. He said Chuck has been "disrespecting my game as part of the storyline. But, of their past interactions, KD said, "I wouldn't call it beef, he's just mad opinionated, and he feels like it's his job to be mad opinionated in a negative way about players."
KD concluded his complaints of Chuck by stating, "You're a legend in the game, and we respect you for what you've done, but when you try to tear people apart for what they did different ways and basically bully people because you're in the media, it's disappointing. But it is what it is, it's a part of the storyline."
Article continues below advertisement
Less than two weeks later, Chuck fired back and called Durant "sensitive" on 60 Minutes. He told Jon Wertheim, "[KD]'s very sensitive. Great player. He's part of that generation who think he can't be criticized. He's never looked in the mirror and said, 'Man, was that a fair criticism?'"
Article continues below advertisement
As expected, Durant quickly responded on Twitter: "This ain't gettin' tiring Chuck?" he asked. "I'll never respect the words that come out ya mouth fam, just deal with it." Now, he's not the only one to call out the 11-time NBA All-Star — in fact, Kendrick Perkins and Stephen A. Smith also weighed in on the situation.
Kendrick Perkins and Stephen A. Smith are #TeamDurant.
On March 31, Kendrick Perkins slammed Chuck for criticizing KD's decision to go to the Warriors and team up with the likes of Steph Curry to win two championships: "Only people that try to degrade someone's championship is a person that never won a championship because they don't know the journey and how it feels," he said on ESPN.
Article continues below advertisement
"I'm talking about former players who try to knock another player that won a championship, and they haven't accomplished a thing," he added. "Like Charles Barkley, who has been going at Kevin Durant; you don't know how it feels to win a championship because you haven't done it, and you tried to go to the Houston Rockets your damn self and team up with Hakeem Olajuwon."
Article continues below advertisement
Kendrick addressed the situation again on April 3: "I'm starting to believe that it's nothing more or less than jealousy when it comes down to that... I'm standing with KD. Like why am I living rent-free in your head if I'm Kevin Durant to Charles Barkley?"
As for Stephen A. Smith, he revealed on his Know Mercy podcast that he's also standing with KD.
He said Durant could be a top 10 player of all time, adding, "you can't find 10 dudes in the NBA that were 7 feet tall, that could shoot from that range, with those ball-handling skills. He can shoot from anywhere on the basketball court, plus he is reliable from the free throw line, plus he can do his thing defensively."
Article continues below advertisement
"The issue with Kevin Durant is his level of aggression or lack thereof. That's it," he continued. "So when my man, my brother, my friend Charles Barkley goes on the air, and he says Kevin Durant is too sensitive — well, yes. But he has a right to be, especially when you call him a bus rider, as Charles Barkley did."
He noted, "I still think it's kind of wrong to call KD that, basically riding the coattails of Steph Curry and Klay Thompson. They rode him too. It ain't like they didn't want him, or go to Long Island to beg him to come to the Bay Area. You ain't doing that for no bus rider. I'm not disrespecting Kevin Durant that way. I'm not doing it."