The Five Different Looks Challenge Is Huge on Facebook, but Not Everyone Is a Fan
People are uploading photos of themselves with five unique looks as part of the challenge, but some critics think the looks aren't different enough.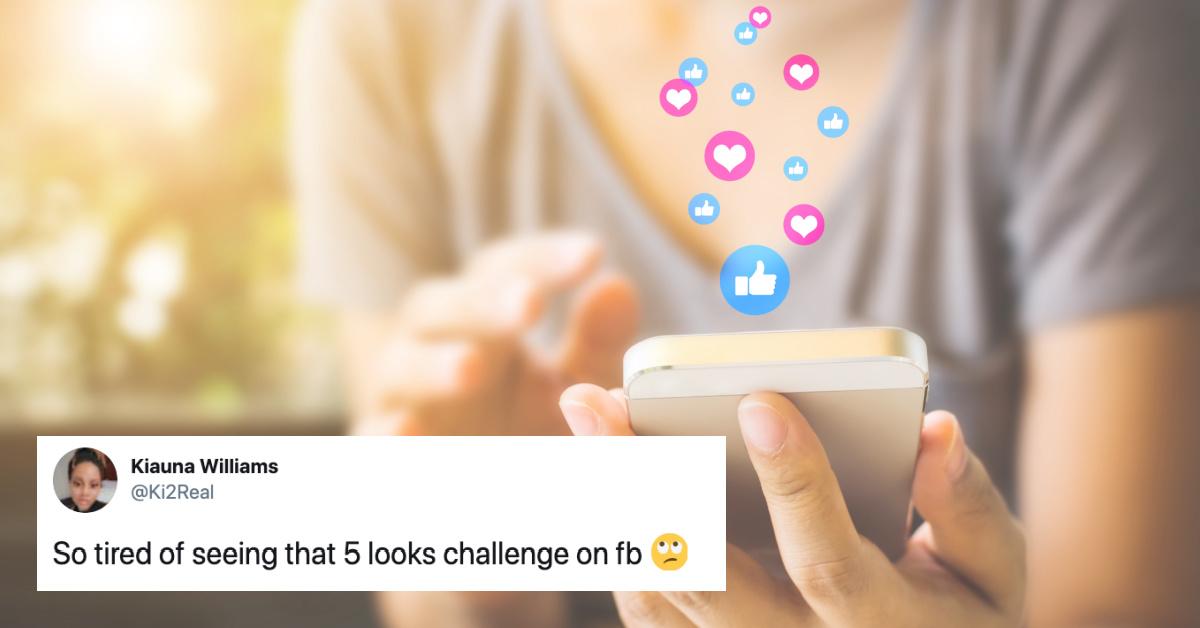 Depending on how long you've been alive and how susceptible you are to joining new trends, chances are you've probably changed up your look a few times throughout your life. Maybe you even like to switch things up from one day to the next to keep things fresh. If so, then you may be interested in the newest viral challenge that is taking over Facebook. It's called the Five Different Looks Challenge (or just the Five Looks Challenge).
Article continues below advertisement
The challenge itself is actually pretty simple, but that hasn't stopped people on the internet from complaining that everyone is doing it incorrectly. Then again, would it really be a viral challenge if there wasn't something to complain about? Anyway, here's a quick primer on the Five Different Looks Challenge.

Article continues below advertisement
The Five Different Looks Challenge is becoming super popular on Facebook.
You can probably guess what the challenge is simply from the name. Basically, you want to show off five different looks in one set of images. The trick is in getting the looks to actually be different enough to keep the naysayers on the internet happy. It's not enough to simply use five different filters or five different pairs of shoes — those differences had better be drastic.
Some people are certainly better suited to this particular challenge than others. If you already have an extensive wardrobe and regularly change up your hair and makeup, you may have already completed the Five Different Looks Challenge without even trying (assuming you also snapped a selfie in each of your looks). In that case, all you have to do is upload your five pictures and use the #5differentlookschallenge hashtag in your caption.
Article continues below advertisement
If you don't already have five wildly different selfies prepared, it's going to take a bit more preparation in order to participate in this challenge. Luckily, it's pretty straightforward — simply dress up in (you guessed it!) five different looks.
Article continues below advertisement
It looks like people have also brought this challenge to TikTok, Instagram, and Twitter, so feel free to upload your collection of photos to your social media platform of choice. Just be prepared to possibly find yourself at the receiving end of some criticism from people on the internet who are taking this challenge way too seriously.
Apparently, some people's five different looks simply aren't different enough to keep the denizens of the internet happy. A quick glance through Twitter reveals that some participants are sharing five pictures in which they look pretty much the same, and that's literally the opposite of what the challenge is!
Article continues below advertisement
"Y'all doing the 5 different looks challenge, but look the same in all 5 looks. That's how I know y'all can't dress," one Twitter critic opined. "[I] have nothing nice to say about this 5 different look challenge," said another. Harsh!
Of course, you can participate in whatever online challenges you want to, however you want to. Upload the exact same picture five times if you feel like it! At the end of the day, the Five Different Looks Challenge is just a fun way to spend some time and flex your dressing-up muscles. Have fun with it!