"They Won't Bother You Again, My Darling" — Adele Defends Fan at Her Vegas Residency
During a recent show for her Vegas residency, Adele stopped in the middle of her performance to defend a fan from a security guard.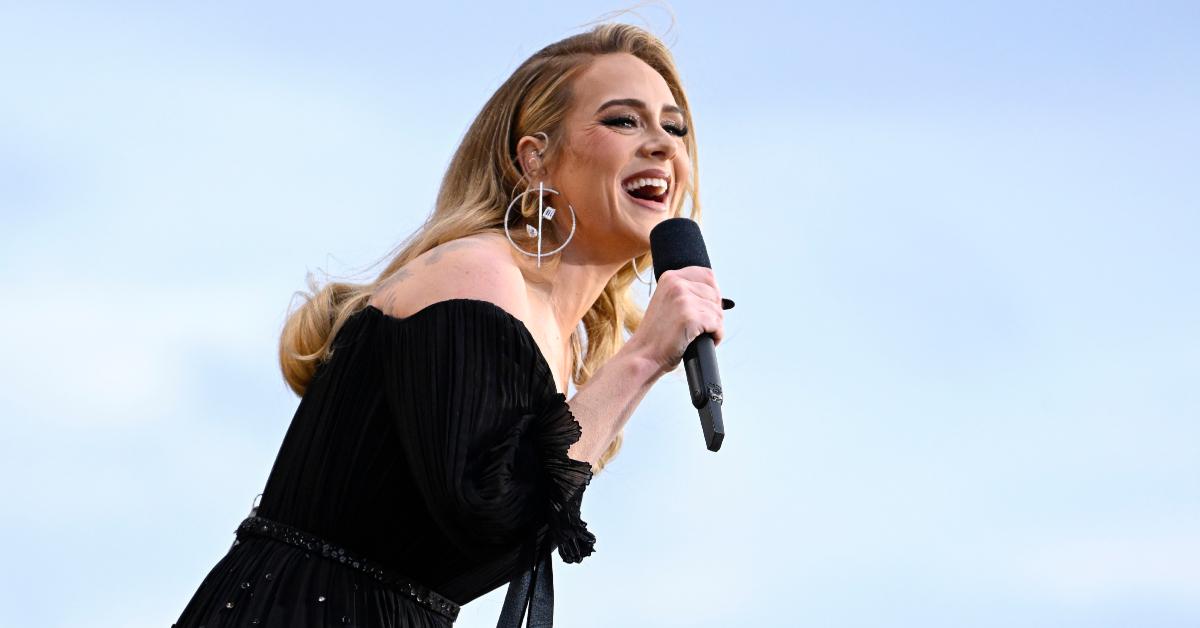 As if we couldn't love Adele more!
During her Las Vegas concert on Saturday, Aug. 26, 2023, the Grammy-winning singer paused the show in the middle of performing "Water Under the Bridge" to defend a young fan against security.
Article continues below advertisement
The incident was captured by multiple people in the audience, including the fan in question, and has since gone viral on social media. With that said, keep scrolling to see how it all went down.
Plus, stick around to hear what the internet had to say about our queen Adele's heroism.
Article continues below advertisement
Adele paused her Vegas concert to defend a fan from a security guard.
On Aug. 27, the fan (@juanp_lastra) uploaded a three-minute video to TikTok that showed what went down during the concert. Adele told the crowd they could finally stand up before kicking off the intro to "Water Under the Bridge," and it's safe to say the young fan was excited to hear the love song.
As the fan stood and sang along, a security guard approached him, not for the first time that night. The tense situation caught Adele's attention, and she stopped the show to talk to those directly involved.
Article continues below advertisement
"What is going on with that young fan there?" the singer asked while pointing into the crowd. "He's been bothered so much since I came on for standing up. What's going on with him?"
Adele then addressed the security guard in question, asking him, "What are you doing? Why are you all bothering him? Can you leave him alone, please?" This garnered a roar of applause and cheers from the audience.
Article continues below advertisement
Speaking directly to the enthusiastic fan, Adele said, "They won't bother you anymore, darling. You enjoy the show." As the crowd continued to cheer the "Skyfall" vocalist on, she repeated her message to security: "Leave him alone."
"Sorry, guys. He's been bothered the whole show by security and other people sitting behind him," Adele explained to the rest of the audience. "He's here to have fun. All of you are here to have fun."
Article continues below advertisement

The video has been viewed more than 1.9 million times, and the fan thanked Adele in his caption: "Adele thank you so much for this breathtaking night and for standing up for me so that I could live your concert as it should be."
Article continues below advertisement
"I still can not wrap my head around the fact that I was in the same room as ADELE, sang every song with her, and she even stopped the show to defend me," the superfan added. "I did not expect everyone in my section to be mad at me for having the time of my life and wanting to stand up and sing with her, but I honestly did not care at all about what anyone was saying to me, I just was in awe with the masterpiece I was watching with my own eyes."

Article continues below advertisement
Many fellow TikTokers flocked to the comment section to share their appreciation for Adele.
"Adele is a legend for this! I love this for you," one person wrote.
Another hilariously said, "WHEN PEOPLE ASK WHO MY FAV SUPERHERO IS, I WILL SAY ADELE!"
"I'm sorry you went through that experience," someone else commented. "I hope you got to dance your heart out! Yes, Mother Adele, standing up for true fans."
"She provides such a safe space for her fans. Love her endlessly," a TikToker shared, and we couldn't agree more.