Airline Gives Away Guy's Pre-Booked Seat Without Refund — but Other Passengers Are Mad at HIM
An airline gives away a passenger's reserved seat that they paid for to a family, so the passenger sparks a debate on proper airline etiquette.
Everyone loves some good airline drama, and Reddit's "Am I the A-------" (AITA) column never disappoints. One of the most frustrating things that can happen in today's day and age often comes down to dealing with travel complications thanks to airlines' strange policies. Sometimes, another passenger or the complainer is the one to blame, but more often than not, it's the airline.
Article continues below advertisement
In this case, an airline gave away a passenger's pre-reserved seat that he had bought in advance … without any refunds. As the passenger held up the line to deal with this mess, he couldn't help but wonder if he was the jerk in this situation. And not only were commenters supportive of OP, but they had their own airline nightmares to add to the pot.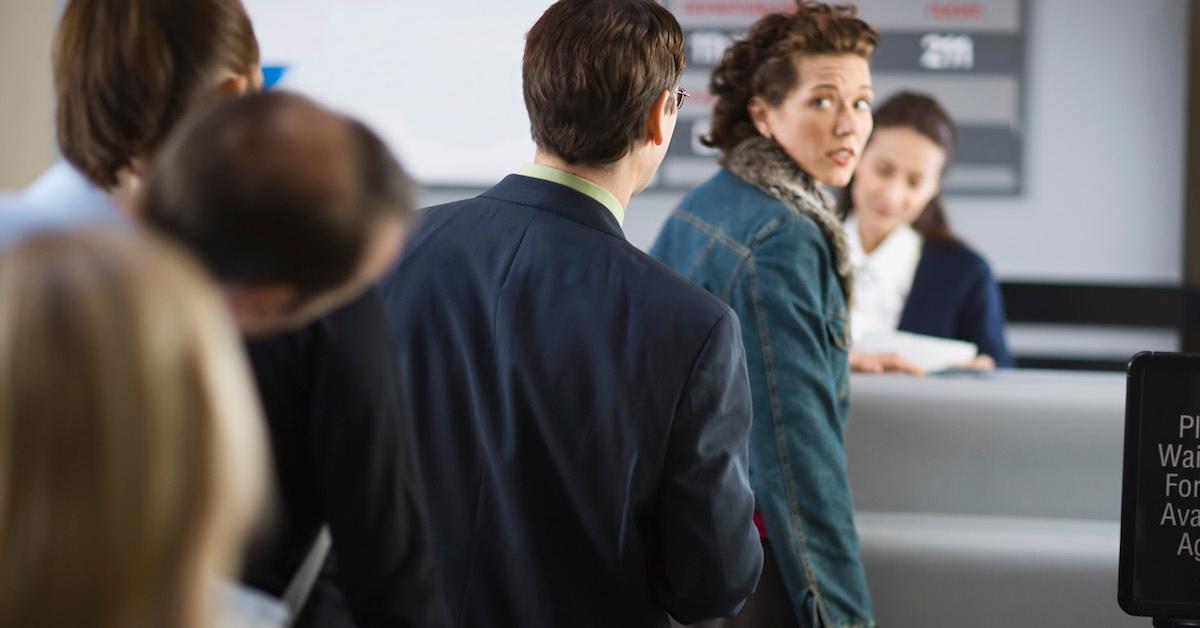 Article continues below advertisement
An airline gives away a passenger's prepaid seat and makes the passenger look like he's in the wrong.
While the original Reddit post was removed, we luckily have the whole story saved — and the comments are still coming in hot. "I (35M) was on a holiday with my wife (32F), and while returning we had an eight-hour flight ahead of us," u/Illegaldesi wrote.
"I normally plan ahead on selecting the seats and meal plans so there's no hassle. Since we didn't have check-in luggage and everything was in small carry-ons for both of us, we decided to skip the queue and went to the automated kiosk to print our boarding cards."
He went on: "When I printed it out I noticed that the seats were not the ones I paid for. Moreover, they separated my wife and I by seven rows, and what's worse both were middle seats. I was confused at this point and went to the check-in counter."
Article continues below advertisement
"They told me they made the switch because some couple with a small kid asked them to be seated together. I tried being civil with them by explaining that I paid for those seats and they can't just give them away. However, they kept insisting that they don't have any seats to spare," he wrote.
Article continues below advertisement
As he continues telling the story, he reveals that with several people behind him in line, the airline still did not open up a second check-in desk. They also refused to give him a refund for his paid seats, which he says he would've considered taking. Finally, the ground manager came and upgraded him and his wife to business class and gave them some vouchers, and called it a day. But the line behind OP grew increasingly frustrated since he held up the line.
Commenters agree that OP is not in the wrong, and they add their own airline horror stories.
Immediately, commenters agreed that OP was "not the a------" aka NTA. But reading the comments quickly makes us even more infuriated with the airline. The family who needed the seats may have had an emergency, been double-booked, gotten bumped from another flight, or had the same thing happen to them, so it's not their fault either.
Article continues below advertisement
Everyone is understanding that the airline may have needed to move OP and his wife from their prepaid seats, but they should have gotten a refund for those seats at the very least. OP paid for a product and did not receive the said product — the end! Money back! But no. The airline had to make the other customers wait while they dealt with what should have been an easy problem to solve.
Article continues below advertisement
Some commenters pointed out that the airline was likely taking advantage of the long line to put pressure on OP to just give in to the seating change and commended him for standing up for himself. Others brought up the hilarious viral Seinfeld clip in which Jerry has a rental car reservation and says that the company knows how to take a reservation, but not hold it.
But this inspired comments with even crazier stories — a couple who booked a seat for their 3-month-old baby on a five-and-a-half-hour flight got that seat bumped and had to hold the baby on their laps despite booking the seat. Otherwise, the three of them would've had to try to get on a different flight as that was the option given to them by the airline. But they also did not get their money back without a fight — what a scam!
Article continues below advertisement
How can we avoid these flight issues while traveling? Well, sometimes they're unavoidable, but I always buy travel insurance (which can be pretty inexpensive in comparison to possible travel losses incurred). And I always go in with low expectations! Happiness equals expectations minus reality — if expectations are low and the airline exceeds them, your travels are sure to be a breeze.