"Nobody Wants to Hear Your Videos" — Pilot Lectures Passengers on In-Flight Etiquette
One American Airlines pilot made a lengthy announcement about in flight-etiquette and manners before takeoff, and folks feel divided over it.
Given how random fights can often break out during flights — like when Mike Tyson punched another passenger — it makes sense that pilots would want to promote a safe, orderly, and nonproblematic environment aboard. But we never thought that a pilot would actually be as bold as to remind passengers how to behave before takeoff.
Article continues below advertisement
One American Airlines pilot recently gave an unexpected announcement at the beginning of a flight involving in-flight etiquette, and it has since gone viral. Fortunately for us, a passenger aboard recorded part of his speech. Here's what the pilot had to say and why not everyone was happy about it.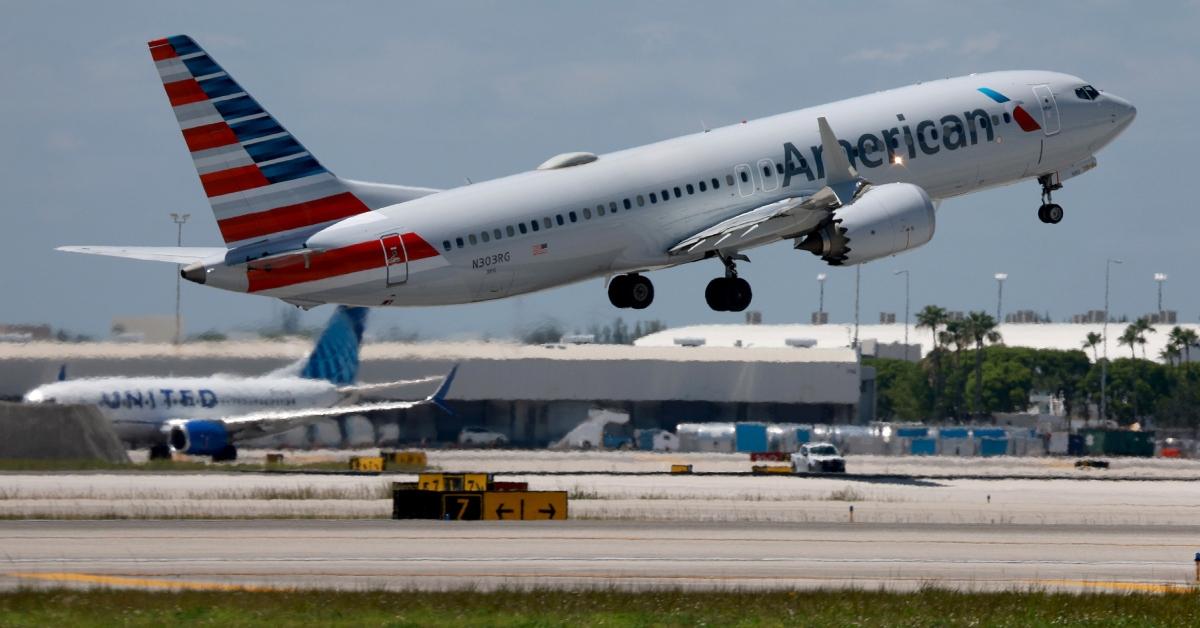 Article continues below advertisement
Woman shares video of pilot's speech that reminds passengers to "be nice to each other."
This pilot does not want any funny business on his plane.
Comedian Anna Leah Maltezos (@lone_didion), who was a passenger on this his flight, shared a Reel on Instagram of some of his speech. In the video's text, she wrote: "American Airlines Captain Has Had It With Y'all."
While his speech started out pretty standard, as he noted that the flight attendants are here for passengers' safety and to make things more enjoyable, he suddenly got stern with passengers.
"You will listen to what they have to say because they represent my will in the cockpit or cabin, and my will is what matters," he said into the loudspeaker. He continued to remind passengers to "be nice to each other" as well as respectful.
Article continues below advertisement
"You people should treat people the way you want to be treated, but I have to say it every single flight because people don't," he continued. "They're selfish and rude and we won't have it."
Another thing that this pilot won't have on his flight is unnecessary noise.
Article continues below advertisement
"The social experiment of listening to videos on speaker mode and talking on a cell phone in speaker mode, that is over," he said. "Over and done in this country. Nobody wants to hear your video."
In the background of his speech, people are heard giggling, gasping, and asking "What's going on?"
Before the video ends, the pilot also made a special announcement regarding folks who are sitting in the middle seats. "You own both armrests. That is my gift to you," he said.
Article continues below advertisement

In the comment section, users had mixed thoughts. Many were glad he made that speech.
"My guy just blessed all middle seaters with a huge W. Both arm rests? Epic," wrote one user.
Another opined: "Great speech, Captain. There should have been an applause for it. Bravo, well done."
Article continues below advertisement

However, not everyone was that impressed. "This guy is angry AF and needs a vacation. I agree with a lot of what he said, but not his place."
Another flyer also disapproved of his message, claiming that they didn't "want to sit through a speech admonishing everyone." They wrote: "This feels like the teacher fussing at everybody because of 2 kids out of 200. Now we all gotta suffer."
Article continues below advertisement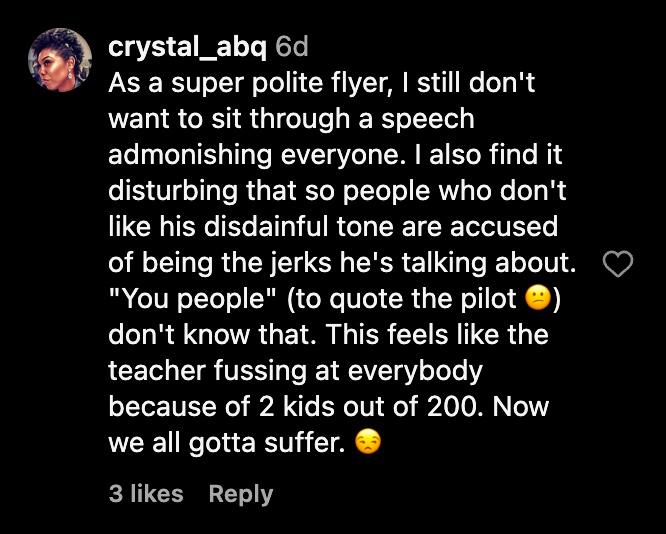 But as one comment read: "The people complaining about this video are the ones he is talking about. You act like babies and should be treated as such. KUDOS for this American Airlines Pilot!"
In another comment, a user claimed that this same pilot had to deplane three times a week due to passengers forgetting their manners. If that's true, we don't blame him for going all in on passengers.