Wireless Headphone Owners Can Relate to This Woman's Heroic Rescue of Her AirPod
What do you do when your AirPod falls out of your ear and onto the subway tracks? Why, commence a rescue mission, of course!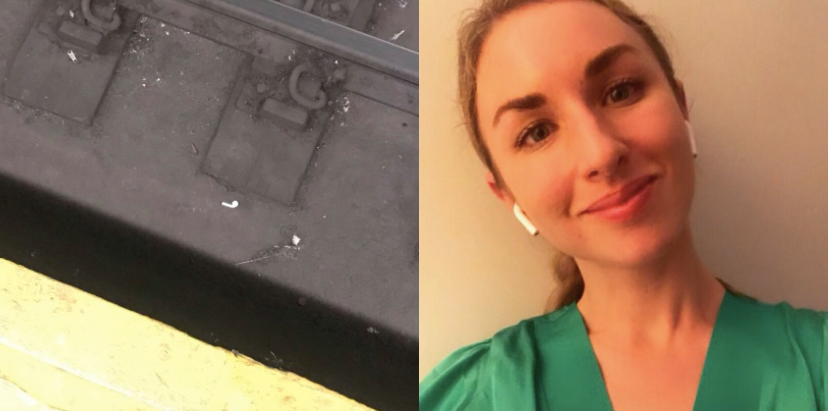 I don't own AirPods for several reasons. First, I still have one of those old iPhones where I can plug in headphones. And second, I just know that I would lose those little suckers almost immediately. Twitter user Ashley Mayer recently lost one of her AirPods in the worst place: the subway tracks. That thing just fell right out of her ear.
So what did she do? Did she give up and hold a funeral for her forever-lost AirPod? No. Of course not. Instead, she staged a daring rescue.
Article continues below advertisement
1.
At first, it seemed hopeless. I mean, that thing just jumped right out of her ear like it was on a suicide mission. It bounced and landed practically in the middle of the subways tracks. If you live in New York, you know that if something falls on the subway tracks, it's gone forever.
2.
Even though the loss of the AirPod was devastating for Ashley, she did the right thing. It must have taken a lot of self-control not to jump in after it. But I truly cannot believe that she still went to the gym and did an entire workout without headphones. That may be the most impressive part of her story.
Article continues below advertisement
3.
The next day, her little AirPod was still there, languishing on the subway tracks. You hate to see it. I've felt bad for inanimate objects before, but this is on another level. He's right there! So close to his owner and yet, so very far away. He's probably sad and cold and lonely without an ear to sit in.
Article continues below advertisement
4.

Ashley also felt it, and she became resolved to rescue him. No, she wasn't going to wait two hours, hold up subway service, and wait for the MTA to retrieve him. She decided she was going to take matters into her own hands. But how would she rescue her little AirPod without jumping down there?
Article continues below advertisement
5.
Ah ha! The old broom-and-duct-tape combo. It's a classic. Although, I feel like people always think a bunch of tape stuck to the end of a broom will work, and it almost never does. We will have to see. Also, very curious about the salad Ashley's making for dinner, but that's a question for another time.
Article continues below advertisement
6.
Oh my gosh, I can't look. There are way too many variables here. The crowd of people, the train...her little AirPod could get knocked onto the tracks and then super run over by the train. She could lose her broom in the hustle and bustle of the platform. What's going to happen?
Article continues below advertisement
7.
I feel like the security guard has probably seen much weirder stuff on the subway platform, but still, I do understand. A woman with a broom has got to look suspicious. She can't just start sweeping the platform floor like, "I'm helping! This is definitely the only reason I brought this broom here!"
Article continues below advertisement
8.
Ta da! She did it! Hallelujah! It's incredible! She skirted crowds, oncoming trains, and suspicious security guards, and she did what she had to do to get her AirPod back. Sure, he looks a little gross and rough around the edges, but generally, he seems to be in tact.
Article continues below advertisement
9.

I'm just so glad he's back with his owner and able to rest and recharge in every sense of the word. I don't know how many Clorox wipes are required to thoroughly clean an AirPod that spent two days on subway tracks, but I imagine it's at least one whole container.
Article continues below advertisement
10.
Ashley asked the people if she should use him again now that he's clean and recharged. Sure, he was probably nibbled on by rats and covered in feces, but he's clean now! Right? And he's her AirPod. She went through all that trouble to save him. What is she going to do, not use him again?
Article continues below advertisement
11.
Of course she is going to use him! Do you know how much those things cost?! He went through so much, but he still works perfectly because he is a resilient little AirPod. Let this be a lesson to all you AirPod users out there: They're tougher than you think. And they deserve to be rescued from the subway tracks.