Who Is Alison Sweeney's Husband? Their Relationship Is Something out of a Hallmark Movie
Alison Sweeney has known her husband Dave Sanov for her entire life. Let's get to know him and more about their relationship.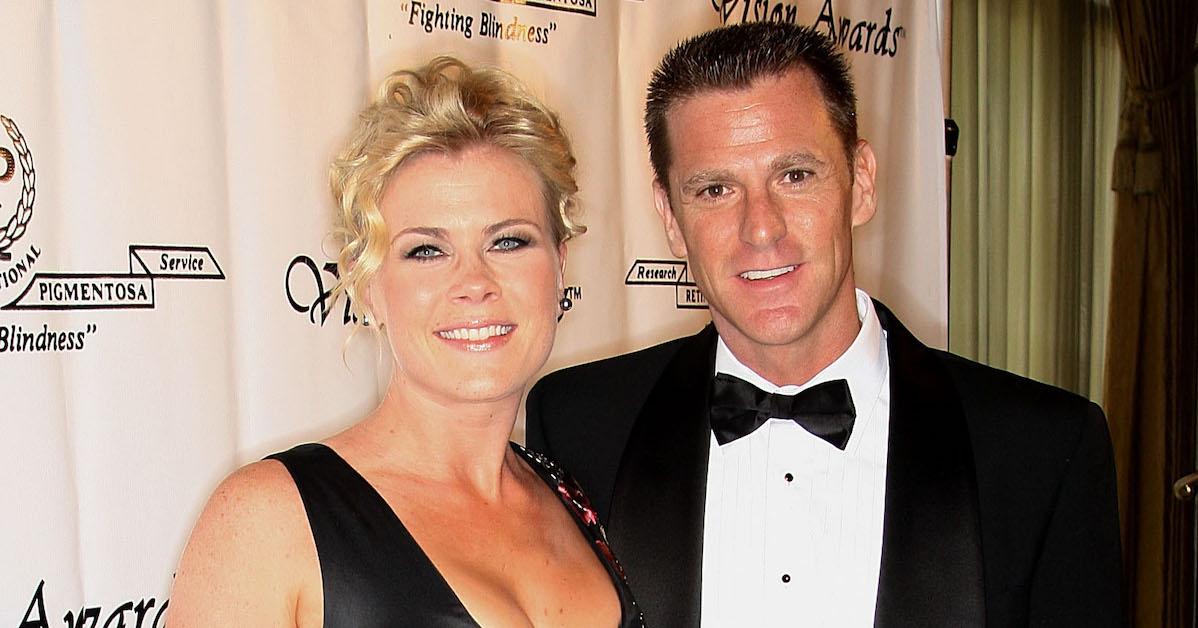 Actress Alison Sweeney often finds love on TV. In real life, the story of how she met her husband Dave Sanov is a bit like a Hallmark Channel movie.
Article continues below advertisement
Alison, best known from the soap Days of Our Lives, her role as a host on The Biggest Loser, and as a Hallmark Channel staple — her new movie A Magical Christmas Village is available on November 4, 2022 — definitely has a relationship worth aspiring to. So let's get to know more about Alison and Dave and the family they've built!
Article continues below advertisement
Alison's Sweeney's husband is her childhood crush.
Alison and Dave have been in one another's lives since they were little. In 2019, the soap star told told Access, "Our parents are friends." She went on to explain about their connection that his father and her mother both play violin for film soundtracks, adding, "We've actually known each other our whole lives."
The actress admitted, "I totally had a crush on him when we were kids." Dave, who enjoyed playing sports and was fascinated by law enforcement as a child, moved on and went to the University of California, later becoming a police officer, according to The Washington Independent.
Article continues below advertisement
That's when Alison begged her mom to hook them up. By 2000, the couple was married in a beachside wedding, per Soap Opera Digest. Dave, a former California Highway Patrol officer, and Alison, have now been married for 22 years and are still going strong.
Article continues below advertisement
Alison Sweeney and her husband may have the secret for a long-lasting marriage.
While promoting her film A Magical Christmas Village, which co-stars Marlo Thomas, Alison talked to Fox News about why she thinks her relationship with her husband Dave has had so much staying power. First, Alison credited the fact that Dave is a "fantastic guy" and noted that it helped they had totally different careers — although he has appeared in bit parts on her TV shows over the years.
That said, Alison offered this insight into their relationship: "We came into the marriage really honest with each other about what we wanted from life and who we were as people, and even though we were both really young, we sort of grew up together, and grew together, and learned together, and have always been respectful of each other and our differences."
Article continues below advertisement
Alison Sweeney and Dave Sanov have two kids.
The couple welcomed a son, Ben, in 2005 and four years later, Alison gave birth to a daughter, Megan. Alison shared a post to Instagram in 2022 paying homage to their firstborn. "We are so proud of what a fantastic young man he's become. We love you, Ben," the famous mom captioned a reel of images.
Article continues below advertisement
Alison opened up about raising a daughter in an essay for SheKnows in 2016, saying in part, "For me, it's about setting the right example. I make a point of always talking about the positives with my daughter Megan — how great she looks, how well she carries herself. I focus on what is good rather than on the negative."
Article continues below advertisement
Alison Sweeney's net worth is pretty impressive.
In addition to her enduring marriage and winning at #momgoals, the soap opera icon has also banked a lot of dough. Consider first that she's been a working actress since 1984, per her IMDb page. Alison has had a role on Days of Our Lives on and off since 1987, notable hosted The Biggest Loser, and has starred in a variety of Hallmark Channel movies for many years.