Reports Are Coming out of Romania That Andrew Tate's Health Is Failing and We Are Fine
Evidently Andrew Tate isn't feeling very well while imprisoned in Romania and we are mostly unbothered by this. What's up with Andrew Tate's health?
Confirmed misogynist and alleged rapist/sex trafficker Andrew Tate is still sitting in a Romanian jail along with his brother, Tristan. The siblings were taken into custody on Dec. 29, 2022, under suspicion that they "recruited victims for a criminal online porn scam," per Vox.
It was recently reported that Andrew Tate is suffering from some sort of health issue. And while that doesn't make us feel sad in the least, we are curious about what's going on. Here's the status of Andrew Tate's health.
Article continues below advertisement
What's up with Andrew Tate's health (we asked with little concern)?
Oh no, Andrew Tate isn't feeling well and we couldn't be more apathetic. The currently jailed, gleefully hateful chauvinist — known for saying things like, "It's bang out the machete, boom in her face, and grip her by the neck. Shut up b---h" — was apparently hospitalized in early January 2023, reported Carmina Pricopie of Antena 3 CNN.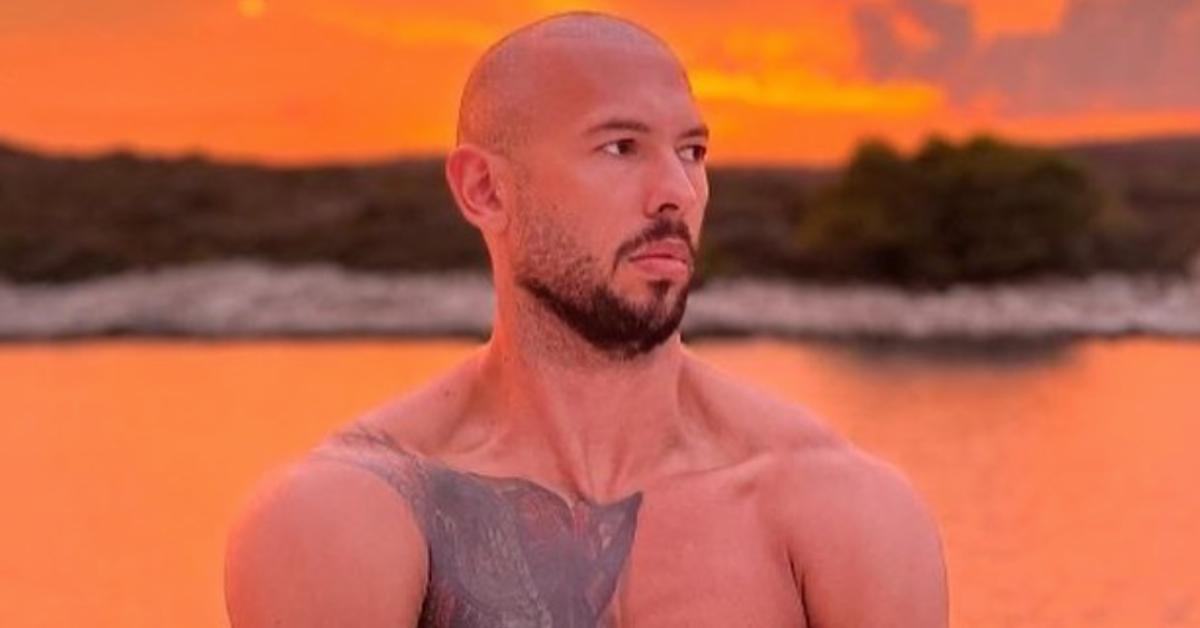 Article continues below advertisement
"He was taken out of the Central Prison of the Capital Police and taken to a hospital because when he was incarcerated, according to the procedures, he was given a medical examination and the prison doctor asked him if he was suffering from certain ailments," reported the outlet. We now know a bit more about what's going on.
Per the Daily Mail, doctors in Romania and Dubai "reportedly wrote in medical documents that the influencer has a lesion of his upper right lung — a condition that has been described as a 'serious health condition.'" Initially, Tate's spokesman said it was most likely a tumor but the sexist influencer now denies that's the case.
Article continues below advertisement
In a tweet dated March 4 Tate said, "I do not have cancer. My lungs contain precisely 0 smoking damage." In a perfect world he stops there but we could never be so lucky. He goes on to say, "In fact, I have an 8L lung capacity and the vital signs of an Olympic athlete. There is nothing but a scar on my lung from an old battle. True warriors are scarred both inside and out." Hey we get it, we're scarred simply from reading that tweet.
Article continues below advertisement
Both Andrew and Tristan Tate have health issues.
The YouTube channel Fesify, which tracks "trending news topics and stories," unearthed an old video of Tristan Tate explaining different congenital medical issues he and Andrew both deal with. Obviously, this wasn't a moment of vulnerability for the sexist duo. These ailments were used to prove how strong they both were because they never let these issues dictate how they live. Cool story, bros.
"Because of a medical condition — you can look this up — called pectus excavatum, I only have 85 or 95 percent of the cardiac output most people have. My heart doesn't pump 100 percent of the blood it should around my body," said Tristan.
According to the Mayo Clinic, signs and symptoms of pectus excavatum may include: decreased exercise tolerance, rapid heartbeat or heart palpitations, recurrent respiratory infections, wheezing or coughing, chest pain, heart murmur, fatigue, and dizziness.
Article continues below advertisement
Tristan then explained what Andrew suffers from: "For the record, and nobody knows this, Andrew is an asthmatic world champion, so don't label yourself ADHD."
They then went on to ridicule people with ADHD or bipolar disorder, which ended in Andrew inexplicably and confusingly punching a mannequin behind him.
Fellas, is it weak to treat your mental illnesses? It's funny how these two "strong boys" had to go to the hospital for *checks notes* a slight indentation of the chest and asthma, which we've seen zero proof of. Perhaps, as with everything else they've done, Andrew and Tristan Tate forced this trip.