Andrew Tate Was Arrested in Romania and the Internet Is Celebrating With Memes
When it comes to controversy, Andrew Tate is no stranger to being at the center of it.
The former professional kickboxer turned social media influencer and hell-raiser has previously dominated the news cycle for his controversial takes. Many folks have regarded his views as misogynistic, sexist, bigoted, and all-around harmful. His online comments have even gotten him banned from several social media sites like Twitter, Facebook, and Instagram.
Article continues below advertisement
But as 2022 comes to a close, he seems to have finally received his comeuppance. After controversial Twitter CEO Elon Musk reinstated Andrew's account, Andrew wasted no time sharing his inflammatory takes by tweeting out against teenage environmental activist Greta Thunberg. Throughout the exchange (in which Greta seemingly dominated him), Andrew inadvertently revealed his location to Romanian officials, who have been pursuing him all year in connection to a human trafficking ring.
Andrew and his brother were promptly arrested and taken into custody in Romania, and the internet is currently reveling in the schadenfreude. Though the story is currently developing as of this writing, folks have wasted little time in celebrating his public thrashing and subsequent detainment with plenty of hilarious memes.
Check out our favorites!
Boxing career update
Admittedly, Andrew Tate boasts an impressive win-lose ratio for his boxing career. But it's safe to say that no one expected him to experience such a violent beatdown on Twitter days after his account was restored.
Article continues below advertisement
Behind the scenes
One can only imagine being on the other side of Andrew's camera as they helped him film his rant. This online comedian offers a whole new perspective on the video that got him arrested, making sure to capture the irony in all of its glory.
Article continues below advertisement
The best use for a car collection
During his exchange with Greta Thunberg, Andrew Tate openly bragged about the amount of gas-guzzling cars he owns and wanted to share how many emissions it used up. Now that Andrew is too busy being detained by Romanian authorities, a joyride with his cars may be an appropriate (if not ironic) reward.
Article continues below advertisement
One thing leads to another.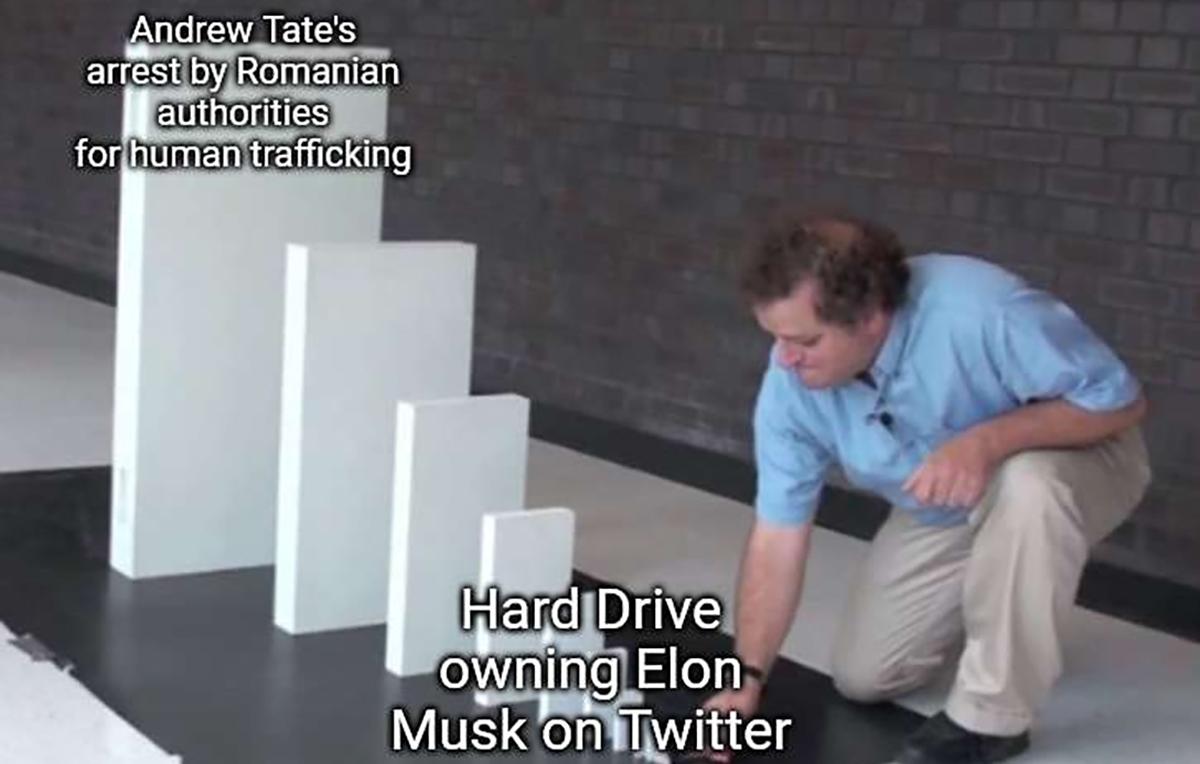 Many have argued that Elon Musk's public Twitter feud with online satire news site Hard Drive had a lot to do with his decision to purchase the platform. But since his reluctant $40 billion purchase, it's been one PR disaster after another at Twitter headquarters. But luckily, his free-wheeling stance on "free speech" on Twitter has played a major role in Andrew Tate's recent arrest.
Article continues below advertisement
An accurate review
Say what you will about Andrew Tate, but he sure knows how to write a spot-on review for the pizza place that essentially led to his arrest.
Article continues below advertisement
A full circle
Reportedly, Romanian authorities have begun cracking down on human traffickers since 2021 thanks to the efforts of the Group of Experts Against Trafficking Human Beings.
That's right, Romanian officials were urged to address human trafficking more strictly by GRETA.
Article continues below advertisement
Jinkies!
Ever since the world was introduced to Scooby-Doo, there have been few things more satisfying than a meddling kid helping to put a creepy man behind bars.