Here Are All the New Critters to Catch This Month on 'Animal Crossing'
Animal Crossing has new fish and bugs for April. Learn what new critters you can find and where, plus the ones leaving this month.
Since the game is connected to the seasons as well as the time of day, Animal Crossing: New Horizons has a ton of features you can only access certainly parts of the year. On the upside, it keeps gameplay fresh, but it also can make it hard to complete your Critterpedia if you miss out on a seasonal fish or bug.
Article continues below advertisement
Unless you time travel (which some of us purists might call "cheating"), you can only catch most bugs and fish in the game during set periods of months and during certain parts of the day. Read on for a full rundown of the new fish and bugs on Animal Crossing for April — and the few that are going away.
Article continues below advertisement
Animal Crossing April fish and bugs: what's new?
If you're playing in the Northern hemisphere, April showers bring several new creepy crawlers. For your convenience, we're also including details on what time of day is best to find them, and where and how to nab them.
New April Bugs (Northern hemisphere)
Agrias butterfly: free-roaming during the daytime
Atlas moth: on trees at nighttime
Common bluebottle: free-roaming during the daytime
Darner dragonfly: free-roaming during the daytime
Flea: On villagers who come to you complaining about being "itchy" (Ew.)
Giant water bug: on the surface of ponds at night and in the early morning. You use your net to "skim" the water.
Jewel beetle: all day on tree stumps
Madagascan sunset moth: daytime, near flowers
Long locust: free-roaming in the grass during the daytime
Rajah Brooke's birdwing: flying around in the daytime
Article continues below advertisement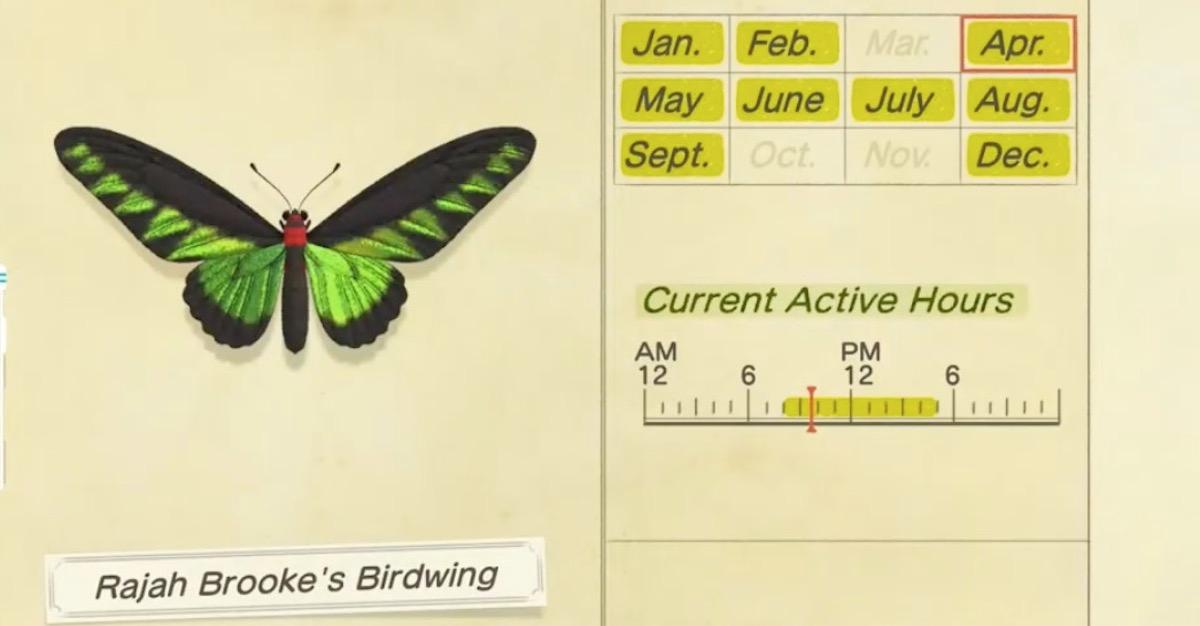 Bugs gone or leaving in April (Northern hemisphere)
Say bye-bye to the tarantula! After this month, it won't be back until November, which is bad news for people who like hunting them for their high price but great news for the squeamish. And here's hoping you caught your fill of emperor butterflies, as starting April 1, they are gone. If you missed your shot, they'll be back in June.
Article continues below advertisement
New April fish (Northern hemisphere)
Butterfly fish: small shadow in the sea, all day
Clownfish: smallest shadow in the sea, all day
Crawfish: small shadow in ponds, all day
Guppy: smallest shadow in rivers from 9 a.m. to 4 p.m.
Killifish: smallest shadow in ponds, all day
Neon tetra: smallest shadow in rivers from 9 a.m. to 4 p.m.
Seahorse: smallest shadow in the sea, all day
Snapping turtle: extra-large shadow in river, between 9 a.m. and 4 p.m.
Surgeonfish: small shadow in sea, all day
Zebra Turkeyfish: medium shadow in the sea, all day
Fish gone or leaving in April (Northern hemisphere)
Bitterling (gone)
Blue marlin (leaving, returning in July)
Dab (leaving)
Football Fish (gone)
Sea Butterfly (gone)
Stringfish (gone)
Sturgeon (gone)
Tuna (leaving)
Yellow Perch (gone)