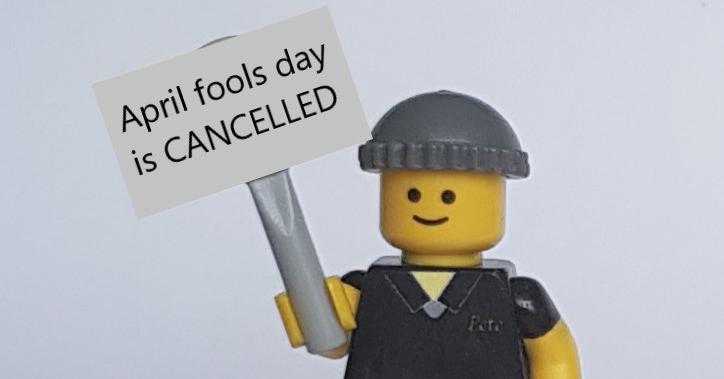 April Fools' Day Should Be Canceled Like Everything Else in 2020
April Fools' Day is easily the worst holiday of the year. Not only is it an excuse for your siblings to play downright bad pranks on you, but half of them aren't even good.
Add to that the misinformation that spreads like wildfire on the holiday both from so-called pranksters and large corporations, and the day becomes more of a nuisance than an opportunity to laugh.
Article continues below advertisement
While the outbreak of the novel coronavirus seems to have canceled everything else you might have been looking forward to, it's safe to say we won't be disappointed about April Fools' Day being one of those things.
Since everyone is stuck at home and over 165,000 people in the U.S. are infected with the new virus, most people don't have the emotional space for a day of pointless pranks.

Article continues below advertisement
Even Google canceled their April Fools' Day.
Every year, Google takes part in the pranking festivities, getting all of their companies in on the fun and running a few different jokes across their platforms. But this year, with everything going on in the world and many economies struggling to survive under the pandemic, they revealed they would be canceling their original plans, reminding their employees that more of their attention should be directed at assisting where they can with the pandemic.
An email that went out within the company, obtained by Business Insider, declared they would "take the year off from that tradition out of respect for all those fighting the COVID-19 pandemic. Our highest goal right now is to be helpful to people, so let's save the jokes for next April, which will undoubtedly be a whole lot brighter than this one."
Article continues below advertisement
The email was sent to ensure that not only any top-down plans were canceled, but to make sure there were no smaller pranks that would go off individually.
"We've already stopped any centralized April Fools' efforts but realize there may be smaller projects within teams that we don't know about," the email read. "Please suss out those efforts and make sure your teams pause on any jokes they may have planned — internally or externally."
Article continues below advertisement
April Fools' Day being canceled is the internet's newest meme.
Most on the internet are in agreement that with everything going on in the world right now, the added stress April Fools' Day can sometimes cause is unnecessary. Many are urging companies to take Google's route and cancel any pranks they had planned for this year.
Article continues below advertisement
"So yeah just go ahead and cancel that April Fools' Day campaign that was set to auto-run tomorrow," one user tweeted, while another added "So, have we agreed that April Fools' Day is canceled? 'Cos it's the absolute worst day online every goddamned year, but this year, after the 97th of March, we seriously need a little break. ktxbai."
Article continues below advertisement
If you really need your yearly dose of pranks or misinformation on April 1, just binge any of the awful prank videos on YouTube (there was even a guy who faked his girlfriend's death for views), or take a scroll through Facebook. There's enough of both online already, and 2020 is a good year to take a break from it.
The best way to prevent contracting or spreading coronavirus is with thorough hand washing and social distancing. If you feel you may be experiencing symptoms of coronavirus, which include persistent cough (usually dry), fever, shortness of breath, and fatigue, please call your doctor before going to get tested. For comprehensive resources and updates, visit the CDC website. If you are experiencing anxiety about the virus, seek out mental health support from your provider or visit NAMI.org.