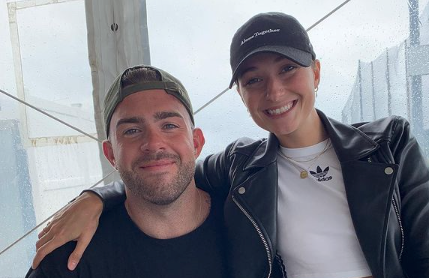 'Below Deck' Alums Anastasia and Alex Have Been Stirring up Dating Rumors
Boatmances aren't uncommon on Below Deck. Just this season, Liz and James stirred up some drama by "bunking" together in a guest suite — an act that was part of why Liz was demoted. Others who have crossed paths on the show have later met up and dated, making the romances in the Below Deck franchise almost as whirlwind as those in Bachelor Nation.
Fans of the show have recently been wondering if Anastasia Surmava and Alex Radcliff are together, considering their cozy posts.
Article continues below advertisement
Are Alex and Anastasia together?
Rumors that the Below Deck alums were dating started when Anastasia posted a photo of the two of them around Christmas time. They were donned in festive outfits, and Anastasia was holding mistletoe over both of their heads, making a kissy face at Alex while he looked away.
People immediately assumed this was confirmation that the two were romantically linked, though Anastasia herself later clarified that they weren't together — they were just really good friends.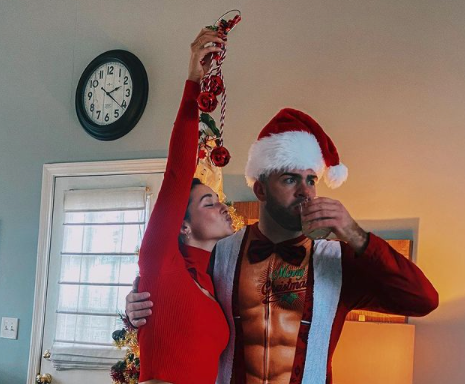 Article continues below advertisement
In a post on Jan. 18 (Alex's birthday), Anastasia posted a carousel of photos of the two of them, wishing him a happy birthday.
"When I [slid] into your DMs I had no idea it was going to flourish into such a candid, hilarious, raunchy, f--ked up [friendship]... but boy am I happy it did," she captioned the birthday post. "And for everyone who is curious... no we're not dating... and no we never banged. We're just a couple of creatures who have found comfort in each others' vices."
It's not uncommon for former cast members of the same show to cross paths, even if they're not on the show at the same time (looking at you, Bachelor Nation). While the two seem to be very friendly, they've been very clear that they're not together.
Article continues below advertisement
Anastasia also sparked dating rumors with 'Below Deck' alum Georgia Grobler.
Alex isn't the only Below Deck alum that Anastasia has been cozying up with. In fact, she recently shared a shot of her smooching Georgia Grober, who was on Below Deck Sailing Yacht in 2020.
"My lovely little [Georgia]," Anastasia captioned her post.
Georgia shared the same photo on her Instagram, captioning it: "Wouldn't mind going #belowdeck with you," with some flirtatious emojis.
Article continues below advertisement
But, similarly to her relationship with Alex, it doesn't look as though Georgia and Anastasia are romantically linked. The two have not suggested otherwise that they are together or have any interest dating each other, so it's possible they're not taking their relationship any further than that.
Alex has also sparked dating rumors with other 'Below Deck' cast members.
Before viewers wondered if Alex and Anastasia were dating, Alex was seeing Bugsy Drake in a tantalizing fling that lasted throughout Season 5 of Below Deck Mediterranean.
The two shared multiple on-screen smooches, though when they were asked about their budding relationship, both parties said they were unlikely to make the long-distance work, according to The Daily Dish.
Romances have been running wild in the Below Deck universe. Watch them unfold when the show airs Fridays at 8 p.m. ET on Bravo.