Are Caroline and Sergio Are From 'RHODubai' Still Together?
Not everything has been smooth sailing since Caroline Stanbury tied the knot with Sergio Carrallo. Are they still together now? Here's an update.
Since making its debut in June 2022, the Real Housewives of Dubai has continued to bring the drama — and not only between the ladies. In recent episodes, viewers have watched Caroline Stanbury struggle in her relationship with now-husband Sergio Carrallo, so much so that fans have predicted their married won't last for long.
Are Caroline and Sergio still together? Here's an update on the RHODubai pair.
Article continues below advertisement
Are Caroline and Sergio from 'Real Housewives of Dubai' still together?
Based on Caroline's own Instagram, her marriage to Sergio is still going strong. She hasn't been shy about showing off their love, posting sweet snaps filled with adorable PDA.
On July 27, she posted a video of the two getting ready in NYC before stepping out for an appearance on Watch What Happens Live. Prior to that, she and Sergio were seen cuddling on a sofa, wearing comfy hotel robes, and enjoying a bottle of Champagne.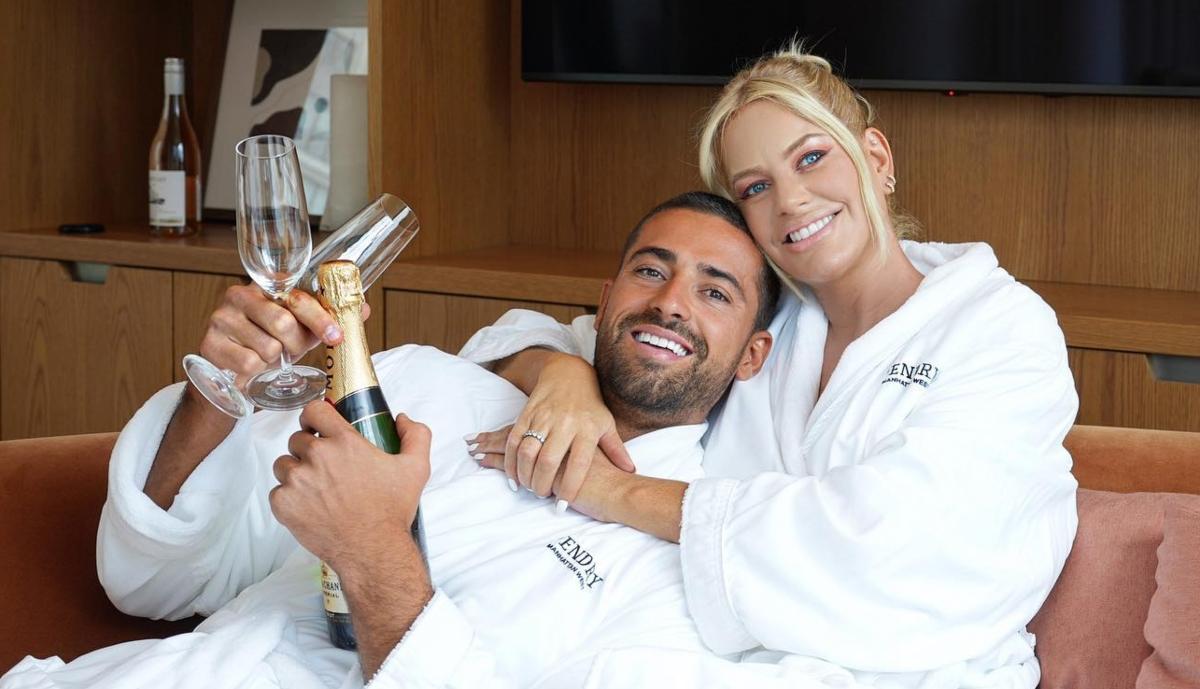 Article continues below advertisement
The July 27 episode of RHODubai will highlight Caroline and Sergio's wedding, which took place back in December of 2021. The Bravo cameras were there to capture all the action, and Caroline says she can't for viewers to get an inside look at their big day.
"So excited to share our special day," she wrote on Instagram earlier in the week, along with a reel of pics and clips from the event. "It's our wedding episode!! I love you @sergiocarrallo."
Here's why fans don't think Caroline and Sergio are going to make it long-term.
It's safe to say that most couples bicker from time to time, but Caroline and Sergio seem to continue arguing about very important things. Leading up to the wedding, cameras picked up on Caroline's reluctance to meet Sergio's parents, the couple's disagreements on whether to have kids, and how their 19-year age difference has impacted their priorities.
Article continues below advertisement
Fans haven't been shy about sharing their thoughts on the relationship, and they haven't exactly been positive.
"This woman Caroline is as cold as ice!" a viewer wrote on Twitter. "That marriage will not last two years… Sergio looks so sad and pitiful!"
"What kind of crack is Caroline Stanbury on?" asked another. "She didn't want to get married, so she got married. She doesn't want any more children, but her husband does ... This marriage won't last very long."
For now, Caroline and Sergio seem to be ignoring the haters, instead opting to flaunt their love on social media. Only time will tell if their marriage will go the distance, but as this writing, they certainly appear to be enjoying the honeymoon phase.
Catch new episodes of The Real Housewives of Dubai, airing on Wednesdays at 9 p.m. ET on Bravo.