Caroline Stanbury Met Her Husband, Sergio Carrallo, While Celebrating Being Single
Caroline Stanbury and Sergio Carrallo married two years after her divorce from Cem Habib. But how did one of 'RHODubai's' newest couples meet?
Article continues below advertisement
In 2016, Caroline moved to Dubai with her husband of more than a decade, Cem Habib. However, they divorced in 2019, and Caroline, who is now 46, has since remarried 27-year-old soccer star Sergio Carrallo. The news of Caroline moving on with a new, younger man shocked some fans who had invested themselves in her and Cem's seemingly unshakeable marriage for several years.
Although Caroline has been pretty public about finding new love, many have wondered how their relationship happened in the first place. We've got the scoop on the surprising way Caroline met her second husband.
Article continues below advertisement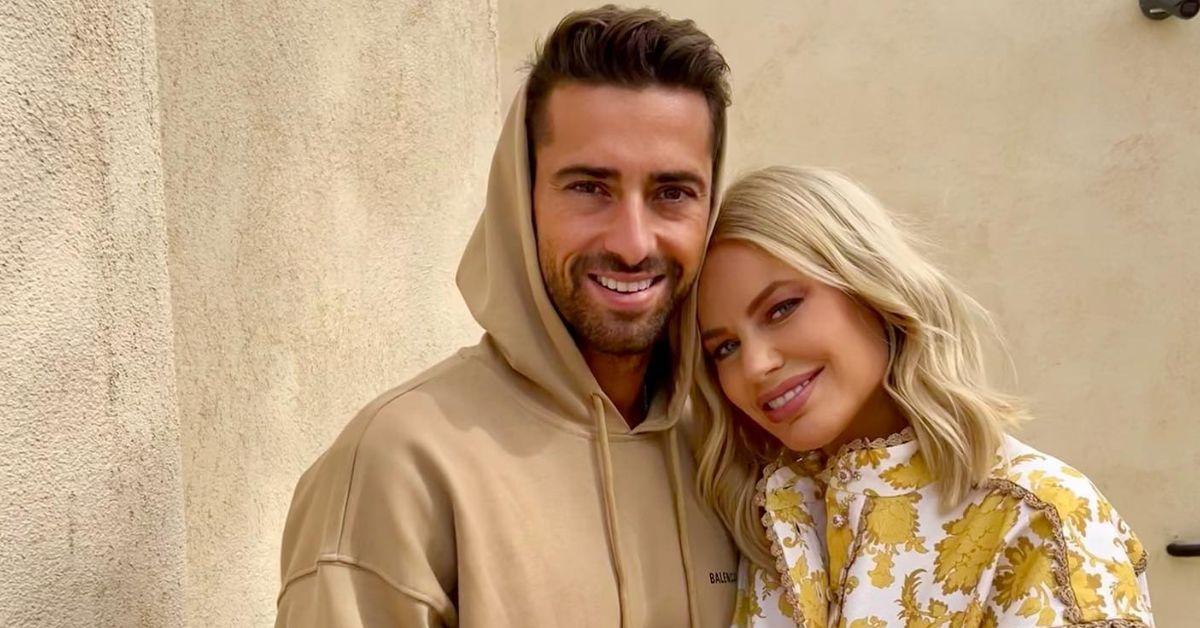 When did 'RHODubai' star Caroline Stanbury and Sergio Carrallo meet?
In 2019, Caroline confirmed on Instagram that she and Cem were getting a divorce after 17 years together (15 of those married) and three children. The pair have a daughter, Yasmin, 16, and twin boys, Aaron and Zac, 12.
After publicly announcing the split, Caroline decided to focus on working and raising her children. She soon developed a podcast titled Divorced, Not Dead, where she discussed being a single mother in her mid-40s.
Article continues below advertisement
Once the podcast took off, Caroline went on the road to promote the podcast at an "all-women empowerment" event in Newport Beach, California. The reality star had no idea she would meet her new love while discussing her divorce.
"Sergio was in the audience," Caroline explained to DailyMail in November 2020." "I don't think he understood what he'd signed up to see."
Although she began talking to Sergio after they met, she initially thought he was a better fit for one of her friends. Sergio, however, wanted all of Caroline's attention.
"I was the one pushing for a date," he said. "I had to lie about my age to start with. I said I was 31 because I knew she wouldn't talk to me otherwise. I have a house in Marbella, and I went there that summer. Caroline, by coincidence, was staying there (in the city) with a girlfriend."
Article continues below advertisement
Sergio Carrallo moved to Dubai for Caroline Stanbury.
Caroline and Sergio remained friends after their first conversation. When the COVID-19 pandemic hit, however, they didn't know how they could see each other, as the Bravo star lived in Dubai and Sergio was working on his master's degree in Newport Beach. Eventually, though, he quit his job and moved to Dubai so he could live next door to Caroline and her kids.
Article continues below advertisement
While Caroline said her parents instantly supported the couple's love, Sergio's mom and dad weren't as willing to accept the relationship. He said his father offered him money to leave Caroline due to their age difference.
Despite this causing a strain in their relationship, the reality star said that, as a parent, she could relate to his father's concerns.
"I don't think it's any parent's dream, is it? Their golden boy going out with a woman who's more the age to date his dad?" Caroline admitted. "In fact, we looked like we were a couple having dinner with our son."
Article continues below advertisement
"I think he thought I was a crazy old woman desperate to walk down the aisle with his young son or keep him as some kind of sex slave," she continued. "I was floored. I thought I was quite a good catch. But then I thought: Imagine if it was one of my boys — I wouldn't like it either."
Since their Instagram debut in July of 2020, Caroline and Sergio have traveled the world and even got engaged in January 2021. In December of that same year, the couple married in a decadent ceremony in Dubai. The fashion stylist looked stunning in three different couture gowns by Greek designer Celia Kritharioti.
Catch new episodes of The Real Housewives of Dubai, airing on Wednesdays a 9 pm ET on Bravo, or streaming on Peacock the following day.