Taye Diggs Dishes on How He and Rumored Girlfriend Apryl Jones Met (EXCLUSIVE)
In an exclusive interview with Distractify, Taye Diggs talks TikTok stardom and how he met rumored girlfriend Apryl Jones.
Unless you've been living under a rock, you know that Taye Diggs' TikTok is a national treasure that must be protected at all costs.
In December 2021, the All American actor joined the social media platform and unintentionally set the internet ablaze. Only weeks later, Taye had more than 1 million followers and counting — which he says is thanks to Love and Hip Hop's Apryl Jones. When Apryl made her debut on Taye's TikTok, the could-be couple sparked dating rumors.
Article continues below advertisement
But is their relationship just business, or more personal? In an exclusive interview with Distractify, Taye opened up about his newfound TikTok stardom and shared details on how he met Apryl.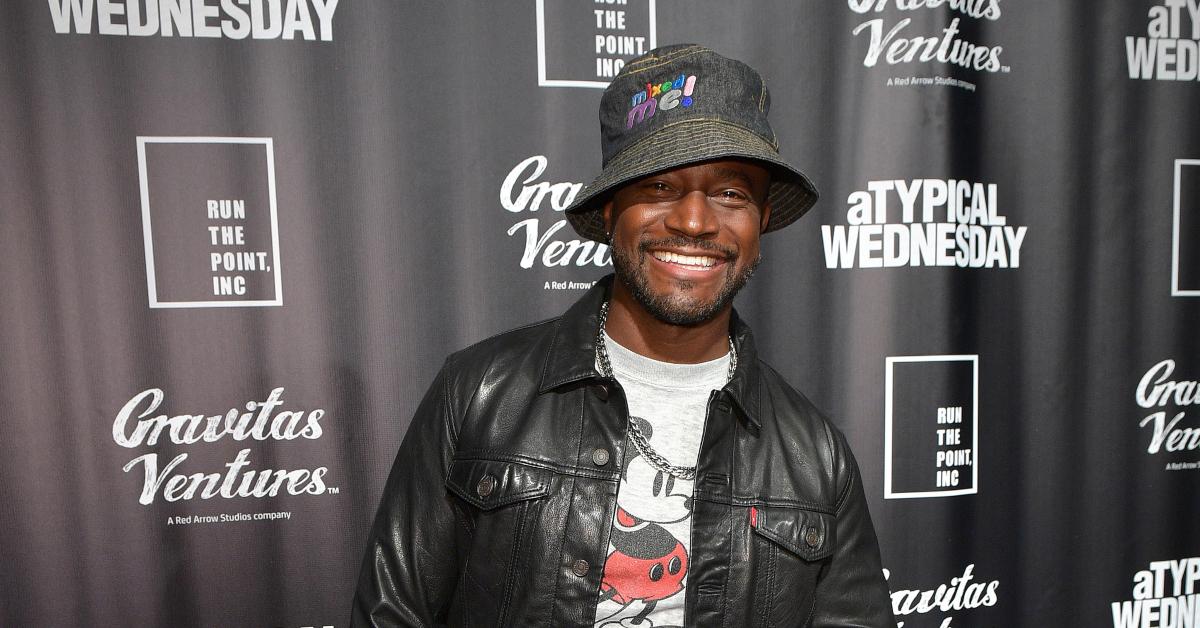 Article continues below advertisement
Taye Diggs dishes on how his 12-year-old son talked him into TikTok stardom.
Like most people over 30, learning the art of TikTok was no easy feat for Taye. Thankfully, his 12-year-old son, Walker, was able to lend him a hand. "It's his fault," the All American star told us. "He told me to get on [TikTok] but ... I didn't know how to put the music on with the lip-syncing. They should make that way [easier]," he joked. "I've got to be honest, it's selfish. I just want to make him laugh."
This isn't the first time Walker has inspired Taye's creative process. The actor, who recently partnered with Lucky Charms for Read Across America Day, previously penned a children's book series.
However, when he downloaded TikTok, Taye had "no idea" that he would go viral. "I would judge each TikTok by how hard it made him laugh … and luckily, other people thought it was kind of silly as well," he said.
Article continues below advertisement
It wasn't long before Taye began to discover other talented creatives on the platform, including Apryl. After reaching out to her via DM, the two met up and hilarity ensued. But are Apryl and Taye dating? Though he did not confirm their relationship status, Taye revealed to us how the two met.
Article continues below advertisement
So, are Taye Diggs and Apryl Jones dating? Actor reveals how the rumored couple met.
Taye has not explicitly said that he and Apryl are dating, and we have no reason to believe that their relationship is anything but platonic.
"I literally saw one of her Instagrams or TikToks, and I just texted, or whatever it's called, and said that she was hilarious," he said of his TikTok co-star. Apryl replied that the feeling was mutual and the two linked up for a few laughs. Soon, "people really started to respond."
"She helped me get a million followers," he gushed. "I love that stuff like that just kind of comes organically."
But their friendship doesn't end on social media. According to Taye, there's a good chance that the dynamic duo is coming to a small screen near you. "I didn't know that she was an actress. But she is, and ... we're gonna try to figure something out," Taye added.
Article continues below advertisement
Though it took Taye some time to get on the TikTok train, he's certainly on board now.
"I didn't get it at first," Taye shared. "But once you go digging, you really can see how expressive, talented, and creative these people are. It's amazing how funny these people can be and how they use this platform to truly express that side of their personalities. It's pretty awesome."
For more of Taye's TikTok shenanigans, follow him @tiktoktaye. Also, on March 2 at 8 p.m. EST, Taye will join @LuckyCharms on Instagram Live for the read-along debut of Lucky the Lephrechan's first book, The Magic Inside.