'SNL' Newcomer Aristotle Athari Got Married Just Days Before Joining the Season 47 Cast
Season 47 of Saturday Night Live is full of fresh faces. Ben Marshall, Martin Herlihy, and John Higgins of Please Don't Destroy have been welcomed into the writers room and have even gotten the opportunity to star in sketches. Not to mention, new cast members James Austin Johnson (aka the new President Biden), Sarah Sherman, and Aristotle Athari have all arrived at Studio 8H and are already rocking their new roles.
Article continues below advertisement
On the Oct. 16 episode, Aristotle got his biggest part yet. In a sketch titled "Angelo," he starred as a rather mumbly improv singer of the same name. After the video was posted on YouTube, it became clear that both Angelo and Aristotle had some fans.
That being said, what's the deal with Aristotle? Is he single, and does he have a comedy background? Keep reading to learn more about Aristotle Athari.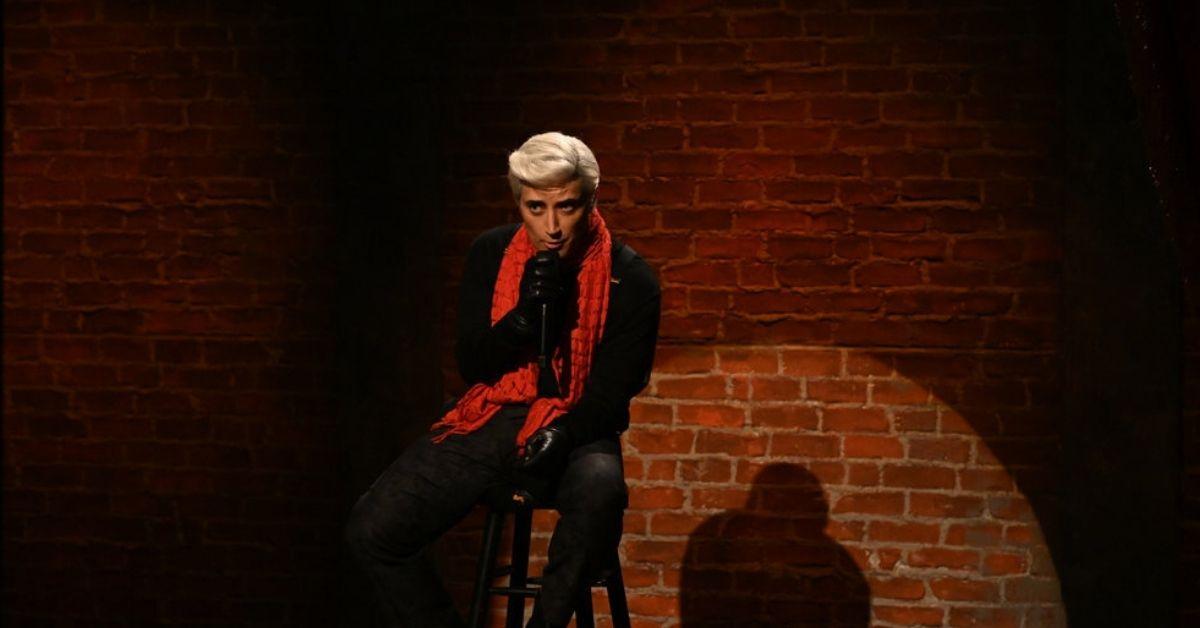 Article continues below advertisement
Is Aristotle Athari married?
Yes, Aristotle is currently married to photographer Maura Grace Athari. The two got married in September 2021 prior to the start of SNL's new season. On Instagram, he celebrated their new chapter together and his new job. "Today I get to celebrate the two greatest things to ever happen to me. Marrying the woman of my dreams @mauragracephotography and getting the job of my dreams @nbcsnl," he wrote on the platform. "I've been pinching myself a record number of times."
Maura also took to Instagram to commemorate their big day as well as share a funny anecdote from the ceremony regarding her and Aristotle's dog, Gracie. "Even though Gracie slipped out of her collar during the ceremony, terrorized the congregation, stepped on my veil and tore it in half," she wrote, "we had a lovely time becoming a family."
Article continues below advertisement
While it's unknown how long Aristotle and Maura have been together, their relationship was first documented on Instagram in August 2017 on Maura's account.
Article continues below advertisement
Aristotle does standup comedy and has been on TV before.
According to IMDb, Aristotle has been interested in the entertainment industry since 2008. He's starred in various video shorts, as well as held the recurring role of Dave in HBO's Silicon Valley. He has also worked as a consulting producer for the political talk show Patriot Act with Hasan Minhaj and was a director for Rosebud Baker's comedy special Whiskey Fists and Drew Lynch's comedy special Concussed.
Article continues below advertisement
Aristotle Athari also has an improv-style weekly podcast.
Article continues below advertisement
According to This Is Americans Live's description, it is "an improvised comedy podcast in the style of your favorite storytelling show from a certain public radio station." (While it is not explicitly clear, Aristotle and Andy appear to be parodying the popular podcast This American Life.) During each weekly episode, the men are joined by a special guest contributor and take turns using prompts from a random sentence generator to make up "fake real stories filled with fake real people."
Interested in giving it a listen? New episodes of This Is Americans Live drop every Monday on Apple Podcasts. Meanwhile, you can also catch Aristotle on Saturday Night Live every Saturday on NBC at 11:30 p.m. EST.