These Are Our Favorite 'Saturday Night Live' Halloween Sketches of All Time
Spooky season has arrived, and what better way to celebrate than treating yourself to a laugh or two. After spending a long, hard day at work, I recommend binging Saturday Night Live's best Halloween sketches.
From Chris Farley's legendary Matt Foley to Stefon filling us in on all the best places in NYC on Halloween, you'll be sure to laugh your head off.
Article continues below advertisement
Feel free to watch the skits themselves on YouTube linked below, or stream the entire Halloween episode on Peacock. Scroll on for a look at eight classic SNL Halloween sketches.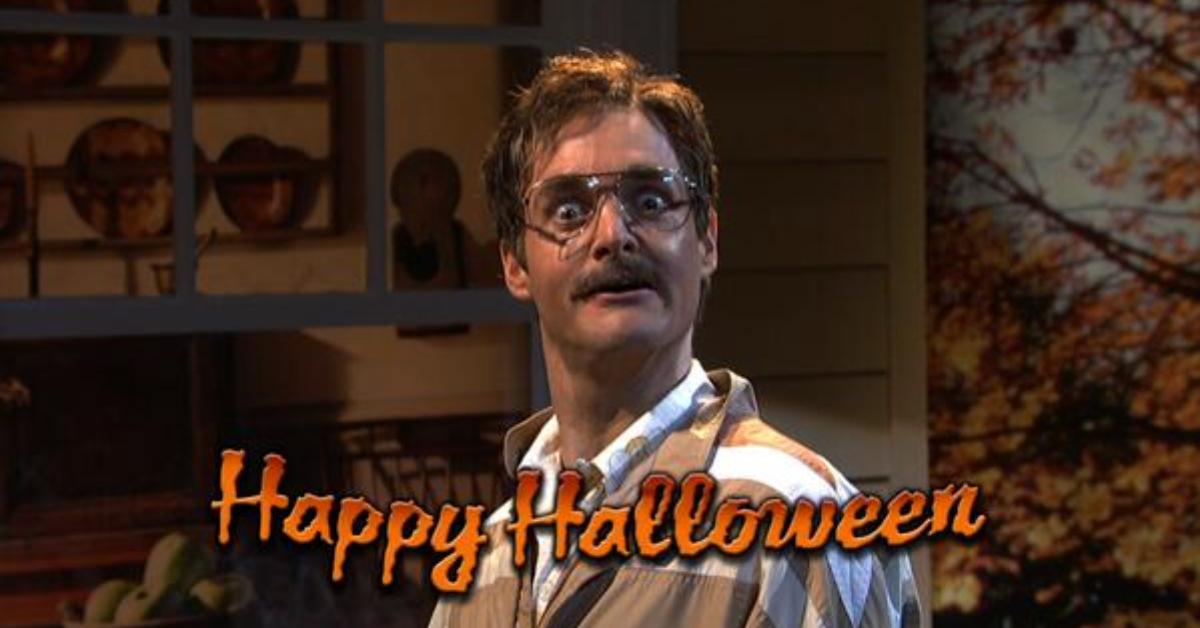 "Matt Foley: A Scary Story on Halloween"
One of the most beloved SNL cast members, Chris Farley, created the character, Matt Foley. In the Halloween-themed skit, the premise is the same as previous iterations, except this time, the idea is for Matt Foley to "scare" three teenagers straight after they were caught egging homes, tp'ing trees, and turning over the garbage, among other destructive acts. As usual, no one can keep it together when Matt Foley is around, making this a must-see skit.
Article continues below advertisement
"NPR's Delicious Dish: Gordon Hoover's Halloween Scary Town"
NPR hosts Margaret Jo McCullin (Ana Gasteyer) and Terry Rialto (Molly Shannon) honor Halloween on "The Delicious Dish." The ladies' special guest is Gordon Hoover (Dana Carvey), who hops on the show to explain his annual Halloween Scary Town. This edition of the parody radio talk show features such a perfect tempo and features some unintentional ASMR for those who want to relax and laugh.
Article continues below advertisement
"The Curse of Frankenstein"
Season 32 of SNL introduces "The Curse of Frankenstein," the latest Late Night Movie. To fulfill the Halloween theme, Frankenstein, played by Bill Hader, who speaks in his normal voice, deceives the town lynch mob leader, telling the group they have the wrong house and sending them to trouble Dracula, played by Jason Sudeikis.
The comedic stylings of Bill Hader and Jason Sudeikis mark some of the best in SNL history, and we miss them on the show more and more every day.
Article continues below advertisement
"Trick-or-Treat (Jon Hamm)"
Jeff Montgomery (Will Forte), a rather disturbing character, uses trick-or-treating as an excuse to meet his neighbor Bob Peterson, played by Jon Hamm. The moment Jeff reveals his Halloween costume to Bob is hilarious because of the pained yet blank expression on Bob's face.
The Will Forte SNL era was one of the best, and we believe he is such an underrated cast member.
Article continues below advertisement
"Vincent Price's Halloween Special"
On this edition of Vincent Price's Halloween Special, Vincent welcomes James Mason (Jon Hamm), Gloria Swanson (Kristen Wiig), and the ghost of Liberace (Fred Armisen).
In just six and a half minutes, the sketch sure did deliver. The duo of Bill Hader and Kristen Wiig always provides the laughs, and this skit is for sure a must-watch every Halloween season. Also, it's always amusing to see a very agitated Vincent Price.
Article continues below advertisement
"Weekend Update: Stefon on Halloween's Hottest Tips"
As Halloween approaches, Seth Meyers and "Weekend Update" brings on NYC correspondent Stefon to provide tourists with the best spots to check out on Halloween. In the sketch, Stefon reveals spooky season advice that includes hobo-cops and the Jewish Dracula, aka Sidney Applebaum.
Stefon is one of the most remarkable characters in SNL history. As always, Bill Hader goes into the sketch only knowing a portion of the script, and the rest is a surprise, as seen by his struggle to stay in character.
Article continues below advertisement
"The Steve Harvey Show: Halloween"
Kenan Thompson is back as Steve Harvey on SNL, this time for a special Halloween episode. Steve's guest is Spooky City's Jake Pickler, played by Edward Norton, who shares a few of his favorite pun-filled Halloween ensembles, such as "Facebook" and "Cereal Killer." Steve does not understand the wordplay, but he does get pretty close with Jeffrey Dahmer Toast Crunch.
Kenan's impression of Steve Harvey is spot-on and always makes us laugh.
Article continues below advertisement
"Office Halloween Party"
Featuring an ensemble cast, "Office Halloween Party" witnesses Beck Bennett's Greg advising his coworkers to avoid eating the Halloween cake he made for the party. Unfortunately, they each had a piece that led to a medical inconvenience for all.
The sketch features Aidy Bryant as a nun, Leslie Jones as a hot dog, Kenan Thompson as Mario, Cecily Strong as a vampire, Melissa Villaseñor as Velma Dinkley, and guest host Kumail Nanjiani as Groot.