"Becca's Wedding Feat. Jack" — Couple's Wedding Signage Seemingly Favors Bride
One couple's wedding signage went viral for teasing that it was the bride's big day and the groom was more of a special guest at his own wedding.
When it comes to wedding planning, there is so much to do, from booking a venue to inviting all the guests to actually making it all happen in time without having a panic attack. One of the smaller but still very important tasks is getting signage made for your big day. You'll usually want a welcome sign that says your and your partner's names and the date. And if you're a social media-savvy couple, you can even include a wedding hashtag.
Article continues below advertisement
The signs are pretty straightforward and there usually isn't a lot of space for creativity — or so we thought. One bride's clever wedding signage has the internet talking. I can't help but think she saw Greta Gerwig's Barbie movie.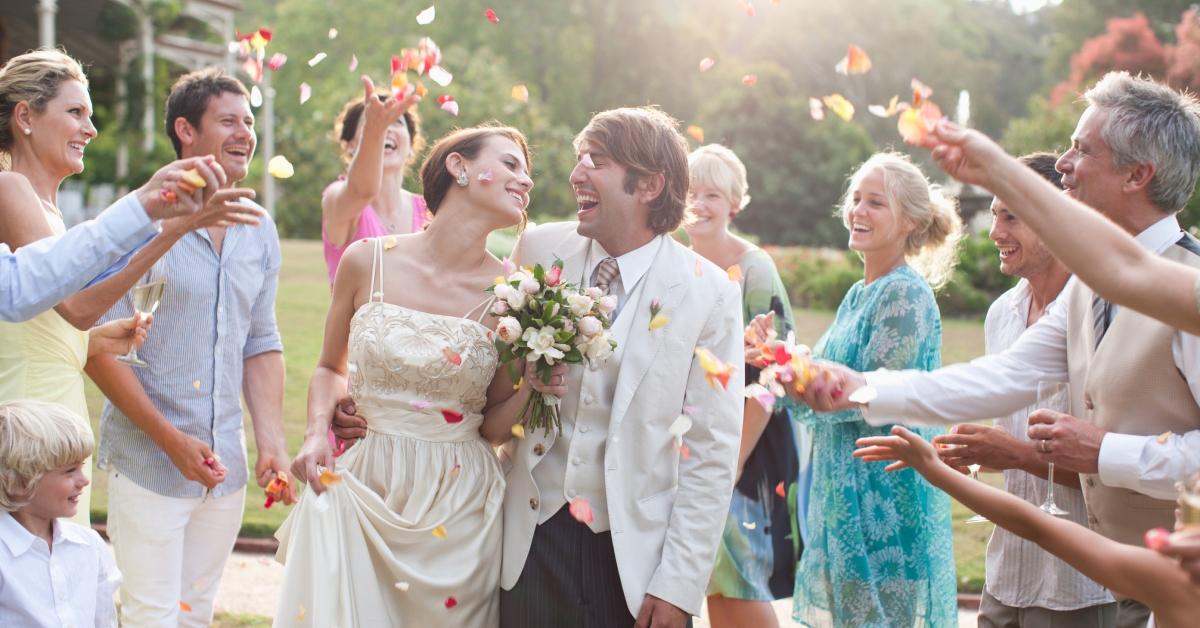 Article continues below advertisement
This couple's wedding signage emphasized that their wedding was all about the bride.
While weddings are about celebrating one couple's love, there often is a bigger emphasis put on the bride that sometimes can make it feel like it's her special day and not their special day.
Well, one bride really playfully toyed with the idea that their wedding day was more about her than the groom. What resulted was a hilarious sign that likely just went down in wedding history.
Article continues below advertisement
TikTok creator Bex McMonagle (@bexthecelebrantuk), who claims to be a wedding celebrant or a person who performs and officiates formal ceremonies, shared the signage from one of the weddings she was involved in on the platform, and viewers were so here for it.
The sign read: "Welcome to Becca's wedding featuring Jack."
Becca's name was written in incredibly large font while Jack's name appeared to be more of a footnote. Becca and Jack's wedding date was also included on the signage.
In the background, Bex added an audio clip from The Kardashians of Kris Jenner speaking to a friend saying "Look at this. Isn't it great?" to really up the ante.
Article continues below advertisement
In the comment section of Bex's video, the majority of users were impressed with Becca and Jack's wedding signage.
"I hope Becca's day was perfect. Shout out to Jack for his participation," wrote one user.
"This tells me that you both are hilarious people who are blessed to have found each other, y'all are probably best friends," said another.
A third teased, "He's just Ken," nodding to the Barbie movie tagline "She's everything, he's just Ken."

Article continues below advertisement
But not everyone was too keen on the sign.
"Funny but also kinda sad, like it's his wedding, too," read one comment.
But as Bex pointed out in a response to this user, Jack approved the sign. If he was uncomfortable with it, he could have just said so.
Article continues below advertisement
The conversation also continued on Reddit after one user posted a photo of the sign in the r/IAmtheMainCharacter community.
One user wrote: "Later they should have a birth announcement saying: Becca's pregnancy, featuring Jack, and introducing Baby."
In another TikTok video, Bex shared more moments from Becca and Jack's gorgeous big day. It appeared that the rest of the signage included both of their names, so it was just that one sign that got the cheeky edit.
And judging from the huge smile on Jack's face, he didn't care one bit about it.