The Bella Twins' Mom Is Devoted to Her Family and It Shows
The Bella twins have a solid relationship with their mom, and when she underwent brain surgery, they urged fans to keep her in their thoughts.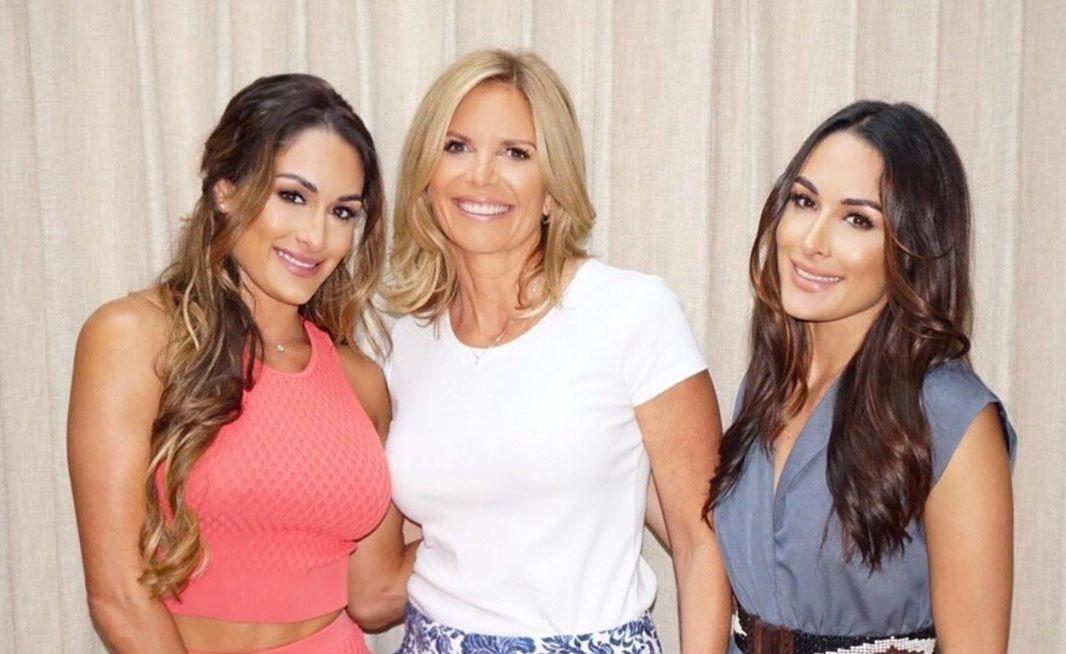 Even though they are rarely seen in the WWE ring anymore, the Bella twins, Nikki Bella and Brie Bella, are synonymous with the brand, and with the female superstars who are continually rising through the ranks within the industry.
So when the news broke that the Bella twins' mom was undergoing brain surgery, fans everywhere were concerned.
Article continues below advertisement
The twins' mom, Kathy Laurinaitis is known by plenty of viewers of their now-canceled reality show Total Bellas. It certainly helps that she's married to former wrestler and WWE producer John Laurinaitis.
But those who only know Nikki and Brie's mom through the twins themselves might be wondering more about who she is.
Article continues below advertisement
Who is the Bella twins' mom?
Kathy Laurinaitis gave birth to her daughters when she was just 19, which makes her a pretty young grandma. And honestly, if you look at pictures of the three of them together, she seems more like an older sister than a mom. But her gift for gracefully aging doesn't come from straying from hard work.
She is a managing partner at the recruiting company JBN & Associates and has worked for the Phoenix Suns Charities Board for years. She also appeared on several episodes of Total Bellas.
So in between running her own business, doing her philanthropic work, and being a doting grandma, Kathy just has a lot going on. Luckily, her daughters are always quick to praise her for her continued hard work.
Article continues below advertisement
Nikki and Brie Bella spoke out about their mom's brain surgery.
In 2020, Nikki and Brie both wrote about Kathy's brain surgery on their respective Instagram accounts and urged their followers to keep their mom in their prayers. They revealed that doctors planned to remove a mass from her brain stem and, afterward, Nikki took to Instagram again to let everyone know the surgery was a success.
Article continues below advertisement
"Mama Bella had a very successful surgery!" Nikki wrote. "Can't thank you all enough for your prayers, love, light and beautiful words! Can't wait for my Mom to see how loved she is. It's going to mean the world to her. Now prayers for her recovery! And thank you to the surgeons who took such incredible care of her. Can't thank you all enough!"
Article continues below advertisement
Kathy also used to be a big part of 'Total Bellas.'
Although Kathy certainly has plenty going on outside of the show business life her daughters lead, she was on Total Bellas plenty over the years, as she is a huge part of the Bella twins' lives. In Season 5, there was some friction between Kathy and her daughters when she learned they were interested in reconnecting with their biological father, whom she had divorced years previously.
These days, however, the Bella twins seem to be as close as ever with their mom. And, through the ordeal of her brain surgery, they have stuck by her as much as possible. Clearly, she has plenty of family and friends rooting for her fast recovery, including the Bella Army. Because yes, that's still totally a thing.