Here's Where You've Seen Trent Harrison From 'Never Have I Ever' Before
Many of us are shamelessly relying on TV and movies to get us through this never-ending pandemic, and a new comedy has since made its way onto all of our watchlists called Never Have I Ever. The hilarious Netflix series was co-created by The Office actress, Mindy Kaling, and apparently, it reflects actual events from her teenage years.
Article continues below advertisement
Among many talented, young cast-members from Never Have I Ever is Benjamin Norris, who plays the role of "chill bro," Trent Harrison —here's where you might recognize him from previously.
Article continues below advertisement
Despite his young age, Benjamin Norris is quite accomplished in the world of comedy.
Benjamin hails from White Plains, N.Y. and now resides in Los Angeles' Echo Park neighborhood. He moved to the West Coast back in 2012 to pursue comedy and acting, which he studied at Groundlings improv school in Los Angeles. Shortly after his arrival, he started producing a web series called "Live Your Lyfe," and eventually created a YouTube channel, where he posts his own productions. He's currently working on a docu-series called MARISSA and often posts funny original skits to Instagram.
In addition to co-writing, producing, and starring in various short films and web series, Benjamin has made several TV appearances, including The Ugly Friend as Jimmy Richards, Relationship Goals as Sam, Up For Adoption as Shane, and Private Dicks as Leroy Jankums. In terms of bigger roles, he was cast in Unfortunatly Ashly as Ben, The Pregame as Connor, and Superstore as Tony. He may only be in his late 20's according to Heightzone (his exact age is undetermined) but his resume is never-ending.
Article continues below advertisement
Here's what you need to know about his latest role, Trent Harrison:
Based on the series, Trent is still the most underrated character in the entire show — according to a description from Refinery29, Trent is a "chill bro," whom Devi (played by Maitreyi Ramakrishnan) considers to be BFFs with her crush, Darren. Trent tries to warn Devi, calling Darren a "wild dog."
Article continues below advertisement
We keep a special place in our hearts for the "chill bro" featured in every high school series (Lizzie McGuire's Ethan Craft is only one shining example), and knowing Benjamin's strong background in comedy set up Trent to have some hilarious high school boy one-liners. Plus, how can anyone resist those flow-y locks? They're totally drool-worthy in the eyes of any hormonal teen.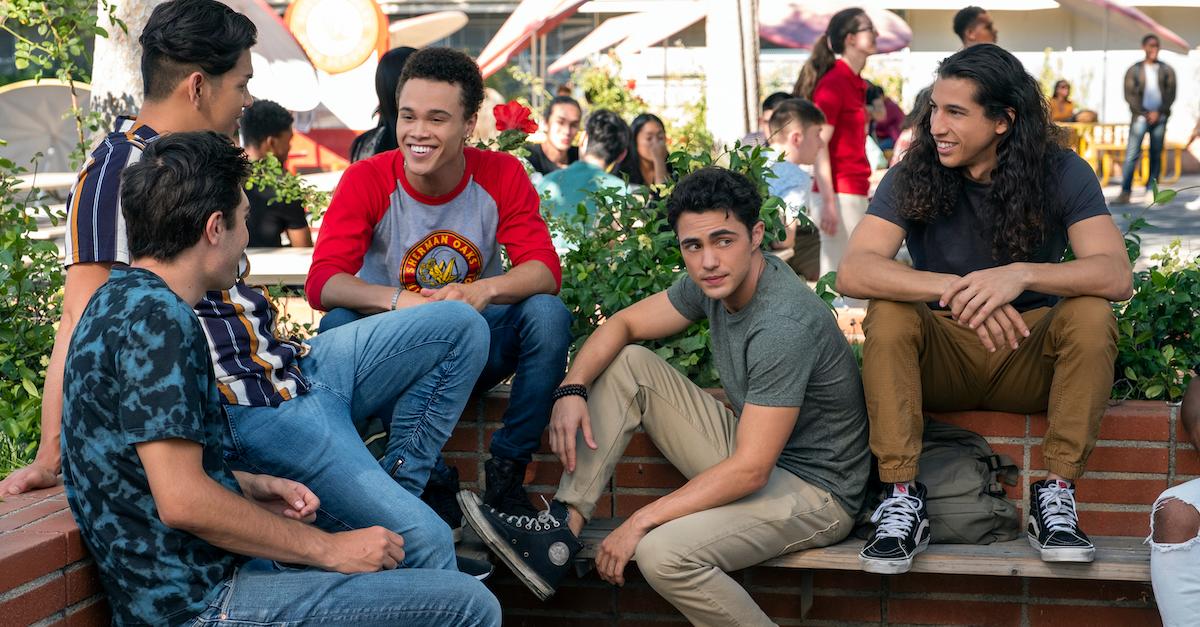 Article continues below advertisement
'Never Have I Ever' is a must-watch.
Never Have I Ever is the diverse comedy we all need right now — with other upcoming stars such as Maitreyi Ramakrishnan (who plays Devi) and Class of Lies' Lee Rodriguez (who plays Fabiola), the show's cast is decorated with talented young names.
If you aren't already planning to watch Never Have I Ever, we strongly suggest watching the trailer below.
There's no denying Benjamin Norris is a total heartthrob, on and off the screen — needless to say, Never Have I Ever will definitely be included in our next re-binge sesh.
Never Have I Ever is available on Netflix now.