Comedian Bert Kreischer Is a Machine, but His Wife Makes Sure the Wheels Don't Fall Off
Comedian Bert Kreischer, the man who literally bares it all for his comedy, has been married to his wife for 20 years. Who is she? Let's meet her.
Comedian Bert Kreischer would probably give you the shirt off his back, if he ever wore a shirt. Going shirtless and baring it all has been the standup comic's trademark for many years, but that's just a small part of who he is. In 2023, he was named Stand-Up Comedian of the Year by the Just for Laughs Comedy Festival, which is a feather in the seasoned funny man's cap.
Article continues below advertisement
In a quick interview with Variety, Bert said receiving his award was "overwhelming" because comics "do so much of our work at night, on the road, and in the shadows." He added, "Sometimes you feel like no one notices, but to get recognized for my work, especially by JFL, which is the gold standard in comedy, means absolutely everything to me." However Bert isn't alone. He has been married for 20 years and shares two children with his wife. Who is Bert Kreischer's wife? Let's get to know her.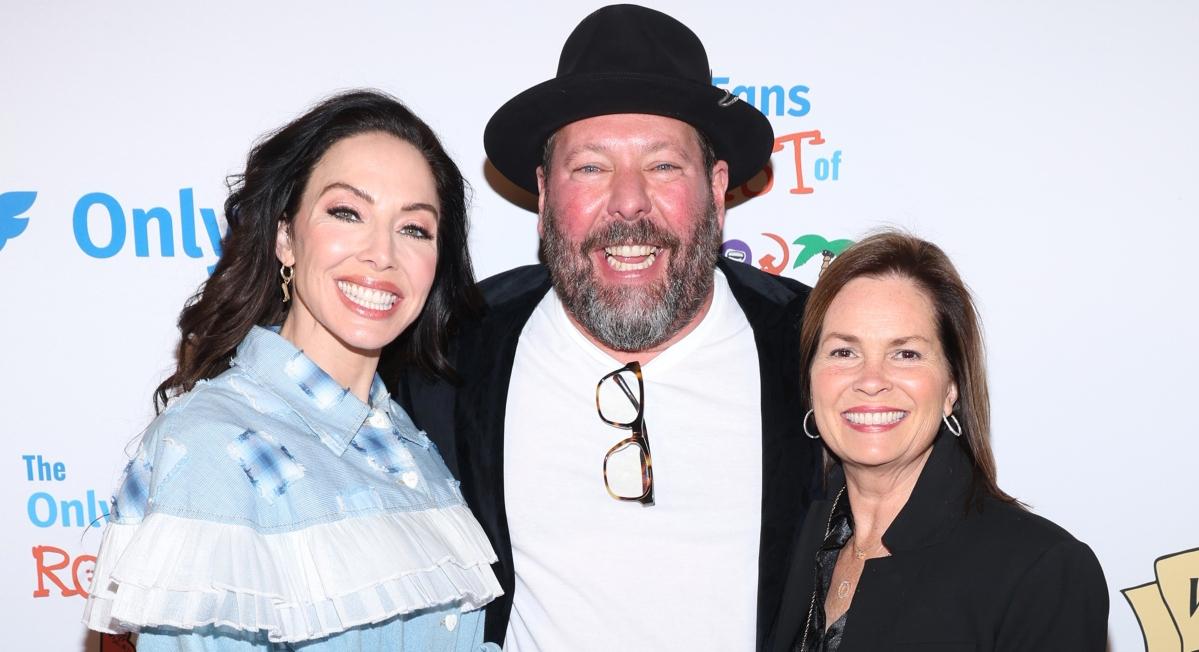 Article continues below advertisement
Bert Kreischer couldn't do anything without his wife.
While guesting on the Are You Garbage? podcast in March 2023, Bert gave full credit to his wife LeeAnn Kreischer for helping him become such a huge success. "I really could not have done any of this without her," he said. "I picked the right chick." Before they met, LeAnn was born and raised in a small town in Georgia where she was "related to everyone on the whole mile and a half road," where her house stood.
The land her family lives on has been occupied since 1840 as noted by the sign on the church where she and Bert were married. "Both my grandparents went to school in that church," she shared. LeeAnn is an only child whose father was a mechanic while her mom "worked in the local factory sewing men's suits." After their divorce, LeeAnn and her mom moved to Atlanta where her mom became the "highest paid model for about nine years."
Article continues below advertisement
LeAnn would later spend two years at West Georgia College before transferring to Georgia State but she never graduated because New York City was calling her name. "I moved to New York to study acting," LeAnne told the podcast hosts. The hustle and bustle of the big city was wearing LeeAnn down, so she decided to take a chance on Los Angeles where there was a bit more nature. She gave up acting but continued to write.
Article continues below advertisement
What does Bert Kreischer's wife LeeAnn do for a living?
It's only fitting that LeeAnn and Bert would meet at a bowling alley in Los Angeles. It's the perfect best date or worst date location. They dated for a year and a half before getting married, during which time Bert would call LeeAnn every morning at 9 a.m. to ask what she was doing that evening. "He's an all or nothing guy, that's for sure," said LeeAnn laughing.
This was in 2003 and since then, the couple has welcomed two daughters (Georgia Kreischer and Ila Kreischer), one of whom was technically present at the wedding if you catch our drift. In the beginning, LeeAnn managed an apartment building which allowed them to live rent-free. Getting pregnant did change her career goals. She decided to give her children the childhood she never had, and basically gave up Hollywood to be a mom.
Article continues below advertisement
Bert told a story about the Travel Channel offering the couple a show that would pay them $20,000 per episode but would also take them all over the world. LeAnn put her foot down and said, "No, I'm a mom." When the girls were older, LeeAnn returned to Hollywood in a different capacity. She has served as producer on two of Bert's specials as well as a special by comic Shane Torres. "I love it," said LeAnn about producing.
LeeAnn also has her own podcast, Wife of the Party, where she invites guests on to chat about "marriage, family, and what it's like to be married to the life of the party." Folks like Cheryl Strayed, Dr. Pimple Popper Sandra Lee, and her own daughters have joined in on the fun and the fun-adjacent.