"Dadosaur" Is the Best Thing to Happen to TikTok Since 'Tiger King'
TikTok's newest favorite dad is the "Dadosaur," who is featured in videos filmed by his kids randomly turning into a dinosaur and wreaking havoc.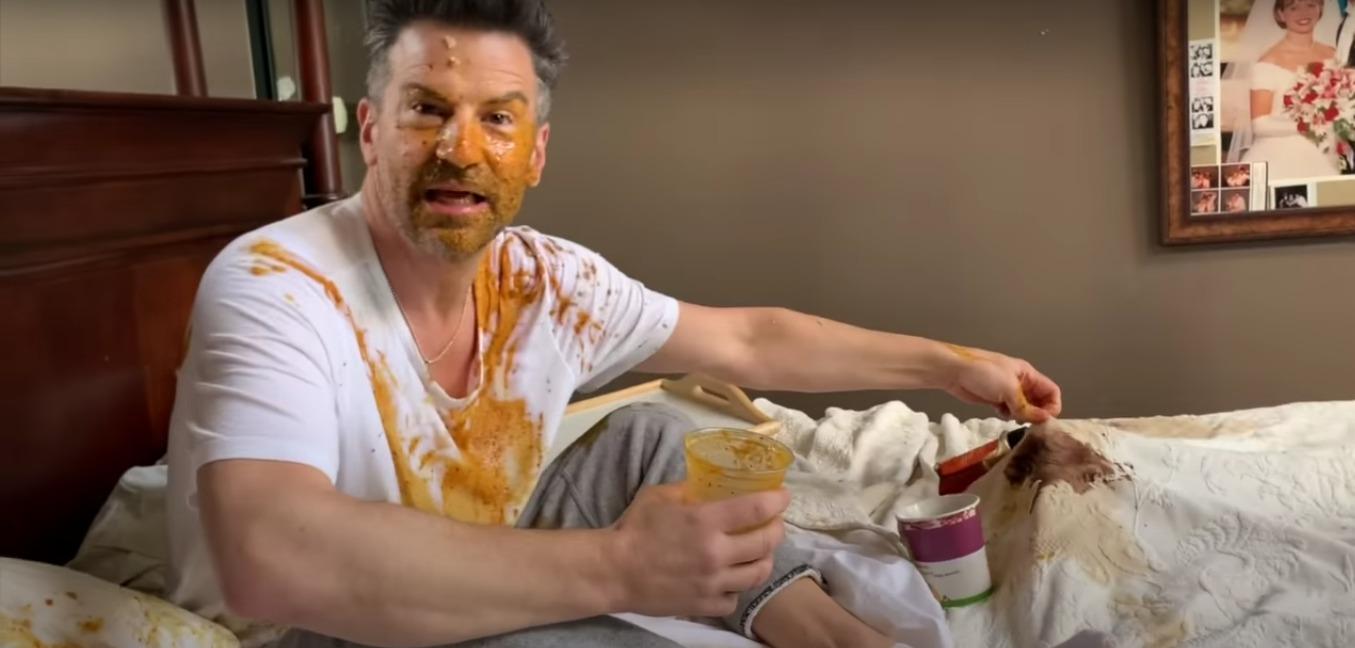 You can take all of your Tiger King and recipe TikToks and save them for later, because they are totally still relevant, but allow them to step aside so you can be totally engrossed in the magic that is the "Dadosaur" on TikTok. On April 3, 2020, a TikTok user by the name of Olive Mannella uploaded the first video of her dad turning into what the family calls "Dadosaur," while being stir-crazy inside of their home during the COVID-19 pandemic.
Article continues below advertisement
The Dadosaur TikToks you should be watching right now:
It would spark tons of likes, follows, and comments. If you have watched one of these TikToks and not wanted Dadosaur to adopt you as a grown adult, you just aren't living. The premise is simple. Olive's dad will be doing any mundane thing, like taking out garbage or even working out, and Olive or one of her sisters will say "Dadosaur," prompting him to stop whatever he's doing and turn into a wild, unabashed dinosaur-human hybrid.
Dadosaur takes family photos.
If you're a parent, then you understand the value of taking just one good family photo. Just one. Because corralling all of the kids into smiling at the same time can be a struggle on its own. Fortunately, not all families have a Dadosaur, who morphs into the much-loved character mid-photos, like this video from the family's DIY Easter photoshoot.
Dadosaur has breakfast in bed.
You'd think that after all of the random Dadosaur moments that nothing would surprise Olive's parents. But when she surprises them with breakfast in bed, they seem legitimately touched. Cue a perfectly timed "Dadosaur," and the breakfast in bed is literally all over the bed, and then some. It's easily one of the Dadosaur TikToks you can't watch just once or even five times.
Article continues below advertisement
Dadosaur eats cake.
The beauty of Dadosaur is that he literally stops whatever he is doing and turns into his version of a wild dinosaur with no rhyme or reason for his actions. So when he is cutting a cake in this TikTok and one of his daughters calls out the magic word, he stops being the calm, rational dad, and becomes totally out of control. It's pretty amazing.
Article continues below advertisement
Dadosaur takes out the trash.
One of the best parts about the whole Dadosaur thing is his wife's reaction to all of his antics. When he turns into Dadosaur mid-workout, she voices concerns of him hurting himself. When he turns into Dadosaur while taking out the trash and proceeds to make a mess all over the walkway in front of their house, his wife scolds him, and rightfully so, and refuses to help him clean up the subsequent mess.
Article continues below advertisement
Dadosaur gets meta.
In another Dadosaur video, one of his daughters is reading a YouTube comment to him about the Dadosaur videos. When she reads the word "Dadosaur," it's like a lightswitch flicks on and he, once again, turns into the dad-turned-dinosaur that millions of TikTok users have come to know and love.
Article continues below advertisement
Even with the millions of other TikToks out there which shuffle through your feed each time you get knee-deep in another session of watching them nonstop, chances are, you've seen at least one Dadosaur video. But in case you want to watch them all over again, Olive set up an official YouTube channel for the family to continue to upload Dadosaur's antics. There doesn't seem to be an end in sight and honestly, that's the best gift of all.