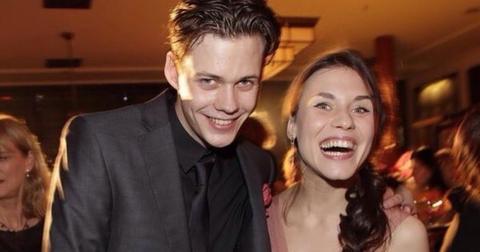 Bill Skarsgard and His Partner Have Always Been Notoriously Private
By Devan McGuinness

Updated
There are some celebrity families that have been in the spotlight for a long time and they love it. We think of the Kardashian-Jenner family as the ones who do this best. However, not all actors who come from big acting families want the same — like the Skarsgard family. Many of them have jumped into acting, however, for Bill Skarsgard and his partner, Alida Morberg, they've been notoriously private.
Article continues below advertisement
Bill Skarsgard doesn't have a wife, but he's been with his girlfriend for a while.
Bill Skarsgard has a long-time girlfriend who has been by his side through many career highlights. He has been in a relationship with Swedish actor Alida Morberg for at least four years, however the details are a little scarce. The two are notoriously private about their personal life and their relationship together.
While both Bill and Alida are actors, neither are very active on social media, likely a decision made precisely because of their profession. There's an idea that if we know too much about the actor's personal life, we may have trouble seeing them in the role that they're playing.
Article continues below advertisement
For Bill, the last photo he shared on social media were professional shots uploaded in July 2020, however the last image that features Alida was posted back on Oct. 29, 2017 when the two were out with friends. The time before that was posted on July 5, 2016, where it looks like the two attended a wedding together.
Article continues below advertisement
According to Bustle, Alida's Instagram used to be public, but is now private, and she had shared a few images of the two of them together. This includes an image from the first day of the It premiere, the remake of the Pennywise movie which had Bill playing the infamous horror clown.
Article continues below advertisement
Bill and Alida secretly welcomed a baby in 2018.
Not only do these to actors keep their private life off social media, but they also chose to share very little about their pregnancy and journey into parenthood. In September 2019, Bill was a guest on The Late Show with Stephen Colbert and said that 11 months earlier, he had welcomed a baby girl with Alida.
Article continues below advertisement
"I've gotten a bunch of fun merch throughout the years, so her little baby room is just filled with all these Pennywise teddy bears," he said to Stephen.
He later spoke with Good Morning America and said that while he was filming the movie, he would FaceTime Alida and his daughter while still in full costume. However, at that time, his daughter was only a few weeks old. "She didn't know," he explained, but said he'd share that with her when she was older — he made sure he got a "great screenshot" of it.
Article continues below advertisement
Bill Skarsgard recently had to drop out of a project that would have had him act again with his brother.
According to Digital Spy, Bill recently had to drop out of the film The Northman due to scheduling issues caused by the pandemic. He was set to join his brother, Alexander Skarsgard, working together for the first time since the 2000 film White Water Fury.
"It's been a scheduling nightmare during COVID," he explained. "It is what it is. It's a big shame. [Robert] Eggers is one of the great filmmakers out there and working with my brother… I don't want to talk about it, it's going to make me burst into tears."