Calling All Enchantresses! You Can Book a Wicked Stay at the Infamous 'Hocus Pocus' Cottage Through Airbnb
Calling all 'Hocus Pocus' stans! Would you kill to stay at the Sanderson Sisters' spooky cottage? Thanks to Airbnb, this witchy dream can become your reality.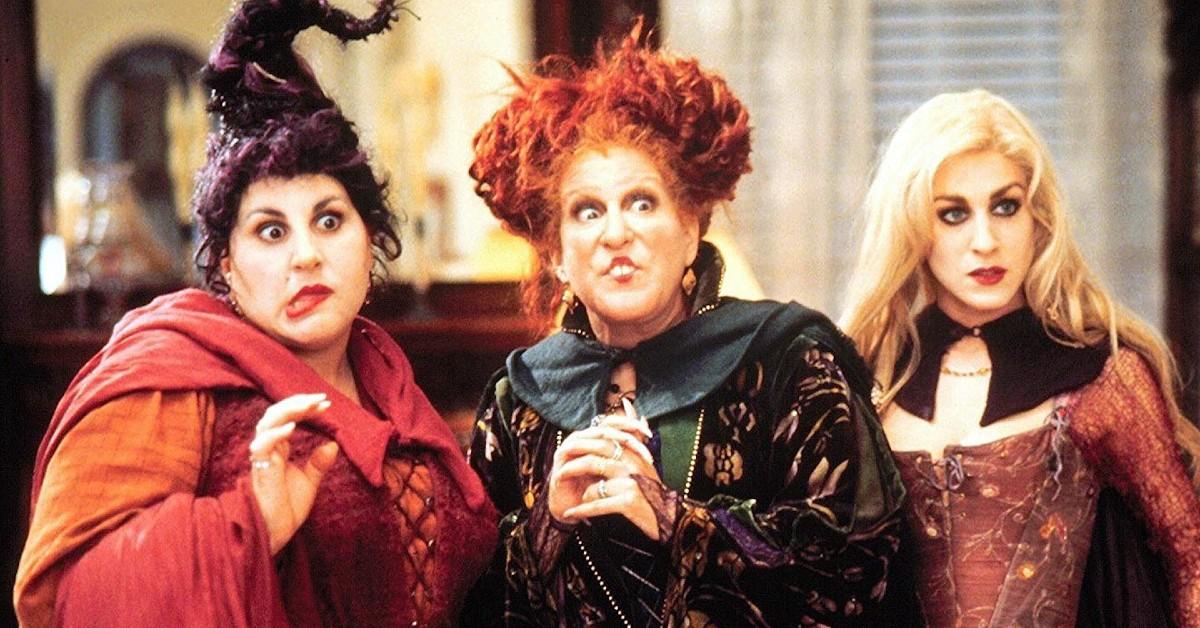 A whopping 300 years after they were hanged in Salem, Mass., witches Winifred (Bette Midler), Mary (Kathy Najimy), and Sarah (Sarah Jessica Parker) — aka the Sanderson Sisters — returned in 1993 to wreak havoc on all of Salem. With a hunger for innocent children (likely boasting candy corn breath), the wicked trio was summoned when skeptical virgin Max Dennison (Omri Katz) lit the black flame candle on Halloween night, the full moon high in the sky. Little did he know, wicked consequences would come.
Article continues below advertisement
If you're unfamiliar with this premise, we beg of you, watch Kenny Ortega's 1993 film Hocus Pocus this Halloween season. With deliciously cheesy '90s charm, a cast that's just oozing with camp, and an uber-quotable script (ah say ento pi alpha mabi upendi!), Hocus Pocus has solidified itself as a spine-tingling and silly cult classic.
And whether you watch it every year as part of your own personal All Hallow's Eve ritual, or you simply appreciate a haunting Halloween experience like no other, you'll be happy to know that you can call the Sanderson Sisters' cobweb-infested cottage your humble abode for one spooky night!
Article continues below advertisement
Where Is the 'Hocus Pocus' house? How can you book it through Airbnb?
Just in time for the Sept. 30, 2022, release of Anne Fletcher's highly-anticipated Hocus Pocus 2, short-term homestay company Airbnb is offering a one-night stay for two in a recreation of the Hocus Pocus house, which is located in the Danvers, Mass., woods. According to HistoryofMassachusetts.org, Danvers — sometimes called Salem Village — was originally a part of Salem in the 17th century.
Article continues below advertisement
"We're back, witches. To celebrate our resurrection, we're inviting guests into a land of enchantment with a stay at a recreation of our Salem cottage, where those with a penchant for mysticism can explore our spine-chilling haunt as All Hallows' Eve approaches," the Airbnb listing reads.
Article continues below advertisement
When does the 'Hocus Pocus' listing open?
The spooktacular (sorry) listing opens at 1:00 p.m. EST on Wednesday, Oct. 12 "for an exclusive stay on Thursday, Oct. 20." With two bedrooms and a half-bath (expect a "modern outhouse"), the one-night cottage stay will cost $31.
Adorned with broomsticks, apothecary bottles, sprawling ivy, warm, dim lighting, antique wood, ghostly photographs, dripping candles, and an enormous cauldron filled to the brim with smoking dry ice, the charming cottage is what every enchantress's dreams are made of. We can only hope that the haunt houses a few rat tails. It's what Sarah would want.
Article continues below advertisement
Also boasting a shrine of sorts for Winifred's beloved Manual of Witchcraft and Alchemy, guests will shriek with pleasure at seeing the anthropomorphic book in person. Come on, Book is kind of cute!
Not only that but guests will be given the opportunity to view an extra special screening of Disney Plus's Hocus Pocus 2.
"We all know that the Sanderson Sisters' story might not have ended when we turned to dust, nor did our shenanigans," Kathy Najimy said, per Architectural Digest. "What better way to celebrate the season than to host guests at the trio's historic haunt for a night they'll remember for years to come?"
We completely agree, Kathy. Don't mind us, we'll be flying to the Sanderson Sisters' creaky cottage on our trusty Swiffer WetJet.