This Woman's Boyfriend Dumped Her After They Bought a House Together — Did She Flip Out?
Buying a house is hard enough but doing it with a partner sure does make it easier. That is, unless said partner breaks up with you two months later.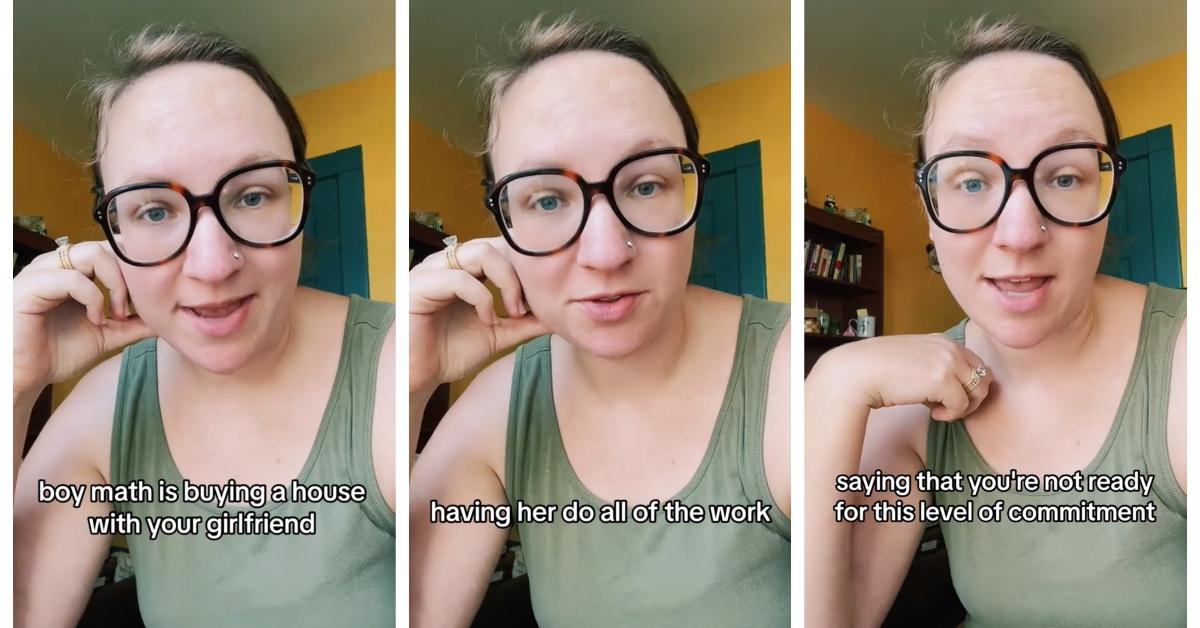 I don't think I'll ever be able to afford a house and I'm not entirely sure I want to purchase one. As it stands, if something stops working at my apartment I simply call the owner and he has it fixed at no cost to me. I'm not paying for my water and I have the freedom to pick up and move much easier.
Article continues below advertisement
I'm also willing to admit that if I suddenly came into a large sum of money, I would probably buy a gorgeous old home from the late 1800s, in the hopes that I might find some strange thing in the walls during renovations. I'm open to anything from old newspapers to a fully haunted doll, but I digress. What I simply can't imagine happening is what one TikToker had to endure when she was dumped by her boyfriend nine weeks after they bought a house together. I curse him!
Article continues below advertisement
Boy math is dumping someone nine weeks after you bought a house together.
In a series of heartbreakingly hilarious TikToks using the viral boy math trend, Rachel shares the many ways in which her ex-boyfriend is kind of awful. In one, she reveals he was deeply afraid of commitment but was fully capable of signing a 30-year mortgage with her when they bought a house together.
She goes by @rachel_overshares on TikTok, but in my opinion Rachel is sharing just the right amount. The most shocking video is of Rachel saying that "boy math is buying a house with your girlfriend, having her do all the work, packing up boxes and moving you both into this new house, and then nine weeks later sending a text message that you're not ready for this level of commitment." Remember the 30-year mortgage from the previous video?
Article continues below advertisement
In what feels like a fairly unhelpful comment, someone replied, "This is why I tell people do not buy houses with somebody unless you are married to them." Rachel responded with a simple yet effective, "I know."
Article continues below advertisement
Sadly, the rest of the comments were mostly people sharing similar tragic stories. "I once helped a partner move across the country for a new job," wrote @highuintas. "He was already thinking of leaving me but wanted me to help him move." (The way I would have "accidentally" backed up over his couch...)
Under yet another tale of cruelty, Rachel said that this was actually the best thing that ever happened to her. Based on her other TikToks, I couldn't agree more.
Article continues below advertisement
One of my pet peeves is any man who has the audacity to tell a woman what to do with her body hair and, in particular, her pubic hair. I'm not surprised to learn Rachel's ex had some thoughts about hers. "Boy math is telling your girlfriend if she doesn't shave her private area, that's a dealbreaker for you ... but never once even taking scissors to yours."
Article continues below advertisement
Article continues below advertisement
In a TikTok dated Oct. 6, 2023, Rachel said the awful ex stories were from "five years ago in January." After the breakup, she moved back to her own hometown because where they bought the house was her ex's hometown. He was surrounded by family and friends, and she was stuck with him. "I just wanted to get the h--- away from everything," said Rachel.
Rachel moved into her mom's house which is outside of Milwaukee. Sadly her mother's house had been abandoned and was a bit of a hoarding situation, which presented new problems. "That's another story," Rachel said.
In order to get over her ex, Rachel decided to "get under someone else" and did so, several times. Atta girl! "I met my husband about six weeks after the breakup." Seven months later they were engaged then married. Rachel has no idea what her ex is up to. The important thing is, Rachel is "happily married now ... every day she wakes up and is so in love with her husband." Plus, they have an adorable toddler.