"He Showed Me What Our Future Would Be Like": Woman Breaks Up With Guy After Meeting His Folks
Meeting a new partner's parents can be very stressful but what if these people are not OK and your new person hopes to be just like them someday?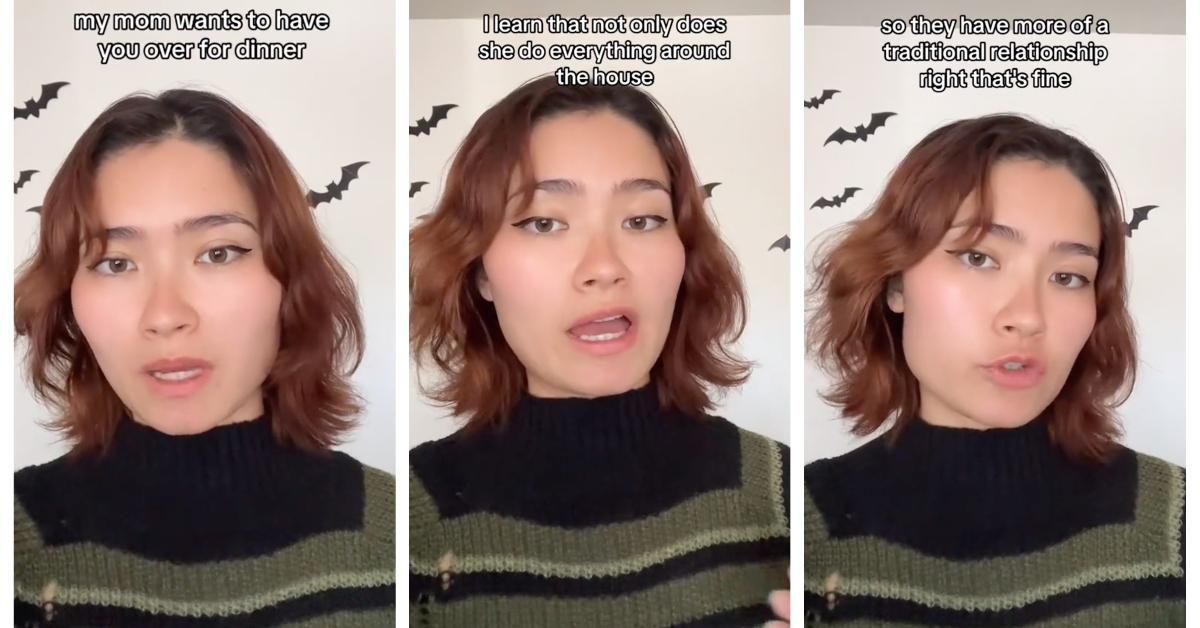 The Ben Stiller–helmed comedy that is Meet the Parents really did a lot for the often terrifying event that is being introduced to your new partner's parents. The movie made it seem like this activity could be a comedic walk in the park. What it didn't touch on is the fact that these people are usually the sole blueprint for your person's idea of a healthy relationship.
Article continues below advertisement
Obviously you hope they like you, but bear in mind this job interview goes both ways. You have to like them as well, and furthermore if you sense a disturbance in their force then it might be time to have a conversation with your person. And if you witness truly alarming behavior, do what this TikToker did when she dumped her dude after a dinner with his folks. What brought this on? Keep reading for all the red flags.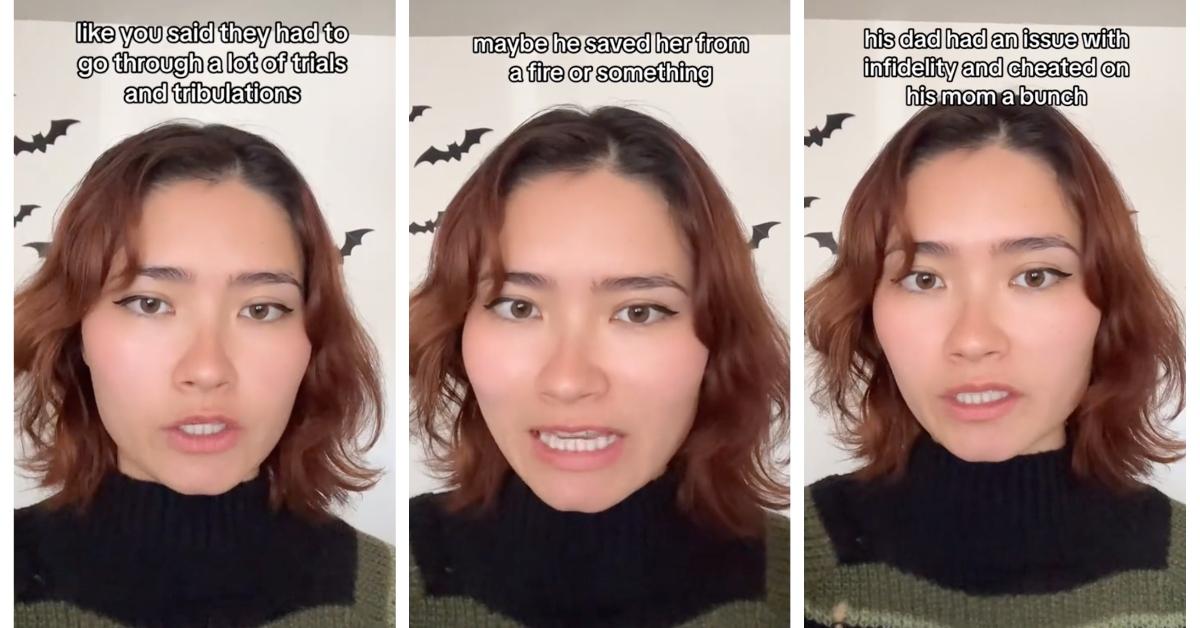 Article continues below advertisement
This girl got a glimpse of her future.
Danielle, who goes by @yellerweller on TikTok, is practiced in the art of polarizing content. She regularly responds to some of the worst comments on TikTok with the skill of a seasoned satirist. This is not something one learns. Danielle is born with it. It's not Maybelline.
Occasionally she'll drop a story apropos of nothing, and hidden within it are numerous lessons people should tuck away for a rainy day. One her most viewed videos is a harrowing story about the quickest time she broke up with a partner.
Article continues below advertisement
She had only been dating this mystery man for about a month, but he was already dropping a lot of future talk. Now, I'm not saying people can't plan ahead early on. In fact, as a consummate planner, I love having a full calendar. However this fella was already laying out what he would want in a marriage.
Article continues below advertisement
Apparently what he wanted was a relationship just like the one his parents have. That's very sweet. As a child of divorce, I had to work really hard to figure out what a healthy partnership looks like. Having a solid model since birth is like being born on third base.
According to Danielle there were no warning signs that this guy could be a touch dysfunctional, but I'm of the mind that 30 days is not long enough to make this decision. He did repeatedly bring up his parents' marriage, which could veer off into love-bomb territory.
Article continues below advertisement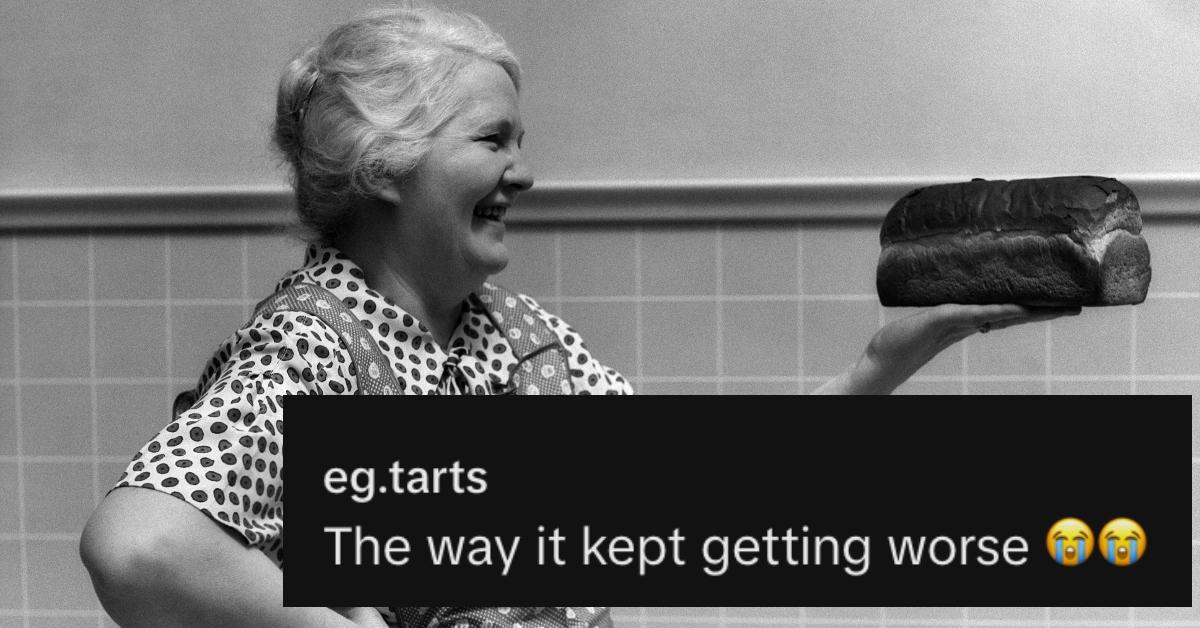 Her then-partner described his parents' marriage as perfect. "They were so in love. They sacrificed so much, and they went through so many trials and tribulations to be together," she recalled his saying. This almost sounds Shakespearean except Romeo and Juliet survive.
Article continues below advertisement
When his mother invited Danielle over for dinner, how could she not jump at the chance to meet these flawless lovebirds? These pedestal parents? These emotional survivors? Danielle happily accepted and that's when she saw what was really going on.

Article continues below advertisement
When she and her ex arrived, his dad was at the kitchen table while mom was preparing dinner. "OK," Danielle thought to herself, "they have more of a traditional relationship." There is nothing wrong with that. Unfortunately, things only got worse.
Not only did her former person's mom do everything to keep the house in order, but she was the primary caregiver for the dude she was dating as well as his siblings. This woman was also the "sole breadwinner." How could the dad work when he was busy shredding his guitar in the garage?
Article continues below advertisement
Surely there must be some redeeming qualities about this dude's dad. He must be the "most pleasant, fun wonderful man to be around." Obviously what's happening here is he brings the mom so much joy that it's really easy for her to do literally everything. Nope!
Article continues below advertisement
The dad spent the entire evening criticizing everything from his wife's cooking to current politics. Not wanting to give up just yet, Danielle asked her ex about the trials and tribulations in his parents' marriage he previously referenced. "In my head I'm thinking maybe he saved her from a fire," she said. This couldn't be further from the truth. The dad repeatedly cheated on his mother earlier in the relationship but she "stuck it out and stayed for the family because that's what love is about."
To recap, if Danielle had remained in that relationship she would have married a man who expected her to take whatever kind of abuse he threw her way. To him, love is enduring pain regardless of what it's doing you. Leaving is worse than cheating. My takeaway from this is, I'm glad Danielle broke up with that guy and I hope his mother did the same.