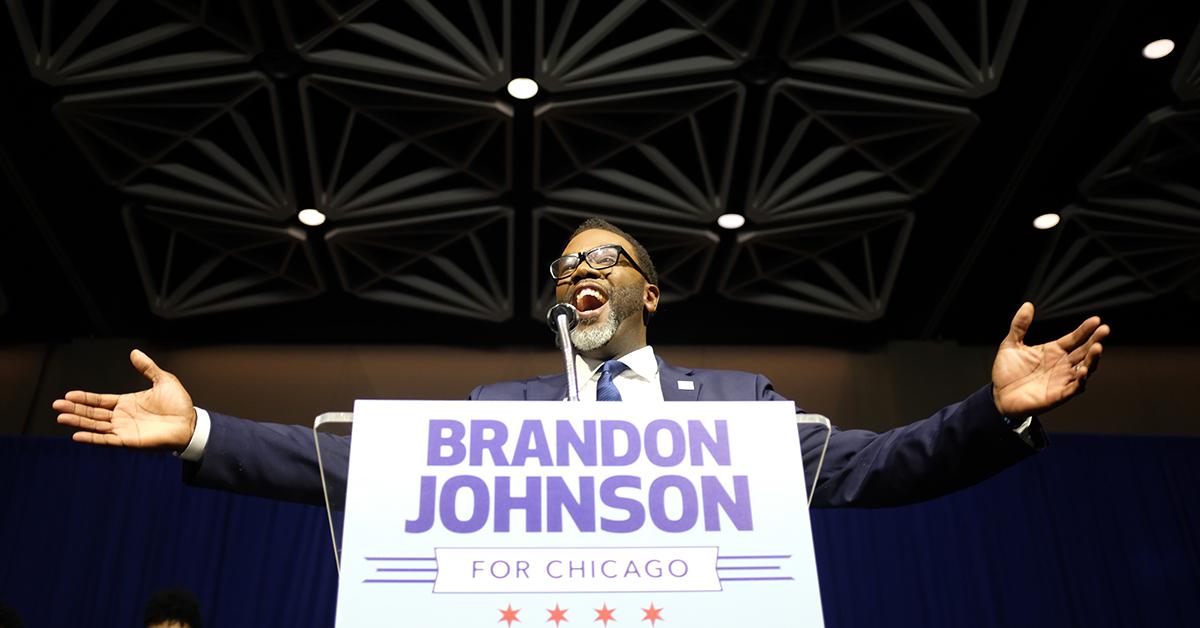 Brandon Johnson Has Full Support From His Wife as He Steps Into His New Role as Mayor of Chicago
Who is Brandon Johnson's wife? The newly appointed mayor-elect for the City of Chicago has the support of his family during this new chapter.
On April 4, 2023, Democratic candidate Brandon Johnson was elected as the 57th mayor of the city of Chicago. He makes history as the fourth Black American to hold office in the city. He certainly has the credentials and the popularity too. According to a Chicago Tribune profile, he helped organize movements within the Chicago Teachers Union and backed major labor organizations throughout his career. He previously served as Cook County commissioner and worked for equal housing rights for released convicts.
Article continues below advertisement
This past Tuesday, Brandon beat out fellow Democratic candidate Paul Vallas, with WTTW News reporting that Brandon had a 51.42 percent lead in votes. Part of his plans to improve the city and ensure public safety include funding youth employment programs and mental health services geared toward crime prevention. He also plans on redirecting $150 million from the police department's budget toward that end.
Not only does he have the support of the city of Chicago, but Brandon Johnson also gets support from his wife.
Article continues below advertisement
Who is Brandon Johnson's wife? Meet Stacie Rencher-Johnson.
Brandon Johnson is currently married to a woman named Stacie Rencher-Johnson, who presumably retained her maiden name upon marriage. According to Facts Podium, the two of them have been married for over 24 years up until this point, having gotten married in December 1998.
According to a Valentine's Day Instagram post, the two of them met on Feb. 15, 1996. He calls her his "best friend and the love of [his] life."
Stacie is incredibly supportive of her husband as he advances in his political career. In a campaign video, Stacie says, "[Brandon is] trustworthy, he's determined, he diligent, he's selfless, he's an amazing servant. He's compassionate and I am confident that just like he gives that for our family ... he will do the same thing for the city of Chicago and then some."
Article continues below advertisement
On Election Day in Chicago during his mayoral campaign, Brandon posted a video of himself encouraging people to go out and vote. He was filmed alongside his wife, with the two of them having already cast their ballots. Luckily their votes hadn't gone to waste, with Brandon eventually being elected as Chicago's new mayor later that day.
As previously mentioned, Brandon has plenty of family values that he plans to utilize as mayor to improve the city of Chicago.
Brandon Johnson and wife Stacie Rencher-Johnson have three kids.
As a family man looking to care for the city of Chicago, Brandon shares three kids with his wife. They have two sons and a daughter: Owen, Ethan, and Braedyn Johnson.
If his Instagram is any indication, he takes his family as seriously as his politics, sparing whatever moment he can to take family photos with his loved ones.
From this point on, though, he'll be taking on a whole lot more responsibility. Brandon Johnson is set to be officially inaugurated as Chicago's mayor on May 15.