Here's What We Know About DA Alvin Bragg's Wife, Jamila Ponton Bragg
The story of Donald Trump's indictment will be remembered for generations. DA Alvin Bragg is at the center of it all. Here's what we know about him.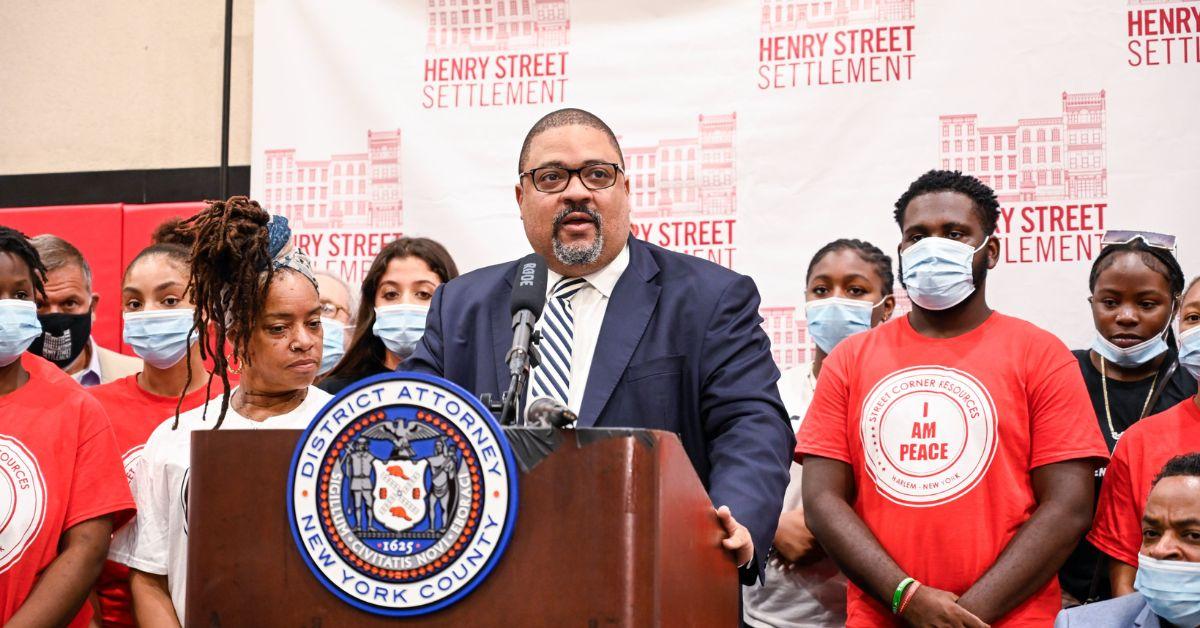 Where were you when the notification hit your phone about former President Donald Trump being indicted in New York? While this moment is historic for many reasons, one of the biggest is that this is the first former U.S. president to be charged with a crime. At the center of this is Distract Attorney Alvin Bragg.
Article continues below advertisement
Bragg successfully convinced a grand jury to indict Trump regarding a case surrounding hush money reportedly paid to adult film star Stormy Daniels. We're still waiting for more details on the exact charges. While we wait, though, let's learn more about DA Alvin Bragg and his wife, Jamila.
Article continues below advertisement
Is DA Alvin Bragg married? Does he have any kids?
Bragg married Jamila Ponton Bragg in 2003. They met at Harvard University during their post-graduate educations. Before Harvard, Jamila studied at Duke University.
The couple has two children together, although we don't know too many details about them. After all, it would make sense for Bragg to want to keep his kids out of the political spotlight.
What's DA Alvin Bragg's professional and educational background?
According to the Manhattan DA website, Bragg has a packed resume. He has his A.B. from Harvard University and J.D. from Harvard Law School. Before his current position, he was the Assistant Attorney General at the New York State Attorney General's Office and as an Assistant U.S. Attorney for the Southern District of New York.
Article continues below advertisement
Bragg also has a history of teaching as a Visiting Professor of Law at New York Law School. Plus, he was the Co-Director of the Racial Justice Project at the same school.
Article continues below advertisement
What has Alvin Bragg done so far as District Attorney?
Bragg is Manhattan's 37th District Attorney. He is from the community — Harlem to be exact. Plus, he's the first Black Manhattan District Attorney.
So far, he has focused on reducing recidivism. The idea is to analyze the underlying causes of crime and find real solutions. Bragg has taken a powerful stance against gun crime and violence. He has increased gun prosecutions and spent time focusing on illegal gun traffickers and manufacturers.
He has emphasized helping and supporting survivors. He created the Special Victims Division to cater particular attention to domestic violence, sex crimes, and more. Bragg also takes a trauma-informed approach to his efforts.
Article continues below advertisement
Who else has DA Bragg successfully indicted?
While this is the first time that former President Trump has been indicted, the Trump Organization has been at the center of several indictments. The Chief Financial Officer of the organization, Allen Weisselberg, was convicted on 15 counts in connection to a tax evasion scheme.
Plus, Bragg also successfully indicted Steve Bannon and WeBuildTheWall, Inc. The not-for-profit corporation was charged with money laundering and more. Their scheme involved taking at least $15 million from unaware donors.
So, what's next for DA Bragg?
Well, Bragg will continue with this case. Since the grand jury indicted former President Trump, Trump will be arrested.
The legal battle will now ensue while Bragg attempts to prove that former President Trump is guilty of criminal offenses. This process isn't an easy or quick one, so it will likely be a while before we know the final results. Nonetheless, this is a case that Bragg and his team seem to have prioritized.