People Are Finding Bugs in Their Broccoli and Sharing Their Foul Findings on TikTok
People are finding bugs in their broccoli and sharing the footage on TikTok. Here's what users are saying and how to wash your broccoli properly.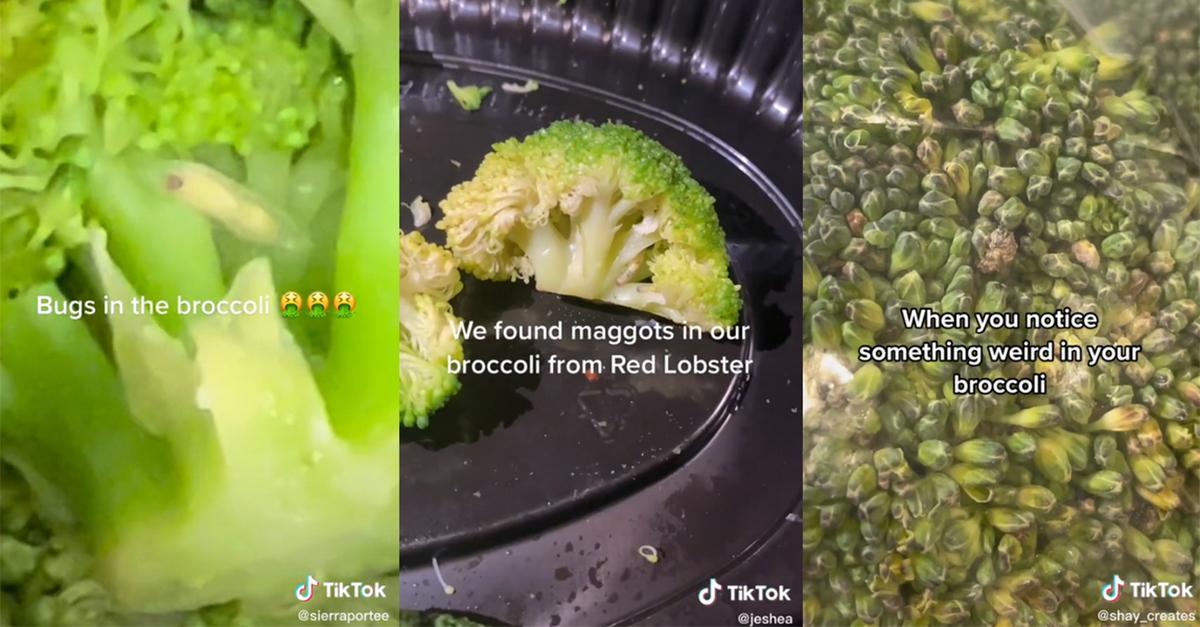 When you're a kid, you're often told that eating a regular intake of vegetables is good for you. Children usually hate having to partake in leafy greens and gourd-based veggies. Most infamously, children will be completely opposed to having to eat broccoli in any and all forms. Still, it's important for both kids and adults to make sure that their meals include the occasional vegetable for a balanced diet and a proper intake of vitamins.
Article continues below advertisement
Unfortunately, the recent trending topic on TikTok provides a compelling argument for children to want to avoid broccoli in particular. Users on the platform are sharing footage of having found bugs in their broccoli. (It's disgusting footage like this that may make people want to consider a parasite cleanse, another popular yet disgusting TikTok trend.)
Here's what people are posting about and what you can do to avoid accidentally eating bugs with your broccoli.
Article continues below advertisement
People on TikTok are finding bugs in their broccoli.
You may have found bugs in larger trees before, but you'll be horrified to know that they've also set up camp in smaller trees like broccoli. TikTokers are sharing their findings on the platform and the results aren't pretty.
@sierrabraids claims "no more broccoli for [her]" after finding a pest inside one of the stalks. Another user found some living bugs inside each piece of broccoli in the bushel they had bought. Even pre-packaged bushels of broccoli aren't safe according to @shay-creates.
As disturbing as this content might be, the more concerning thing is how common a find it is for people to discover pests in their produce. According to outlets like Gardener's Path, crops like broccoli are prone to infestations from several species of pests that can worm their way into these plants undetected. If you're a gardener, these bugs can be dealt with in a variety of ways. But if you're just a grocery shopper who's now terrified of what's in their veggies, here's what to know.
Article continues below advertisement
When it comes to any kind of supermarket produce —including fruits like strawberries — it's important to wash them down before using or eating them. Broccoli, unfortunately, provides several nooks and crannies for bugs to hide out in. Thus, it requires a more thorough cleaning than simply running it under the sink.
For example, @sugaredblooms suggests soaking broccoli in a water and baking soda solution to flush them out before using. You can also substitute or supplement this with vinegar.
Article continues below advertisement
This method may require a few soaking sessions to completely clean out broccoli of any unwanted guests. You may also want to avoid ordering broccoli with some of your restaurant dining or takeout meals. Some users have posted footage of allegedly finding bugs within cooked and prepared meals from places like Applebee's and Red Lobster. It would appear that even professional chefs may not do their due diligence when it comes to broccoli maintenance.
Broccoli haters might have found some vindication with footage like this, but if you're a fan of eating your greens, be sure to that you know what's in your food before eating it.