People Are Roasting the New 'Diversity' Chocolate Bar Released by Cadbury
Cadbury's "Unity Bar" combines white, milk, blended, and dark chocolate in one bar to celebrate the diversity of India for its independence day. Plenty of people thought the bar was in bad taste.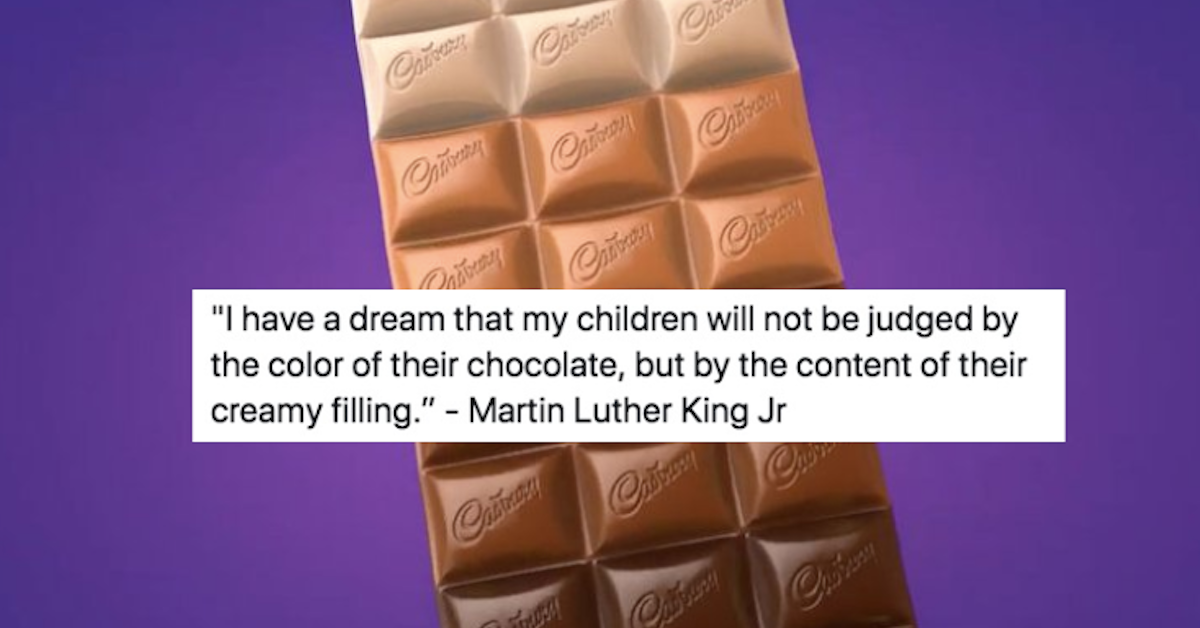 We are living in the age of rampant corporate exploitation of social issues. Seemingly every brand participated in Pride month, responsibly or not. And now, Cadbury, UK confectionary company and patron saint of Easter creme eggs, have come out with a "Unity" chocolate bar celebrating India's diversity for their Independence Day celebration.
Article continues below advertisement
Cadbury introduced this limited edition "Unity Bar," which features blocks of white, milk, blended, and dark chocolate all in one bar, in honor of India's Independence Day on August 15.
Article continues below advertisement
The video claims that the bar was "made to celebrate India and her people because sweet things happen when we unite." The bar's wrapper shows people of all different colors, genders, and religions holding hands.
While the limited edition chocolate bar sold out extremely quickly, it still garnered quite a bit of criticism. It seems that people don't really like it when brands reduce monumental social issues that have been marginalizing and oppressing people for thousands of years into a chocolate bar and a PR scheme that's designed to benefit only the company selling it. Wonder why.
Article continues below advertisement
I'm not going to lie; I quite like the idea of a single chocolate bar with different types of chocolate in it (except white chocolate — get that overly sweet mess out of my sight). But unless Cadbury is donating all of the profits it makes from the sales of this candy bar to fight racism and end injustice, the effort feels more than a little disingenuous.
Article continues below advertisement
Not to mention, all the different colors of chocolate are, as Jonny Sun points out, still completely segregated in this one chocolate bar. Perhaps a swirl would have been better.
Article continues below advertisement
Some weren't so quick to bash Cadbury's efforts, saying that its focus on celebrating India's diversity makes it different from a catchall message about trying to end all racism. "Read the article please," on Twitter user wrote. "This Cadbury chocolate campaign is based in India and is about addressing colourism and the caste system — not some western kumbaya message of diversity."
They continued, "Obviously the caste system isn't going to be dismantled through chocolate lol but it's something operating in a social-political context that has zero to do with most of us, so everyone relax..." I understand this point, but unless Cadbury is committing actual dollars to the cause and not pocketing a cent from their "diversity" campaign, it seems pretty misguided.
Article continues below advertisement
Generally, brands don't do their due diligence when they try to get into the serious issues that people confront on a daily basis. Like the Kendall Jenner fiasco with Pepsi surrounding the issue of police brutality, Cadbury's "Unity Bar" just feels sort of... tone deaf. Pun one thousand percent intended.
Article continues below advertisement
Ogilvy India, the ad agency behind the campaign, is so far standing by their product. On its website, the message reads, "India is a diverse country, with people of different castes, creed, languages, regions, religions. Everyone living together, but not always with love. Cadbury Dairy Milk, which is loved by everyone, wanted to send a powerful message of unity. So we worked with the brand to create the Unity Bar: India's first chocolate made of dark, blended, milk, and white chocolate — all united in one bar."
I think comedian Ziwe Fumudoh put it best with her hilarious tweet: "'I have a dream that my children will not be judged by the color of their chocolate, but by the content of their creamy filling.' –Martin Luther King, Jr."