This Heartwarming "Can We Call Josh Dad" Proposal Will Leave You Weeping
In a series of viral videos, a man shares how he involved his girlfriend's children in his proposal. Check out the rest of the sweet story below.
As hopeless romantics, we find joy in watching someone sweep their significant other off their feet with a marriage proposal. Although it can be quite a nerve-wracking process, most people — like this man we're about to discuss with you — put their own spin on this heartwarming gesture.
Article continues below advertisement
In November 2023, TikTok creator Josh Renaud (@jrenaud03) shared a series of videos and revealed that he included his partner's children in his proposal. Read on for the full story, and keep scrolling to find out what the internet has to say about Josh making the kids feel included in his decision.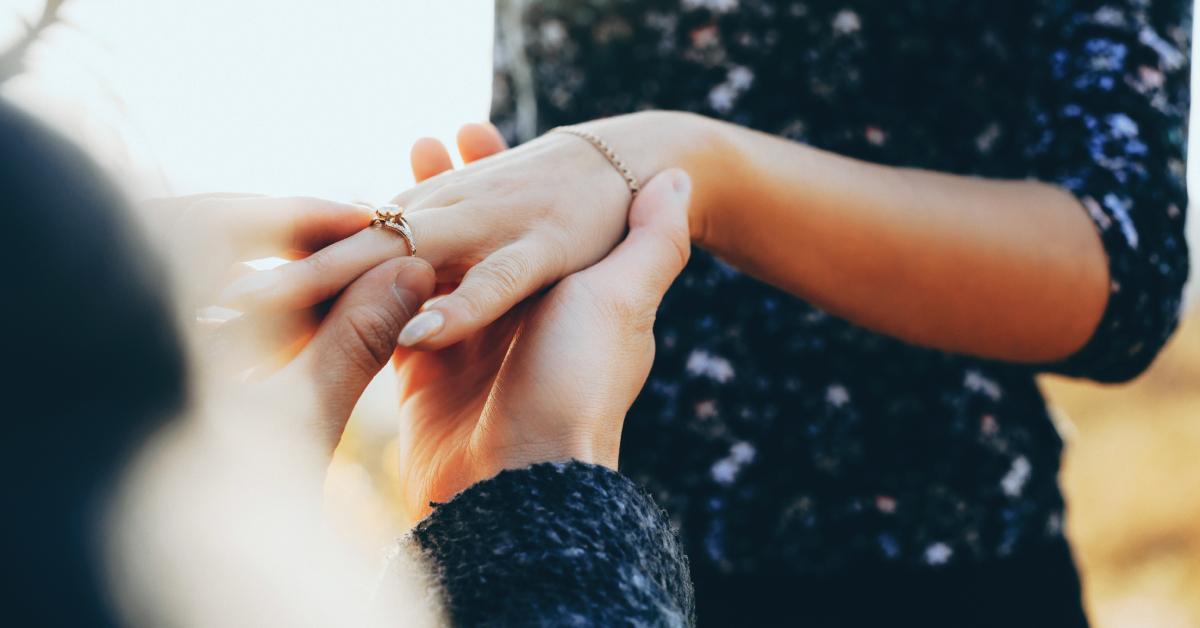 Article continues below advertisement
This adorable "Can we call Josh dad" proposal will melt your heart!
In the first video, Josh revealed how "the best day of my life began." He started off by telling one of his now-fiancée's sons that he was going to do "something special" for her. The little boy was shocked and excited but managed to keep this revelation under wraps for a few minutes.
The video then cut to another clip, in which Josh told the rest of his soon-to-be stepkids that he was going to propose to their mom. The eldest daughter and son were absolutely thrilled, with their jaws dropping to the floor.
Article continues below advertisement
"I'm about to propose to your mom in, like, two minutes, but I need your help," Josh told the kiddies. "I've got shirts in my bag, and each of us [is] going to put a shirt on real quick. And the shirts are going to say, "Can we call Josh," and I'm going to wear a shirt that says, "Dad." Are you guys good with that? Alright, let's get ready!"
Article continues below advertisement
The clip ended with Josh showing his followers the shirts he previously mentioned — and the very last one read, "Yes!" But does she accept his proposal? Let's find out!
In the second video, dubbed "The Proposal," Josh and the kids donned the "Can we call Josh 'dad?'" shirts and lined up in front of the dining room table. He told the little ones to call their mom, and she quickly arrived and was overcome with emotion. With a shy smile, she walked over as Josh got down on one knee and popped the question.
Article continues below advertisement
So, did she accept? Yes, she did! She and Josh hugged as the kids clapped and cheered for their mom and soon-to-be stepdad. Ugh, now we're crying because that was such a beautiful moment!
Josh's video consisted of a slideshow of photos from the special day, as well as an emotional clip of him getting down on one knee and presenting his fiancée's kids with their own engagement rings. Now, we really can't stop crying!
Article continues below advertisement
TikTok users agreed that Josh's proposal was so lovely.
The proposal video has been viewed more than 5.1 million times as of this writing; it also received well over 3,800 comments from fellow TikTokers who loved that Josh included her kids in his proposal.
"Beautiful! Including her children in the proposal," one TikTok user wrote in the comment section, adding, "He knows he's marrying a family, not just a woman." Very, very true!
Article continues below advertisement

A second person agreed, commenting, "As a bonus mom, this is the best proposal I've ever seen! You marry the whole family, not just the spouse!"
"Thank you! The best family EVER deserved the best proposal EVER!" Josh responded. "I'm the luckiest man alive! I got 5 'YES!'" OK, this man just loves to make us cry, doesn't he?!
Article continues below advertisement
Another user shared that they've known Josh's fiancée since high school, stating that "she and those precious babies deserve all the love in the world!!! Oh, all the happy tears!!!!"

Josh further explained the proposal in the comment section, writing, "When I was a child, my 'Dad' proposed to me with a little yellow-gold band at the same time that he proposed to my Mom. So, of course, I proposed to these kids with rings, too!"
"My mom has been wearing my gold band ever since I outgrew it, and she took it off of her finger and presented it to my fiancée, as her wedding band! It was the most beautiful moment of my life!" he added.