The Best Memes of Cara Delevigne and Megan Thee Stallion at the BBMAs
Cara Delevigne cozied up to Megan Thee Stallion at the 2022 Billboard Music Awards, and the Internet couldn't help but make jokes about it.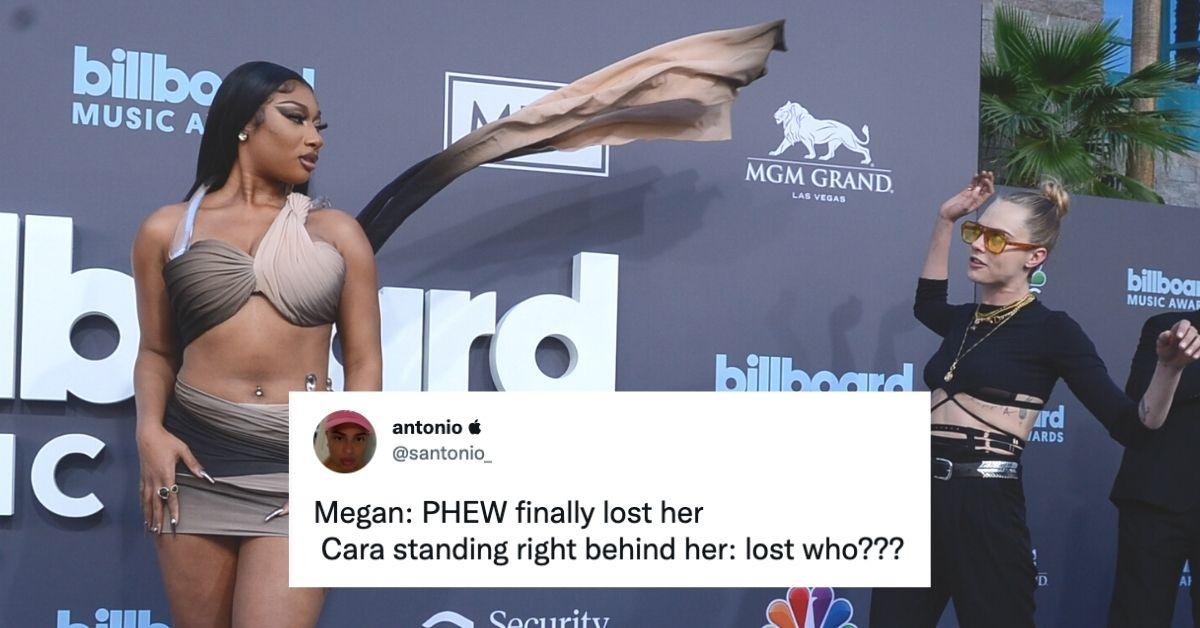 If you asked Cara Delevigne to describe her time at the 2022 Billboard Music Awards, her answer would most likely include several references to Megan Thee Stallion. The English model and actress, who is apparently a huge fan of the "Hot Girl Summer" artist, awkwardly made her way into a number of photos and videos with Megan.
Article continues below advertisement
For viewers watching at home and perusing footage of the night on social media, it appeared that wherever Megan went, Cara followed. And from the looks of it, Megan wasn't expecting this at all.
Naturally, the Internet made some jokes (and memes!) about Cara's behavior around the rapper. Shall we take a look?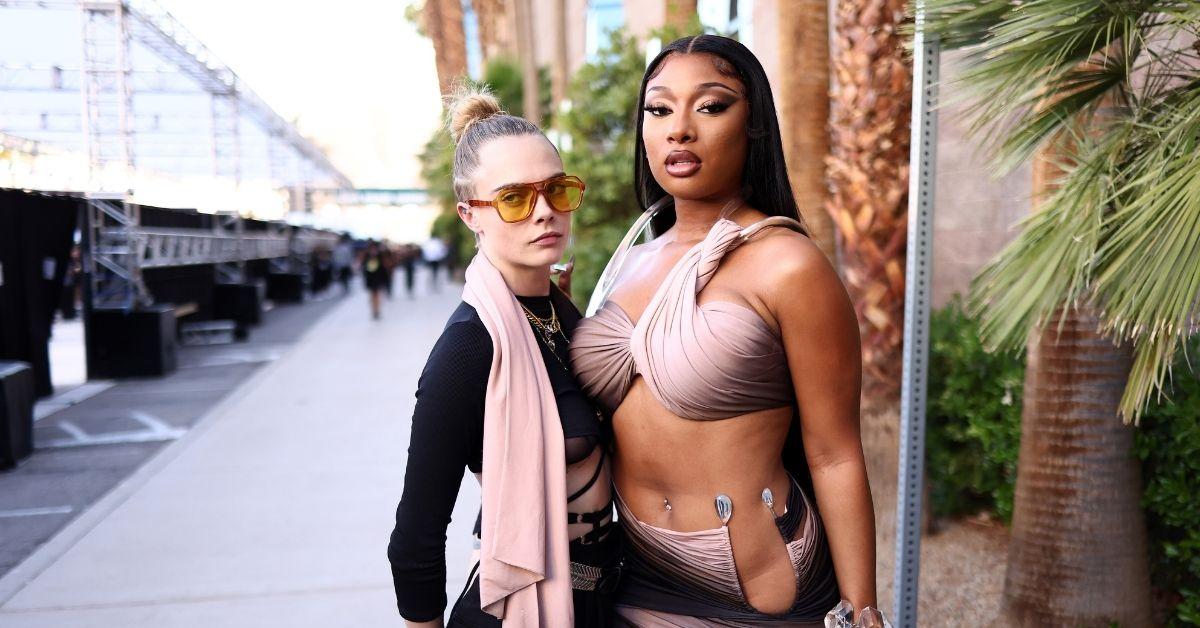 Article continues below advertisement
Megan Thee Stallion walks the red carpet while Cara admires from afar.
In the clip above captured by E! News, Megan Thee Stallion is posing for photos at the BBMAs while walking the red carpet. Meanwhile, Cara is seen in the background standing behind an event banner. She appears to be giving Megan a pep talk and even sticks her tongue out at her, which she likely did to show Megan she approves of the look.
As a refresher, Megan is known for sticking her tongue out and letting out her signature "agh" or "blah" sound.
Eventually, Cara works up the courage to emerge from her hiding spot and take the red carpet with Megan. She pretends to be a gust of wind and tosses the train of Megan's dress in the air to give it that flowy look. However, fans could not get past the fact that before this nice moment, Cara was literally hiding behind a banner and watching Megan.
They began comparing Cara to the likes of Angela creeping on Dwight on The Office, as well as making other references.
Article continues below advertisement
Was Cara a nuisance to Megan? Some fans thought so.
Article continues below advertisement
They felt like she wasn't giving Megan enough personal space.
Article continues below advertisement
Article continues below advertisement
Does Megan Thee Stallion like Cara Delevigne?
While Megan Thee Stallion has not publicly commented on Cara's behavior at the BBMAs, she did make a very specific edit to her photo which hints that she may have been overwhelmed by all of the attention Cara was giving her.
During the event, it seemed that Cara may have butted in while Megan Thee Stallion was trying to take a photo with Doja Cat. The photo taken shows Megan, Doja, and Cara. However, when Megan shared the photo on her Instagram Story, Cara appeared to have been cropped out.
Article continues below advertisement
Furthermore, while the women were seated, Megan Thee Stallion won the award for 'Top Rap Female Artist.' Here's how one Twitter user pictured Cara's reaction to Megan's big win.
Article continues below advertisement
Is Cara Delevigne single?
Earlier this month, she was linked to singer Paris Jackson, per New York Post. Not to mention, in March, she was linked to Anna Taylor-Joy per the Mirror.
Cara is notoriously at the center of romance rumors as many of her female friendships get mistaken for romantic relationships.
However, Cara's last known romantic relationship was with actress Ashley Benson; the couple dated for two years from 2018 to 2020.
It's possible that she may have her eyes on Megan. And honestly, we can't blame her!