Cardi B Set the Record Straight About Her Alleged Beef With Fellow Female Rapper Ice Spice
Fans wonder if there's beef between up-and-coming rapper Ice Spice and Cardi B. What's the truth? Here's a rundown of their friendship timeline ...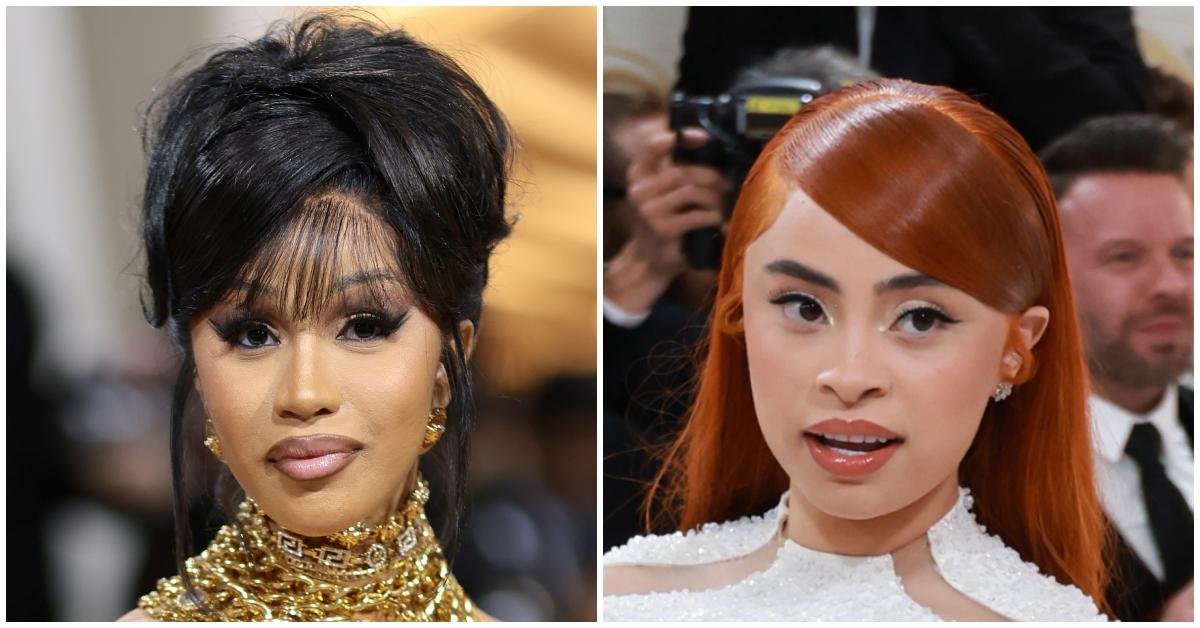 Although Bronx, N.Y.-born rapper Ice Spice didn't take the mainstream music industry by storm until the release of her 2022 single "Munch (Feelin' U)," she had already gained quite a bit of popularity online before then.
So much so, that she caught the attention of fellow New York rapper, Cardi B.
Article continues below advertisement
Beef among female rappers is running rampant these days. Fortunately, Ice and Cardi are keeping it cute — for now, at least. Rumors suggest the two might be at odds, but are they true? Keep reading for a rundown of Cardi B and Ice Spice's friendship timeline.
September 2021: Ice Spice announces collab with Cardi B on Twitter.
In a September 2022 tweet, Ice revealed that Cardi had tapped her for a collab. "OMG," she wrote on the social app. "Cardi B just asked me to work [with] her?!"
One user chimed in with an inflammatory comment about Cardi's past. They aske​​d sarcastically, "This the one that [drugged] and robbed [people]?"
But Ice was quick to clapback. "The one [with] a Grammy," she responded.
Article continues below advertisement
September 2022: Cardi B shouts out Ice Spice in GloRilla's "Tomorrow 2".
One year after Ice spilled the tea about her collab with Cardi, Cardi hopped on a remix of female rapper GloRilla's chart-topping single "Tomorrow 2".
In her verse, she gave a nod to Ice. "That n---a a munch and he gon' eat me like a mango," she raps in the song.
October 2022: Cardi B releases her remix of Ice Spice's "Munch ('Feelin' U')".
Ice Spice and Cardi B's collab never actually came to fruition, but Cardi did release a clip of her verse on Ice's "Munch (Feelin' U)" on Instagram. According to the "WAP" rapper, she didn't think the verse was giving what was supposed to be gave.
Article continues below advertisement
"I'm not putting that song out by the way … You know I don't tease," Cardi said on Twitter at the time. "I like it don't love it … just having fun."
Later, Ice Spice gave her thoughts on Cardi's viral Instagram freestyle. "It was a moment. I appreciate Cardi for even putting that out," she told Dazed.
June 2023: Cardi B denies rumors that she shaded Ice Spice at Summer Jam.
Rumors that there be a rift in Ice and Cardi's relationship surfaced after the former signed a partnership deal with Nicki Minaj, whose longtime feud with Cardi has dominated headlines for years.
These rumors were seemingly confirmed when Cardi performed her set at Summer Jam 2023 in Long Island, N.Y. During her set, she used a clip from Annie's "Tomorrow 2," which was accompanied by a backdrop featuring a young woman that looked eerily like ice.
Many assumed that the imagery took a shot at Ice's short, curly, red hair. However, Cardi has since set the record straight.
"That's not me, like come on now. First of all, y'all been wanting me to be messy. Y'all wanted me to be messy on the song, y'all wanted me to — nah, come on now," she said later in an Instagram live video. "Cut the bulls--t, please. Get a mop. Y'all being too messy and y'all being annoying."
There you have it! The gworls aren't fighting and we love to see it.