'90 Day Fiancé: Love in Paradise' Stars Carlos and VaLentine Are Fan Favorites
Carlos and VaLentine have a lot going on in Season 3 of '90 Day Fiancé: Love In Paradise.' Does their engagement survive the season?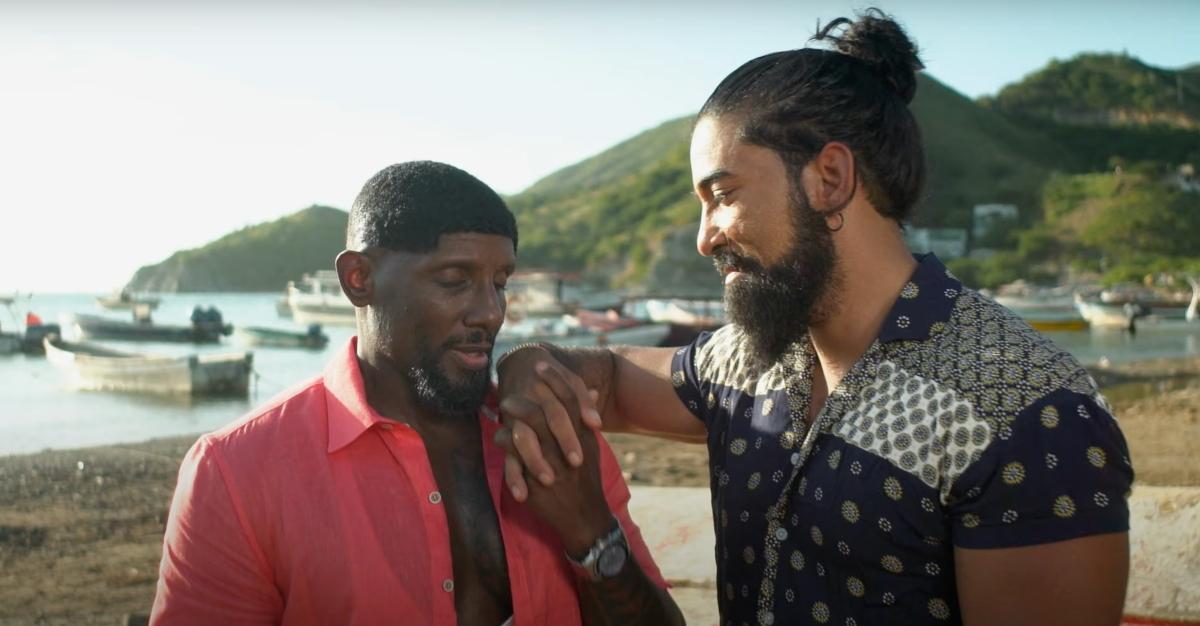 Article continues below advertisement
However, things aren't easy for the pair. And fans can't help but wonder where they are now, after the season finished filming and after their relationship woes were televised for the world to see. Let's dive in to see where this Love In Paradise couple is now. No pun intended.
Article continues below advertisement
Are Carlos and VaLentine from '90 Day Fiancé: Love In Paradise' still together?
It's no secret Carlos and VaLentine's relationship has been full of ups and downs. From polyamory to "emotional cheating" allegations, it's no wonder fans are curious if the engaged couple eventually overcame the slew of obstacles between them.
In true 90 Day Fiancé fashion, neither Carlos nor VaLentine has confirmed or denied their relationship status on social media. However, several social media signs offer hints as to where they stand today.
For those needing a refresher, the Love In Paradise couple became engaged during the Season 2 finale of the TLC reality series. And the third installment follows their journey to saying, "I do."
Carlos and VaLentine sparingly post one another on social media, leading some viewers to think that there may be trouble in paradise between the reality stars. But upon further examination, that may not be the case.
Article continues below advertisement
In April 2023, VaLentine posted a black and white photo on Instagram sporting a chain that read "#CARLENTINE" — his and Carlos's ship name. As for Carlos's social media presence, he posted a stunning sunset photo with the caption, "[No] filter needed."
Then, in the comment section, one fan wrote, "Can't wait to see your wedding," followed by a heart emoji and "My favorite couple." The Love In Paradise star replied, "Thanks," followed by a prayer and red heart emoji.
Article continues below advertisement
Carlos's response to the fan hints that there is hope for Carlos and VaLentine, despite their issues on the 90 Day Fiancé spin-off series. And VaLentine's post featuring the #CARLENTINE necklace is also a promising sign.
Instagram hints that Carlos and VaLentine from '90 Day Fiancé: Love In Paradise' are still going strong.
Several other social media clues indicate that Carlos and VaLentine are still together after filming Love In Paradise Season 3. The most telling sign is that each reality star still follows the other on Instagram.
Additionally, when Carlos was celebrating his 30th birthday in Colombia in December 2022, he posted a photo of himself on Instagram holding champagne, to which one user commented, "Why aren't [you] wearing your ring anymore?" The TLC star's response: "Who said I'm not?"
VaLentine's Instagram presence in 2022 also reaffirms our suspicions that the couple is still together. In August of the same year, the Love In Paradise alum featured his fiancé in his "ADORE YOU" music video, and the comment section swooned.
"Omg, I love that Carlos is in it!!!" a fan noted. They added, "Publicly claiming your man," followed by an applause emoji.
90 Day Fiancé: Love in Paradise airs Mondays at 8 p.m. EST on TLC.