"She Basically Stole the Apple" — Mom Lets Son Eat Apple in Store, Asks Cashier to Weigh Core
This cashier on TikTok urges people to not eat unpackaged food in grocery stories after a mom accidentally steals an apple for her son.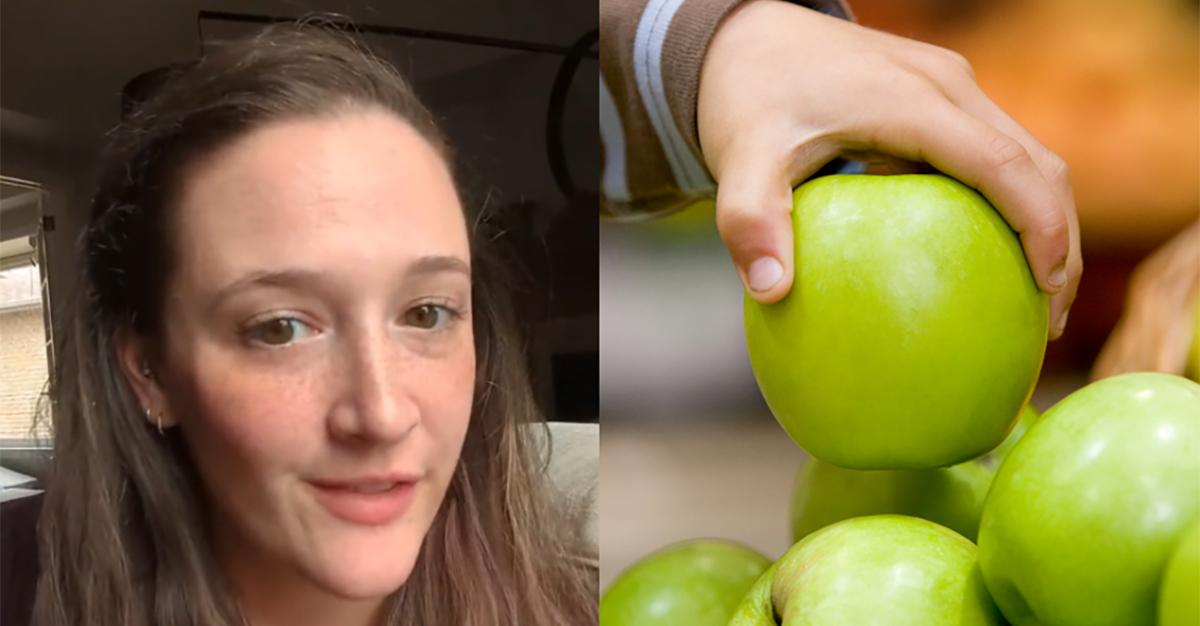 One time when I was young, I went to rent movies from a local Blockbuster with my dad. While we were browsing, I noticed that he'd picked up a thing of Reese's from the candy counter and eaten it before we even picked out any movies. I legitimately thought he brazenly stole the candy and didn't bother trying to hide it, only for the cashier to be totally cool with his scanning the wrapper and paying for it after the fact.
Article continues below advertisement
That was the first time I realized that people could, or at the very least were allowed to, eat packaged food in the store and then pay for it when they leave. It's not something I've ever done and I'm not even sure if stores actually allow it, but it's something that happens.
However, there do seem to be limits to this unspoken rule to the point that a former cashier confesses that she'd rather people don't eat food at the grocery store because it's easy for people to take advantage of that.
Article continues below advertisement
A cashier says don't eat food at the grocery store, especially produce.
Nat Lele on TikTok (@not.just.nat) posted about a peculiar incident on her platform. She stitched her response to a video in which folks complain about people who eat food in a grocery store that they intend on paying for later.
Nat explains that while she doesn't open items in grocery stores herself, she knows that some parents do so for their little kids if they're being fussy while grocery shopping.
Article continues below advertisement
However, one woman accidentally took advantage of this "policy" while grocery shopping with her toddler. When Nat was about to ring her up, one of the items she was handed was an eaten apple core.
Article continues below advertisement
Apparently, the mom had let her child eat the apple during shopping and claimed intent to pay for just the core at check out, assuming it would cost the same as one apple. Unfortunately, that's not how any of that works.
Article continues below advertisement
In typical grocery stores, you can't actually scan for individual loose fruits at check out. The amount of loose fruit you buy, even if you just get one, has to be weighed in order for a price to be determined.
Nat had to explain to the mom that the apple core couldn't be weighed, and therefore couldn't be paid for. The mom even thought she could get away with having the apple core weighed, but that didn't fly.
Article continues below advertisement
"Half the apple is in your son," Nat explained at the time. "Unless I plan on weighing the toddler, there was no way I could actually cash her out with the apple core.'
Article continues below advertisement
According to Nat, the manager let the incident slide. In a follow-up, Nat revealed that the customer had even apologized for the occurrence. And for all intents and purposes, it is just one apple.
All in all, I would never let myself or anyone eat an unwashed apple from a grocery store before I had the chance to pay for it.