Packers Rookie Christian Watson Has Taken His Love Life to the Next Level
After being drafted by the Green Bay Packers in the 2022 NFL Draft, wide receiver Christian Watson took his dating life to the next level.
Another week in the 2022-23 NFL season has come and gone, or has it?
Nope, thanks to a little program we like to call Monday Night Football. For those wondering, the Dec. 19 matchup between the Los Angeles Rams and Green Bay Packers looks much more impressive on paper — both teams were predicted as Super Bowl contenders, but now it seems they will both miss the playoffs ... yikes!
Article continues below advertisement
On that note, let's turn our attention to the WAGs, aka the wives and girlfriends of these NFL athletes. We could focus on any of them, but today, we're setting our sights on Packers rookie wide receiver Christian Watson and his significant other. So, who is he dating? Keep reading for all the known details.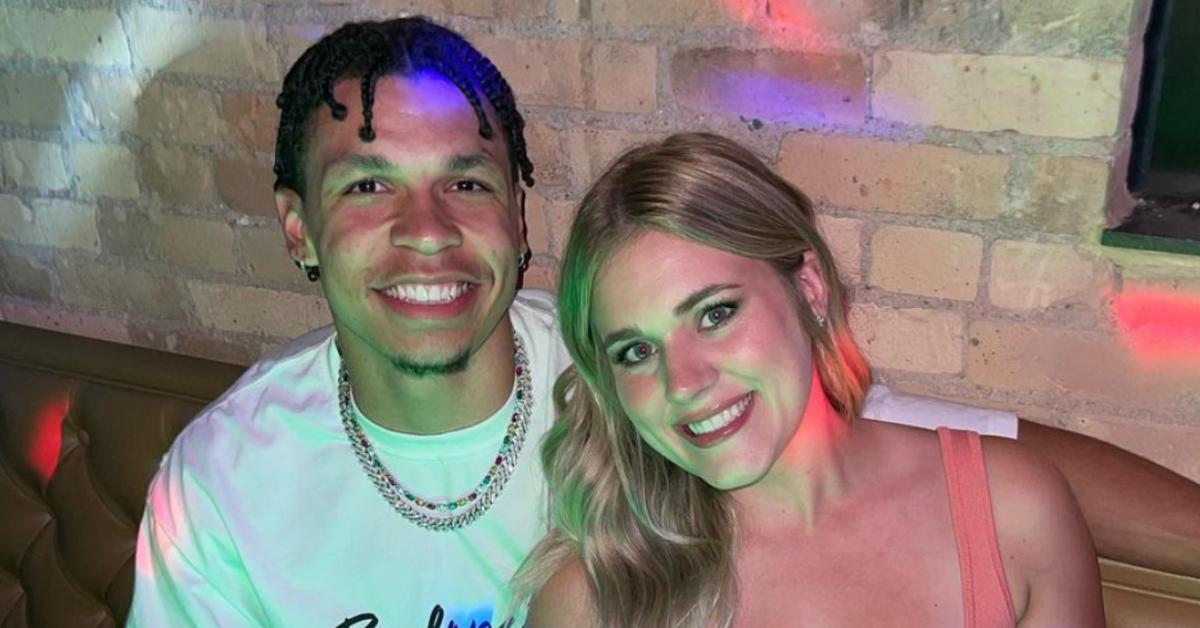 Article continues below advertisement
So, who is Christian Watson dating?
Sorry ladies, but Christian Watson is a taken man! The 23-year-old wide receiver was dating Lakyn Adkins, but he put a ring on it less than a month before the 2022 NFL Draft. He announced their engagement and shared photos of the proposal on Instagram, captioning the post "4.4.22. - [infinity]." Ugh — that is just so precious!
The two are college sweethearts — how do we know that? Well, the future Mrs. Watson posted a humorous TikTok in March 2022, stating that her younger self always imagined that she would be single during her freshman year of college. The 11-second video then switches to several clips of Christian, indicating that her plans changed once she met him. OK, we're crying.
Article continues below advertisement
She supported him throughout his career as a Bison at North Dakota State, and obviously, nothing has changed since she's always attending Christian's games and cheering him on from the stands (presumably with the other Green Bay Packers WAGs).
Now, as for her career, several sources claim Lakyn is a cosmetologist; however, she's since taken a break from the profession after moving to Green Bay with Christian. As of now, it seems Lakyn is enjoying her time with Christian and their dog, Mylo.
Article continues below advertisement
Christian Watson has been having a stellar rookie season.
Since being drafted by the Packers in the 2022 NFL Draft, Christian has had quite an impressive rookie season.
Although it started rocky, his breakout performance came during the Week 10 matchup against the Dallas Cowboys; he caught four passes for 107 yards and three touchdowns in the Packers 31-28 overtime win. Since then, Christian has delivered several solid performances, which resulted in him being awarded Rookie of the Month in November 2022.
Article continues below advertisement
Christian's strong performances have not gone unnoticed by his teammates, especially legendary quarterback Aaron Rodgers. Following the overtime victory over the Cowboys, the 39-year-old QB spoke with reporters and said he was proud of the rookie.
"We had a lot of plays designed for him, so I don't think there was any other option," the four-time NFL MVP said. "I think that (first touchdown) probably on the atomic level shifted a lot of different things for him, exorcising some energetic demons. I'm proud of him. He made some plays."