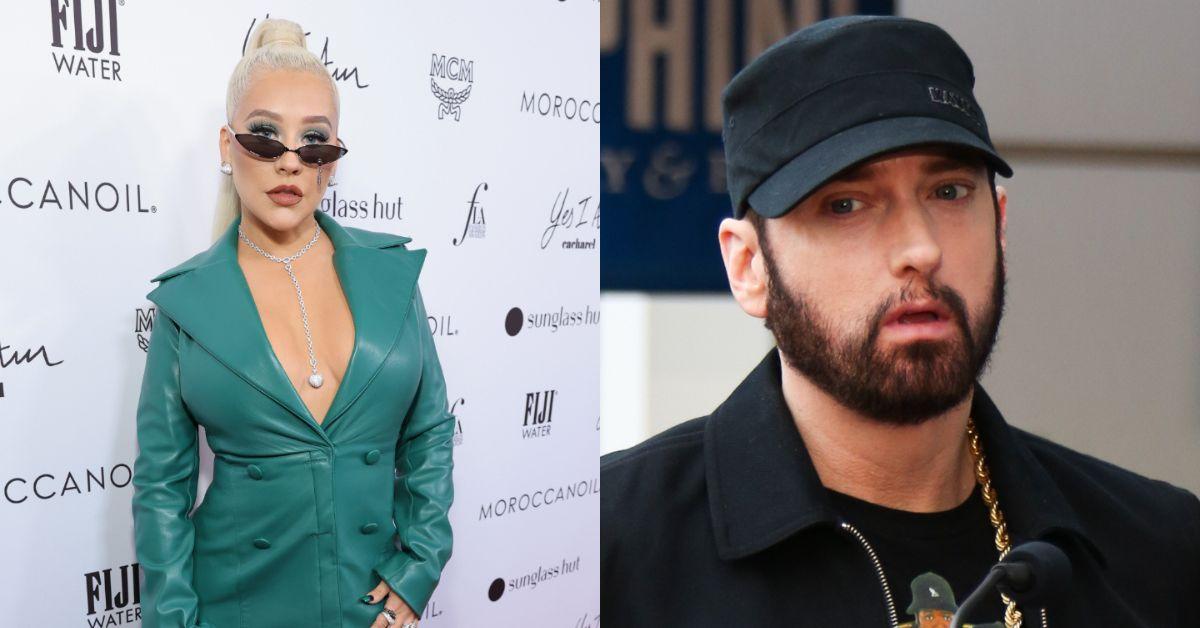 Christina Aguilera Once Called Eminem "Thirsty" — Inside Their Feud
In the '90s and 2000s, Christina Aguilera and Eminem were pop culture icons for utterly different reasons. Christina rose to pop music superstardom years after appearing on The Mickey Mouse Club. Meanwhile, Eminem came into the industry as the bad-boy rapper from Detroit who wasn't afraid of ruffling feathers. The musicians each achieved massive success and fan bases as their careers progressed.
Article continues below advertisement
At the height of Christina and Eminem's fame, a feud ignited between the two that spanned two decades. But, what actually happened between them, and where do they stand now?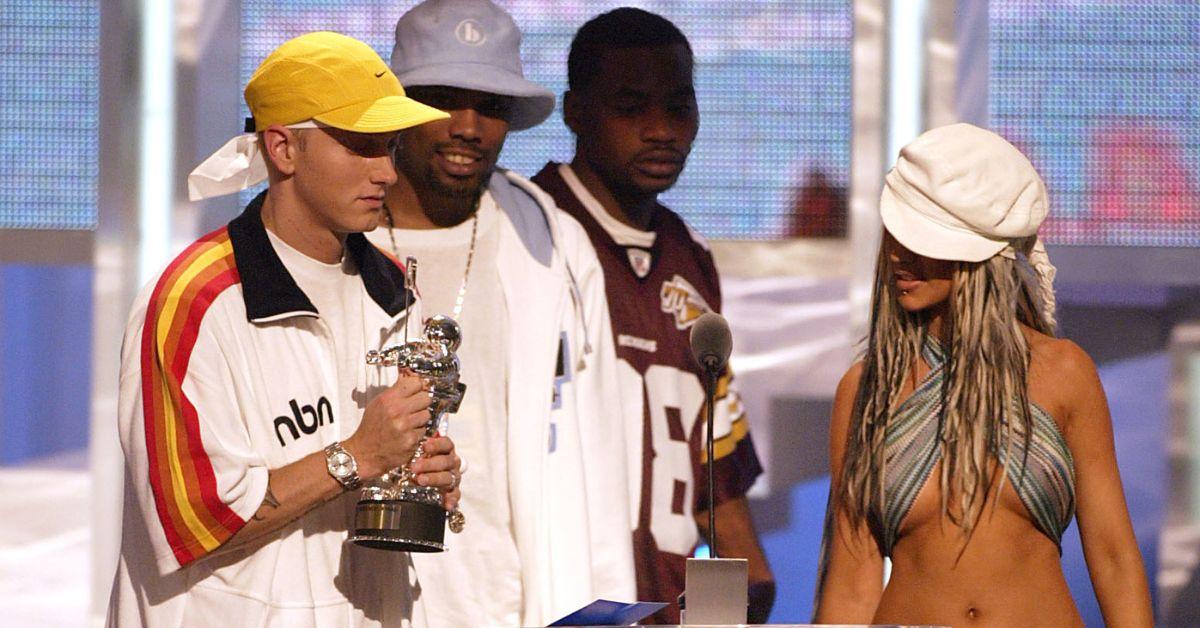 Article continues below advertisement
Christina Aguilera and Eminem's feud began when she commented on his marriage to Kim Scott.
So, how did Christina and Eminem's feud start? It all went down in 1999 after Christina publicly discussed Marshall Mathers' marriage. In her MTV special, What a Girl Wants, Christina said she heard a rumor that Eminem secretly wed his longtime girlfriend (Kimberly Scott).
"I heard he's married now .... the girl that he talks about killing on his record, actually," she said on the special. She also warned viewers about physical violence in relationships.
Eminem eventually caught wind of the interview and retaliated through his song "The Real Slim Shady."
Article continues below advertisement
In Eminem's song, he mocked Christina's comments about his and Kim's marriage and then accused the songstress of giving him "VD," or venereal disease (another term for STDs). At the time, Christina told MTV News, "I just find what he has to say disgusting ... just completely untrue."
Two years later, he threatened to physically assault her in "Off the Wall" with Redman.
"Causing terror to Christina Aguilera," Eminem said in the song. "When I grab her by the hair and drag her across the Sahara."
Article continues below advertisement
After the 8 Mile actor addressed her in the second tune, Christina responded in her 2002 song "Can't Hold Us Down" from her Stripped album. Although she didn't call Eminem out by name, she seemingly slammed him for his name-calling throughout the years.
"So what am I not supposed to have an opinion," Christina sang. "Should I keep quiet just because I'm a woman? Call me a b---h cause I speak what's on my mind. Guess it's easier for you to swallow if I sat and smiled."
Article continues below advertisement
Christina Aguilera called Eminem "thirsty" in an interview amid their feud.
Following their song battles, Christina and Eminem seemingly wanted to squash their beef in 2002. The musicians attended the MTV Video Music Awards, where Christina presented the Best Male Video award. After the nominees aired, the "Fighter" songstress announced Em's name, and he made his way to the stage. Then, she handed him the trophy, and Eminem thanked Christina for the award.
Article continues below advertisement
The short and awkward exchange made many fans think Eminem and Christina's feud had ended. She went on to reveal in an interview that they had spoken backstage at that show and cleared up their issues.
However, years later, Eminem apparently reignited their issues with his 2018 track "Kick Off." During the song, he stated he wanted to "F--k Christina with a plastic spoon while I bump some G-Funk and blast some Snoop," and commented on her breast size.
Article continues below advertisement
Christina addressed Eminem's lyrics in a 2019 appearance on Watch What Happens Live with Andy Cohen. On the show, the Voice alum admitted to being confused by the rapper's motivation for the name drop.
"That's really in the past and, you know, it was thirsty then, it's thirsty now," Christina said of Eminem's comments. "It's not nice to go after anybody, especially a female in this business, and now, what we're looking at and seeing come to the forefront, it's just, get a new gig. Have something else to talk about."
Article continues below advertisement
Where do Christina Aguilera and Eminem stand now?
Eminem never publicly apologized for his comments against Christina over the years. Since their feud, the celebs seemingly keep their distance and don't plan on becoming friends anytime soon.
While they remain at odds, both artists still work in the music industry. In May 2022, Christina released her ninth studio album, Aguilera, through Sony Music Latin. Eminem also made a musical comeback after his Super Bowl 2022 Halftime Show with Dr. Dre, Snoop Dogg, Mary J. Blige, and Kendrick Lamar. The rapper debuted his second compilation album, Curtain Call 2, in August 2022.