Why Did 'Pawn Stars' "Chumlee" Remove His Wife's Photos From Instagram?
It could be a bad omen that Austin "Chumlee" Russell and his wife, Olivia, removed each other's photos from social media. Is the couple still together?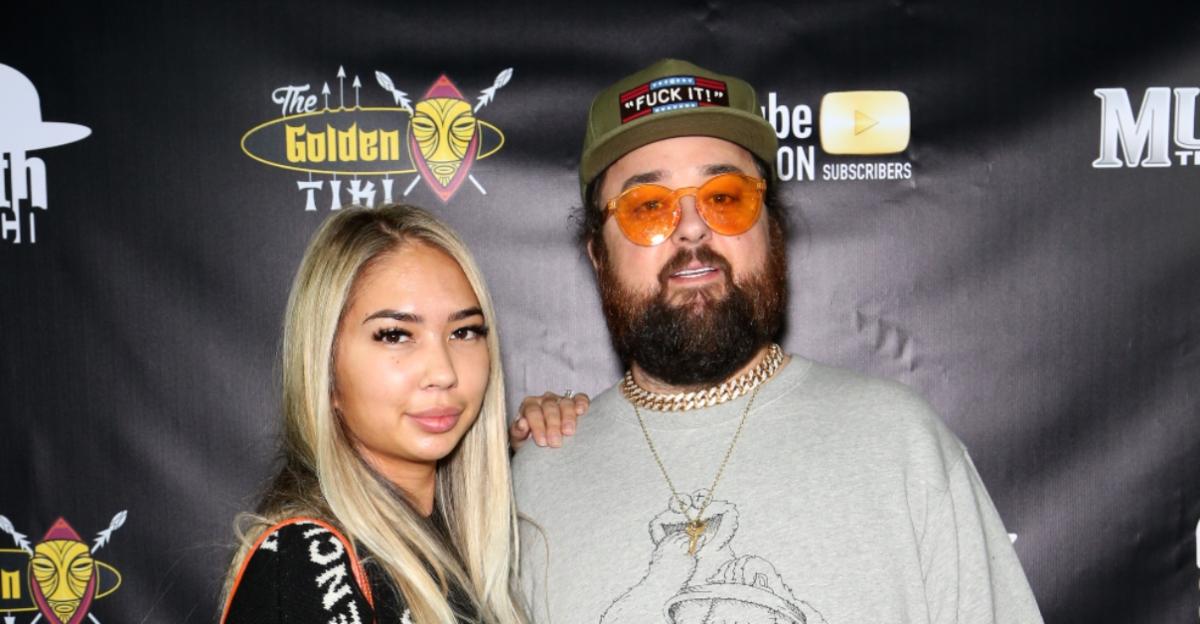 What's going on with Chumlee and his wife?
While Austin Russell, best known as "Chumlee" — the breakout star of Pawn Stars — hasn't commented publicly about any marital issues with wife Olivia Rademann, fans are curious to know if all is well with the couple.
Article continues below advertisement
Chumlee first started dating photographer Olivia at the beginning of 2016, when she was a student at the University of Nevada, Las Vegas. The couple got engaged in May 2018 in Waikiki, where — according to the Las Vegas Review-Journal — Chumlee proposed with a 1.5-karat diamond ring. They held a pre-wedding party in March of the following year, and reportedly tied the knot in Hawaii that May.
"It's beautiful. I already feel like I'm married," Chumlee said to the Review-Journal the day after the pre-wedding party. "We were friends for a year or two before we were ever a couple."
Article continues below advertisement
In the time that they've been together, Olivia has seemingly supported Chumlee amidst a flurry of legal issues, including 20 felony counts of drug and gun violations, that resulted in a term of three years' probation. However, it seems like Olivia may no longer be by her husband's side.
Did Chumlee and his wife get divorced?
At the time of this writing, neither Chumlee nor Olivia has publicly commented on the status of their marriage, but their social media feeds seem to be quite telling. Up until a couple years ago, Chumlee regularly posted photos of his wife on Instagram — but in 2020, he chose to delete them all, leaving many to wonder if they're still together.
His Facebook still features photos of Olivia, however the most recent appears to be from a trip to the Bahamas in March 2019.
Article continues below advertisement
You also won't find a single photo of Chumlee on Olivia's Instagram. In fact, all photos prior to January 2020 have since been deleted. What her feed does show, however, are recent images of her cuddling up to 32-year-old professional poker player Jake Schindler. Images show them out on the town in Las Vegas and traveling through Rome.
What happened between Chumlee and Olivia?
With no official comment from either party, it's hard to say what exactly happened between the couple. However, it seems like distance may have played a factor in the rumored dissolution of their marriage.
Article continues below advertisement
In a since-deleted Instagram post from October 2019 (per TheNetline), Chumlee complained about living apart from Olivia: "Missing my wife, it's hard living apart," he reportedly wrote. "She is off preparing for our future, going to school at USCB, while I am in Las Vegas working and it's the little things I miss, like waking up next to her or hav[ing] dinner together. But knowing we get to spend the rest of our lives together ... is enough to make me happy."
Unfortunately, it looks like things may not have gone the way that Chumlee hoped, but we wish him and Olivia all the happiness moving forward.