Did Conor Mcgregor's Aunt Pass Away Because of Coronavirus?
The UFC's biggest star, Conor McGregor, wrote an emotional post about his family, his country, his aunt, and the coronavirus on Instagram.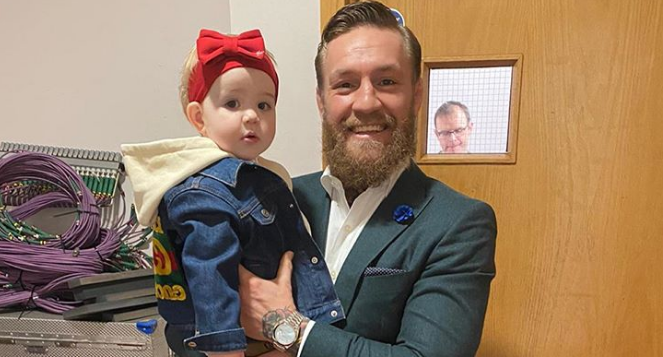 Conor McGregor is easily the world's biggest MMA star of all time. Even if you've never watched the sport, there's a good chance that you've heard the brash Irishman's name. Or rather, "formerly brash" Irishman is what we should call Conor, because ever since he lost to Khabib Nurmagomedov, he's come back a bit of a changed man.
This is something that's evident in his latest Instagram post, which is dedicated to his dearly departed aunt and fighting the coronavirus.
Article continues below advertisement
The incredibly emotional post might seem almost out of character to people who haven't been keeping up with the Dublin-born pugilist as of late. Emboldened by his early success inside the cage, his forays into other businesses outside the octagon have also proven to be just as fruitful. His Proper 12 Irish Whiskey flew off of shelves immediately and still continues to sell just about everywhere — a fact he's happy to promote on social media, along with his clothing line.
There was a time when Conor McGregor's Instagram feed was filled with callouts of other fighters and cocky posts of self-aggrandizement, but he seems to be more focused than ever on sharing his renewed passion for training, spending time with his family, and giving props and love to his community.
Even in his last fight with Donald Cerrone, Conor seemed a completely changed man. Gone was the cocky and demeaning fighter and in his stead was a same fierce competitor who showed nothing but respect.
Article continues below advertisement
His latest post on social media is easily one of the most emotional ones the star's ever put up. In it, he opens up about his home country, urging everyone to follow safe hygiene practices to help beat the spread of the coronavirus — and before we know it, we will have it squashed just in time to have an amazing summer.
He also shared how he first received the news of his aunt's death: Just as he was about to donate some money to 9/11 survivors on Proper 12 Whiskey's behalf.
Article continues below advertisement
In his initial post, it seems as if Conor was suggesting his aunt, Anne Moore, was killed by the virus. However, a follow up post revealed that she was tested and as it turns out, she didn't contract COVID-19 or any other strains related to the illness. He asked folks to continue to keep him and his family in their prayers as they plan her funeral.
Article continues below advertisement
Ireland has, thankfully, been doing a fairly good job of keeping the coronavirus contained. The country has had a reported 129 people contract the virus and only two deaths related to it. Both individuals suffered from underlying health conditions prior to contracting the coronavirus, specifically the COVID-19 strain.
Article continues below advertisement
Due to that fear, several containment protocols have been implemented around the world, including the United States suspending travel to a number of different overseas locations. Ireland and the greater UK have just been placed on that list.
Conor McGregor is also not the only MMA fighter to go on the record in urging people to defeat the coronavirus.
Article continues below advertisement
UFC Women's Strawweight Champion Weili Zhang, who hails from China, has openly shared best health practices and words of encouragement, advising people to band together and practice extra kindness during this trying time. Her post-fight victory speech against Joanna Jedrzejczyk was almost entirely dedicated to encouraging others to put their best foot forward in fighting the coronavirus.
The best way to prevent contracting or spreading coronavirus is with thorough hand washing and social distancing. If you feel you may be experiencing symptoms of coronavirus, which include persistent cough (usually dry), fever, shortness of breath, and fatigue, please call your doctor before going to get tested. For comprehensive resources and updates, visit the CDC website. If you are experiencing anxiety about the virus, seek out mental health support from your provider or visit NAMI.org.