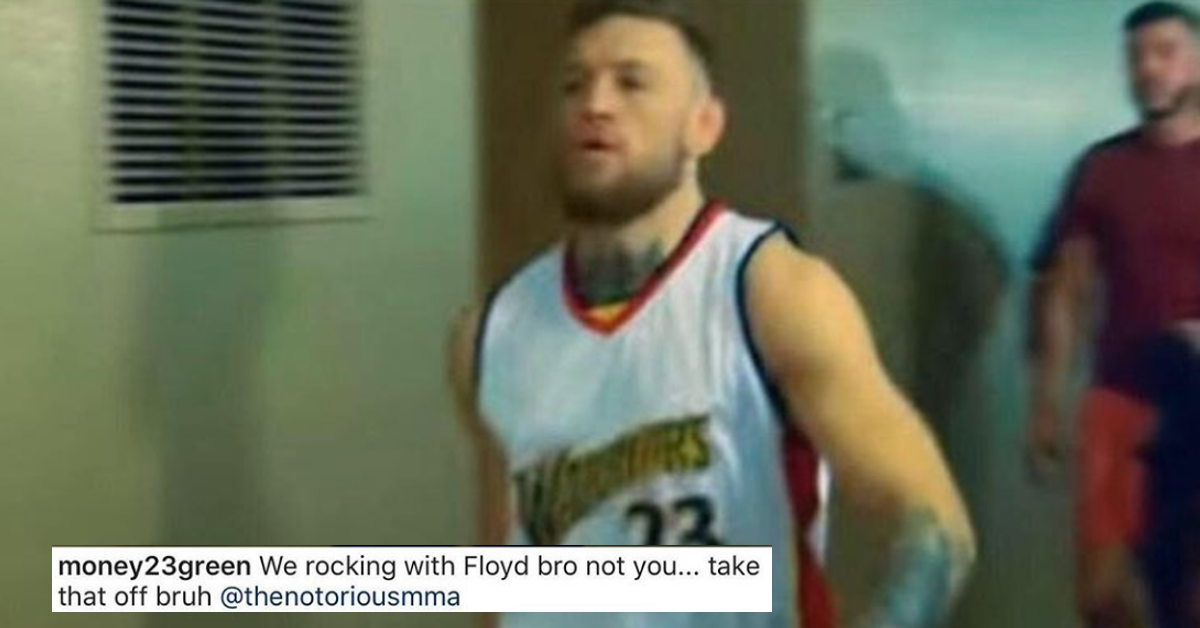 Draymond Green Started Beef With Conor McGregor for Wearing a Warriors Jersey
Conor McGregor has beef with lots of folks, even Draymond Green. Here's everything we know about how the bad blood between the two men started.
When it comes to getting their name in headlines, there are few fighters who do it better than Conor McGregor. The man was able to smack-talk his way into securing a bout against Floyd Mayweather despite never having a professional boxing match on record.
Article continues below advertisement
Sure, Conor was soundly beaten, but the fight was one of the biggest cumulative combat sports paydays ever. A little known fact, however, is that it also helped foment a beef between Conor McGregor and Draymond Green — and it all started with Conor's right against Mayweather.
Conor McGregor's "double champ" accomplishment laid the groundwork for his fight against Mayweather.
On Nov. 12, 2016 Conor McGregor defeated Eddie Alvarez to capture the lightweight title less than a year after knocking out Jose Aldo for the featherweight strap in spectacular fashion in the opening seconds of the first round. The image of Conor proudly holding two separate UFC championship belts above his head is something fight fans will probably never forget, no matter how they feel about McGregor's braggadocious personality.
Article continues below advertisement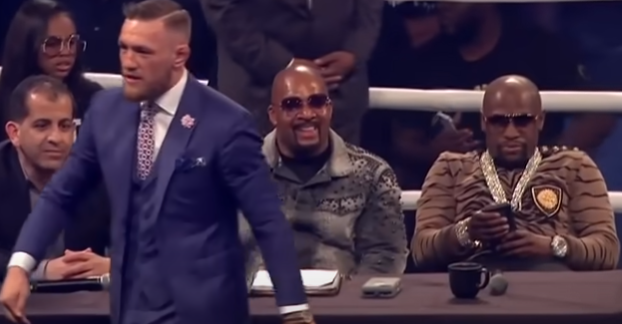 That same bombast continued after his huge win, and the Irishman began to talk smack to just about anyone and everyone. While he was always quick to offer his opinions on folks outside the UFC, including Floyd Mayweather, it was after this win that he really set his eyes on "Money."
Although Floyd's 10th round TKO of Conor, in retrospect, seems like a foregone conclusion given the athletes' respective disciplines, many forget Conor's ability to hype the bout.
Article continues below advertisement
The Irishman had seemingly convinced not only himself but tons of people all over the globe that he had a legitimate shot at being the first man to hand Floyd an "L" on his record. The press conferences looked like something straight out of the WWE with both combat stars delivering crushing verbal blows before even stepping foot in the ring.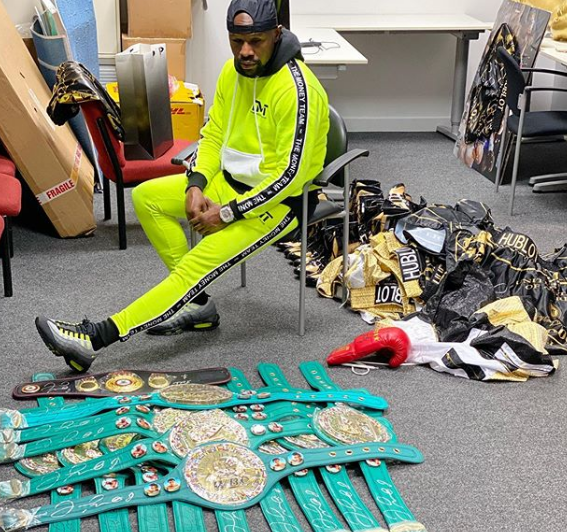 Article continues below advertisement
If you were watching the fight live, then you'd know there was a massive amount of tension leading up to the fight. Conor showed up massively bigger than Mayweather and appeared to be in the best shape of his life. Floyd pretty much always stays ripped, so seeing his trademark cut-up physique and generally calm walk-out was no surprise.
Again, I know everyone and their mother now looks back at the fight and says, "of COURSE Floyd won," but Conor had people convinced he could take the "W."
Renowned MMA striking coach Mark Henry, who trains Eddie Alvarez, even backed Conor McGregor to beat Floyd and gave an in-depth reason why:
"I think Conor too, man, you cannot teach someone to hit like that. It takes hips, it takes certain shoulders, it takes a flick of the wrists. There are so many tiny mechanics, like what it takes to make an eyeball work is like what it takes to make the perfect swing. Like Babe Ruth, I just compare Conor, his swing, to Babe Ruth."
Article continues below advertisement
He continued, "I always watch tape of it but to be that close is a whole other thing. It comes along once every generation or once every 100 years or whatnot. God has just blessed him with a swing that I will probably never see again. I think this dude could take out Mayweather."
Floyd, however, did his thing and proved why he was one of the best boxers to ever step foot inside the ring.
Article continues below advertisement
So how did UFC's highest-paid fighter, Conor McGregor, have beef with Draymond Green, of all athletes?
To understand the animosity between the Golden State Warriors power forward and Conor, is to understand the hype around the fight. It started when Conor donned a Warriors jersey and uploaded a picture of it on social media. Unbeknownst to many, it was a subtle jab against Floyd that many missed, including Draymond.
The multiple championship-winning basketball star commented on McGregor's Instagram: "We rocking with Floyd bro not you… take that off bruh @thenotoriousmma."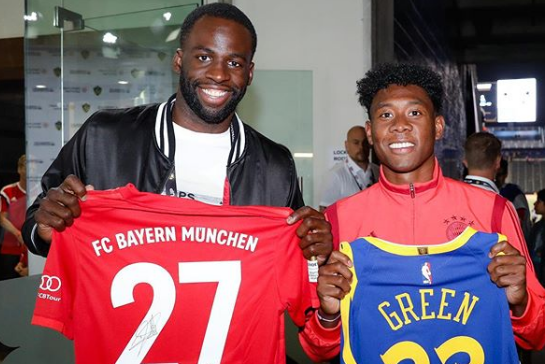 Article continues below advertisement
Draymond couldn't have taken the "bait" any better, as it gave Conor the chance to hype his fight even more with another high-profile athlete, while simultaneously explaining his roast of Mayweather: "That's C.J Watson mate. I don't know who the f--k you are. No disrespect tho kid, keep hustling and stay in school. Now ask yourself why I'm rocking C.J when I don't know or give a f--k about basketball. I dribble heads off the floor. Not a ball. This is no game here kid."
Article continues below advertisement
So why was Conor wearing a vintage Warriors jersey with C.J. Watson's name on it? Well, Floyd has a history of domestic abuse charges, one that even saw him serving two months in prison in 2012. Josie Harris, the fighter's former partner said she awoke in the middle of the night to Floyd grabbing her hair and screaming after he read texts between her and Watson. Harris had reportedly called C.J. her "summer love" in a draft of her book.
Draymond ultimately responded to Conor's rejoinder by referencing the fact Conor lost to Nate Diaz, "Hahaha that number won't be worn again when I am finished with it clown! Gold medalist, NBA Champ, all-star, DPOY, etc!!! Hahaha stop it boy! Nate Diaz (Bay Area stand up) whooped you in your ring! Take that Warrior jersey off bruh you're an incredible internet troll. We don't rock with you! Go train bum!!"