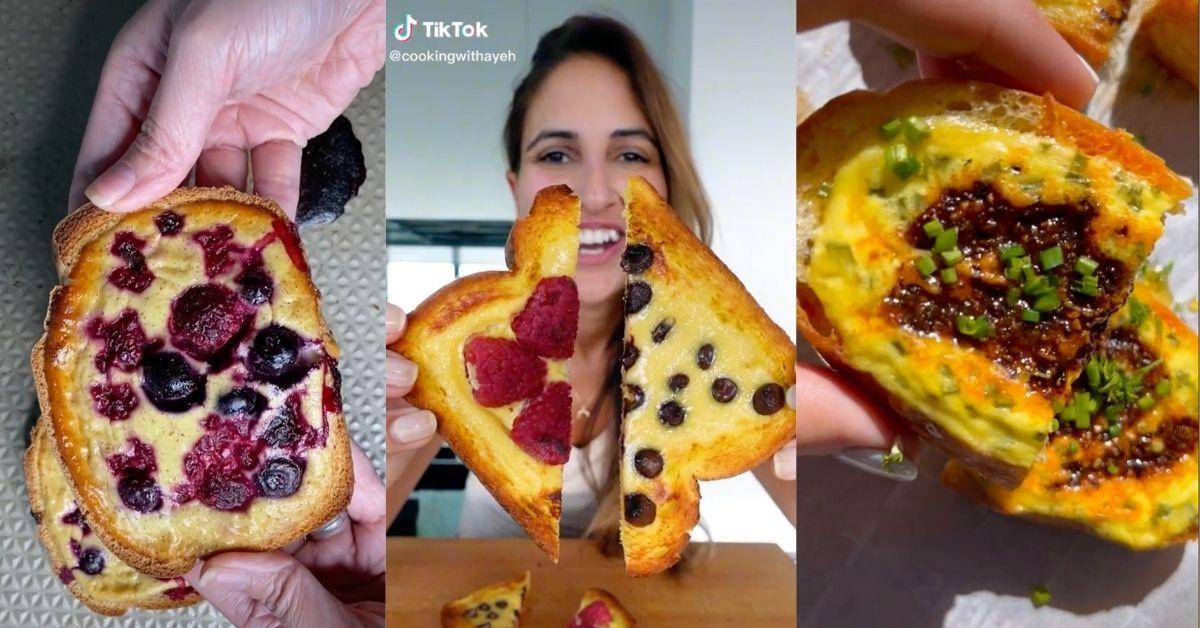 TikTok's Custard Toast Is the Morning Treat You Didn't Know You Needed
Custard toast (also referred to as yogurt toast) has landed on TikTok. These creators will show you how to prepare the simple and fun breakfast dish.
There's no shortage of unique food trends on TikTok. Remember dalgona coffee? Or tomato feta pasta? The platform is rife with simple, low-cost ways to up the ante on some of your favorite everyday snacks and recipes.
If you're looking for ways to jazz up your daily toast, then you're in luck. Custard toast (also referred to as yogurt toast) has landed on TikTok and it's sure to sweeten up your morning. Keep scrolling to learn all about TikTok's newest yummy craze.
Article continues below advertisement
TikTok creator @cookingwithayeh tops her custard toast with chocolate chips or berries.
Food blogger Ayeh Manfre, whose handle is @cookingwithayeh, was one of the first people to hop on this new TikTok trend. "It's like dessert but for brekky, but healthy", she said in the beginning of her video, which is currently the top-liked post for "custard toast" on the platform.
To kick things off, she cracked an egg into a bowl and began mixing it with a few spoonfuls of Greek yogurt and a dash of maple syrup. This sweet spread, which she mixed until thick, is what TikTok users have been referring to as the custard part of the toast.
Next, she began to prep the bread. But get this? Ayeh never actually toasted the bread. Instead, she took two soft pieces of bread right from the bag and started pressing her fingers into each slice to create a little well or indentation. Then she started to pour the custard into these designated spaces and followed up with toppings. She sprinkled chocolate chips on one slice and raspberries on the other. Last but not least, she placed her bread pieces in an air fryer and baked "until golden." (She noted that the bread could also be baked in a regular oven.)
Article continues below advertisement
Users took to the comments to pick her brain about this radical breakfast idea. "Does it actually taste like custard," one user probed. Ayeh replied: "Yes! I was worried it would taste 'eggy,' but it doesn't at all."
In another comment, she also noted that "any soft bread will be fine" to use as the custard's base. For those who may not have maple syrup on hand, she suggested honey as an alternative.
TikTok creator @myhealthydish makes custard toast that calls for cinnamon and agave.
The more you scroll through TikTok, the more you'll find that there are different variations of this toast — particularly when it comes to how the dish is made. Most recipes seem to call for an egg yolk to be mixed with Greek yogurt. However, creator @myhealthydish doesn't opt for maple syrup as Ayeh does. Instead, she has agave and cinnamon on her ingredients list.
Before baking, she also used frozen berries as toppings. Then, she added some extra agave before digging in.
Article continues below advertisement
TikTok creator @foodmymuse puts a savory and cheesy spin on custard toast.
However, if you're not much of a sweets person, you may want to try creator @foodmymuse's "savory" custard toast. Her custard recipe calls for 1/3 cup of Greek yogurt, one large egg, two tablespoons of chives (plus more for toppings!), one teaspoon of seasoned salt, a handful of Oaxaca cheese. For bread, she recommends two slices of ciabatta.
Unlike some creators who only bake the bread once, she slightly toasts each piece before forming the indent for the custard. She also sprinkles some more Oaxaca cheese into the bread's well and uses salsa macha as a topping. Then she bakes the bread a final time until toasty and finishes it off with a drizzle of honey and some additional chives.