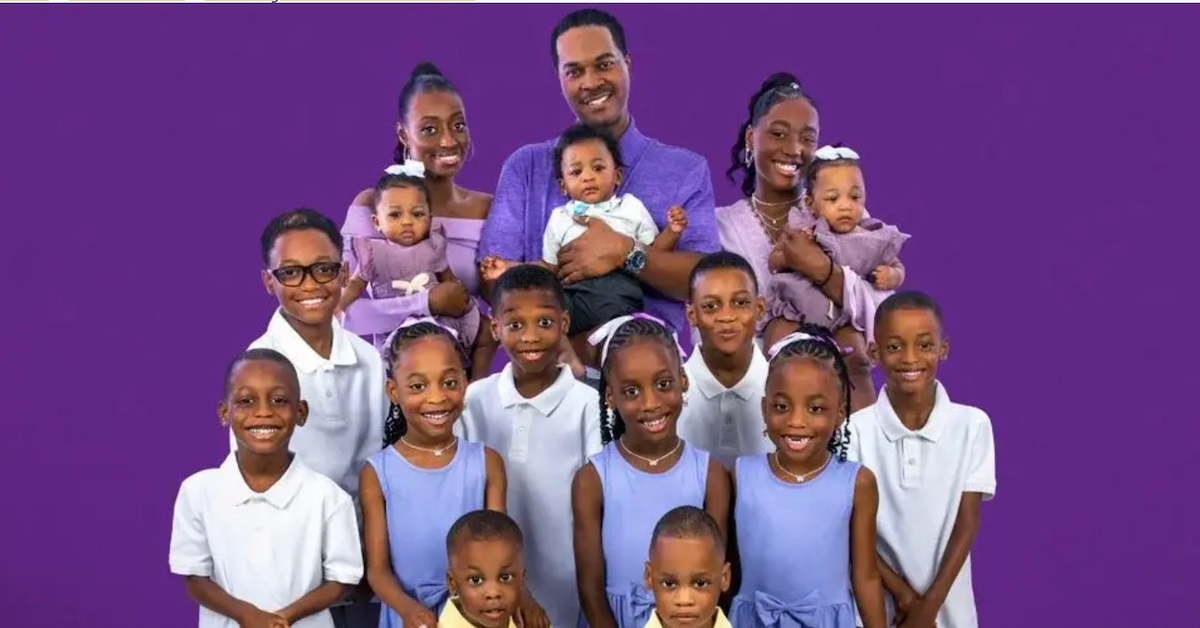 What Are the Ages of the Derrico Family Kids? Deon and Karen Have 14 Children
There are a lot of children growing up in the Derrico household. Deon, 50, and Karen, 41, are the parents of 14 kids, and their reality show is giving viewers insight into what life is like for the family behind closed doors.
Article continues below advertisement
Doubling Down With the Derricos is TLC's latest hit show about a large-sized family with a lot of personalities.
Here's a breakdown of Deon and Karen's kids' ages on the show.
Article continues below advertisement
What are the ages of the Derrico family kids?
Deon and Karen Derrico's oldest child is named Darian. She's 15 years old and already achieving social media popularity with 15,100 followers on Instagram. She seems to enjoy posting selfies, pics of her pup, and promotional shots for her family's reality show. Next in line is Karen and Deon's 10-year-old son, Derrick. He also has an Instagram page that states it's being "managed by parents" in the bio.
Karen and Deon also have 9-year-old twins Dallas and Denver. In one of the episodes of the show, according to Meaww, Karen revealed she considers Dallas and Denver to be her "troublemakers." Karen mentioned they're the kids in her family that she must do her best to always keep an eye on.
Article continues below advertisement
Then, come Karen and Deon's quintuplets: Deonee, Daician, Daiten, Deniko, and Dariz. These kids are all 7 years old. Diez and Dior are both 4 years old and were born as a set of triplets with another sibling, named Carter. Sadly, Carter passed away shortly after being born.
Article continues below advertisement
Since Diez was dealing with a lot of serious health issues throughout the first season of Doubling Down With the Derricos, he became a huge focus on the show. He's had to have major corrective surgery on his skull, which has been quite concerning for Karen and Deon. Last but not least, Karen and Deon have another set of triplets born in 2019: Dawsyn, De'Aren, and Dyver. These youngest kids in the family are each 2 years old.
Article continues below advertisement
Are Karen and Deon planning to have more kids?
Having 14 kids might not be enough for Karen and Deon. At the beginning of Season 2, Karen found out she was pregnant before revealing she had a miscarriage. Knowing that she's comfortable getting pregnant again means there's a high possibility there will be more kids on the way in the future.
Karen told Shadow and Act, "We said from Day 1 that we wanted as many children as God would bless us to have. I admire the women out there who said, 'Oh I know it was only two for me … I know it was only five for me,' I admire you because you know your numbers. But for me and him, we don't have a magic number."
Article continues below advertisement
She continued, "How can you put an end date on something that you're passionate about? Something that you love? I love being pregnant. I love the fact of carrying our baby and I love how God uses me as that vessel carrying a gift."
It sounds like there might be an announcement from the family about another pregnancy down the line!