Snooki Talks 'Jersey Shore' Roommates' Angelina and Vinny's "Freaking Weird" Relationship (EXCLUSIVE)
Did Angelina Pivarnick and Vinny Guadagnino ever date? The 'Jersey Shore' costars have quite the history — find out about their past relationship.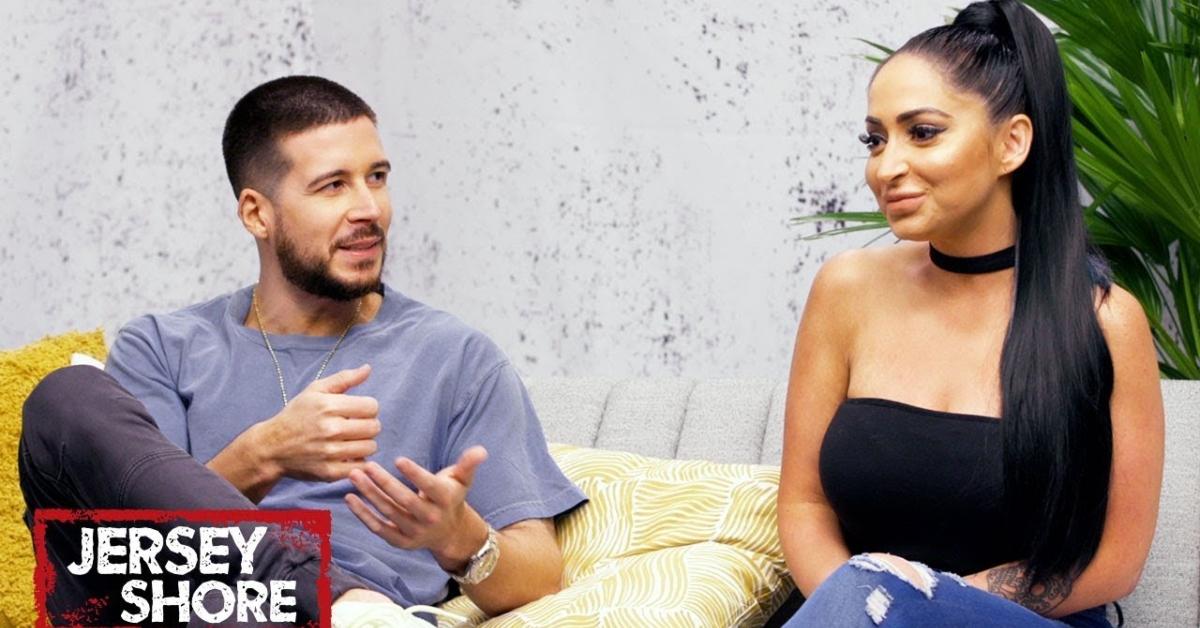 Yeah, buddy ... Our favorite guidos and guidettes are back for Season 5 of Jersey Shore: Family Vacation — but instead of focusing on what club they are going to party at and how they are going to wake up for work at Danny Merk's Shore Store, the majority of the former roommates have settled down, gotten married, and had kids since their summer days at Seaside beach.
Article continues below advertisement
While we can still spot a fist pump (or two), the series heavily focuses on the cast members' everyday lives. In Season 4, Staten Island native Angelina Pivarnick filed for divorce from her husband Chris Larangeira. Though they tried to work things out, the two officially divorced in the spring of 2022.
As cameras rolled on the end of Angelina's marriage, her longtime co-star, Vinny Guadagnino, tweeted, "Don't worry Angelina if it doesn't work out, you always have me #JSFamilyVacation."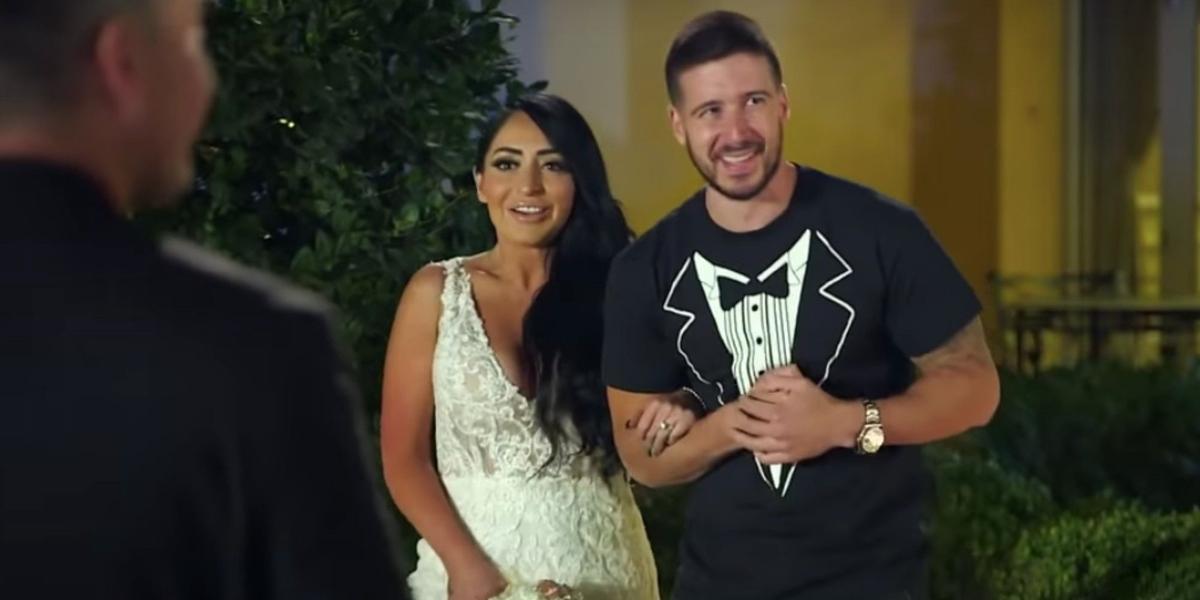 Article continues below advertisement
In the years since the iconic reality series debuted, Angelina and Vinny have had quite the "friendship." Are the two the next great enemies-to-lovers pair, or are they just playing it up for the cameras? Their costar, Nicole "Snooki" Polizzi, who partnered with Cheez-It to celebrate the 30th anniversary of reality TV, weighed in.
Did 'Jersey Shore' stars Vinny Guadagnino and Angelina Pivarnick ever date?
If you're a longtime Jersey Shore fan, you know that Vinny and Angelina have a love-hate relationship. Throughout their longstanding friendship, they've hurled insults and condiments at one another, and Angelina has even rubbed oil all over Vinny's body.
With what the other castmates have referred to as "sexual tension," it's hard not to wonder if these MTV co-stars were ever a thing.
Article continues below advertisement
According to Vinny and Angelina, they never dated but they did hook up one time. Also, the phrase "obsessed with me" is heavily used when referring to the other.
Before Angelina was married, it was a long-standing joke about the two potentially ending up together.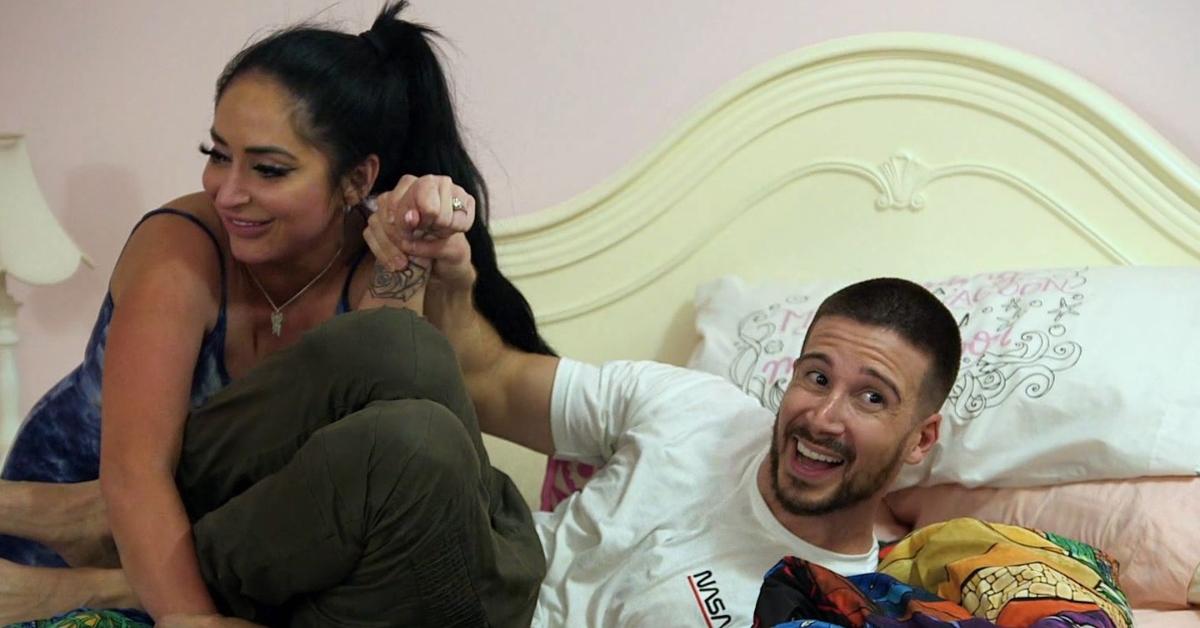 Article continues below advertisement
"You wish I was marrying you," Angelina tells Vinny in one episode. In another episode, Vinny tells Angelina that he used to look at her back in the day and think she was such a "cool girl."
While we're sure many fans would love to see the two Staten Island archenemies end up together, they seem to just be friends.
Snooki says the 'Jersey Shore' roommates want to see Angelina and Vinny get together: "We're trying."
Since Angelina's marriage to Chris Larangeira hit the rocks in Season 4 (her divorce was finalized in May of 2022), fans have renewed their hopes that the EMT would rekindle her spark with Vinny.
During an exclusive chat with Distractify to promote her partnership with Cheez-It, Snooki said that the rest of the Jersey Shore cast members are also rooting for the two to hook up.
Article continues below advertisement
"I mean, as roomies we definitely try and push them and peer pressure them to hook up and like be together because we just think it's crazy," she said about #Vingelina. "Like one minute they're fighting. The next minute, they're flirting, and then another minute, they're talking about politics, like adults. So it's freaking weird the relationship, but we love to see it. And I feel like the fans want to see it. So we're trying. Oh, who knows?"
Will Angelina and Vinny listen to fans and to their roommates, or are they destined to be frenemies for life?
You'll have to keep tuning in to Jersey Shore: Family Vacation on Thursdays at 8 p.m. EST on MTV to find out.