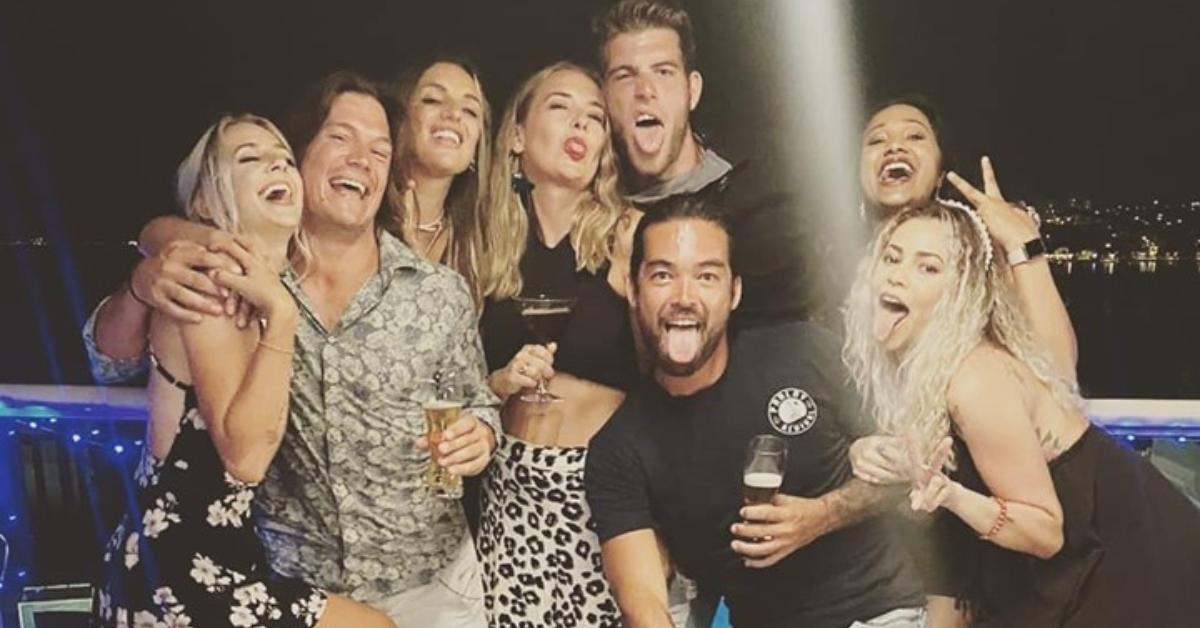 So, Did the Crew on 'Below Deck Sailing Yacht' Get COVID-19?
We're just a few episodes into Season 2 of Below Deck Sailing Yacht and there already seems to be a lot of tension on the boat. Not only is there some tricky drama involving romance between certain crew members, but there also might be a COVID-19 case within their enclosed parameters.
In Episode 3 of the Bravo show, it was revealed that one of their guests had gotten sick while aboard the luxury yacht and a symptom they had was similar to those of the novel coronavirus.
Article continues below advertisement
Viewers are left with the cliffhanger and are made to wait until the fourth episode to find out if one of their guests got infected with the deathly virus. Did the Sailing Yacht crew catch COVID-19 themselves.
Did the 'Below Deck Sailing Yacht' crew get COVID-19?
There hasn't been any confirmation whether or not the sickly-feeling guest on the boat had COVID-19. The charter guest had a fever of 101 degrees Fahrenheit and wasn't only exposed to another guest but rather the whole watercraft. This all became a worry when a guest named Hannah approached Daisy, the chief steward of the boat, saying that her partner wasn't feeling well and had woken up with a high temperature.
Daisy quickly told Captain Glenn, who then called their medical officer.
Article continues below advertisement
Their medical officer said they would send a doctor over to check on the guest and that everyone onboard would have to get tested and isolate in their cabins. This situation halted all traveling. Everyone on the boat ended up being brought to dock, where they each had to quarantine in hotel rooms until they received negative COVID-19 test results.
Article continues below advertisement
The show was filmed in August of 2020, so there is a chance that the guest who felt ill and had COVID-19 symptoms had the virus. At this time, it was still very much spreading around the world and there was no vaccine available. Though if you think about it, there's no way the show would've gone on if a person had tested positive. More than likely, the show would've paused all filming or even canceled the whole season because of the severity of the matter.
There was never an announcement made that the show had to stop due to someone falling ill of COVID-19, so we can probably assume that the guest did not have the virus. But during their time at the hotel, while they're all waiting for results, they take advantage of their time off and spend some time together — which leads to some tea between Alli and Gary.
Article continues below advertisement
Alli Dore says their boat was a "floating bubble" amidst the COVID-19 global pandemic.
The third steward of the boat, Alli Dore, spoke on an episode of the podcast Unpopular with Jacques Peterson and talked about what the experience was like filming a reality television series during a pandemic. "This was our floating bubble," Alli told Jacques. "You are working with your crew all day long and then your downtime is with your crew. At least when you get to get off the boat, you can sort of mix with other human beings."
And because of the very strict quarantine rules, they weren't able to explore Croatia (where they were traveling around) like they would've ideally liked. "We very rarely do even get to get off the boat. When we do, we're isolated in our little bubble. We had very strict protocols for COVID safety that we had to follow."
You can watch Below Deck Sailing Yacht on Bravo on Mondays at 9 p.m. ET.