Did Britney Spears Elope? The Pop Star Has Already Had Two Spontaneous Wedding Ceremonies
Britney Spears and Sam Asghari set off rumors that they eloped on vacation after Britney referred to him as her husband.
Despite the fact that Britney Spears is now a free woman, we still have so many questions about her life. Like how often does she see her two sons, Sean and Preston? And while we know she's writing a book, does she plan on releasing new music anytime soon?
We also have some questions about her relationship with Sam Asghari. The two are currently engaged, but a recent Instagram post has us wondering if they quietly took the next steps during a romantic couple's retreat.
Article continues below advertisement
So, did Britney marry Sam in secret? After years of having little to no control over her life, as well as being surrounded by disingenuous people without her best interest at heart, we wouldn't blame the pop queen for skipping all the wedding planning (she has never publicly spoken about a ceremony, dress, or anything wedding-related whatsoever) and just getting hitched on vacation. Plus, as you may recall, Britney's first two marriages were also a bit of a surprise. Let's discuss!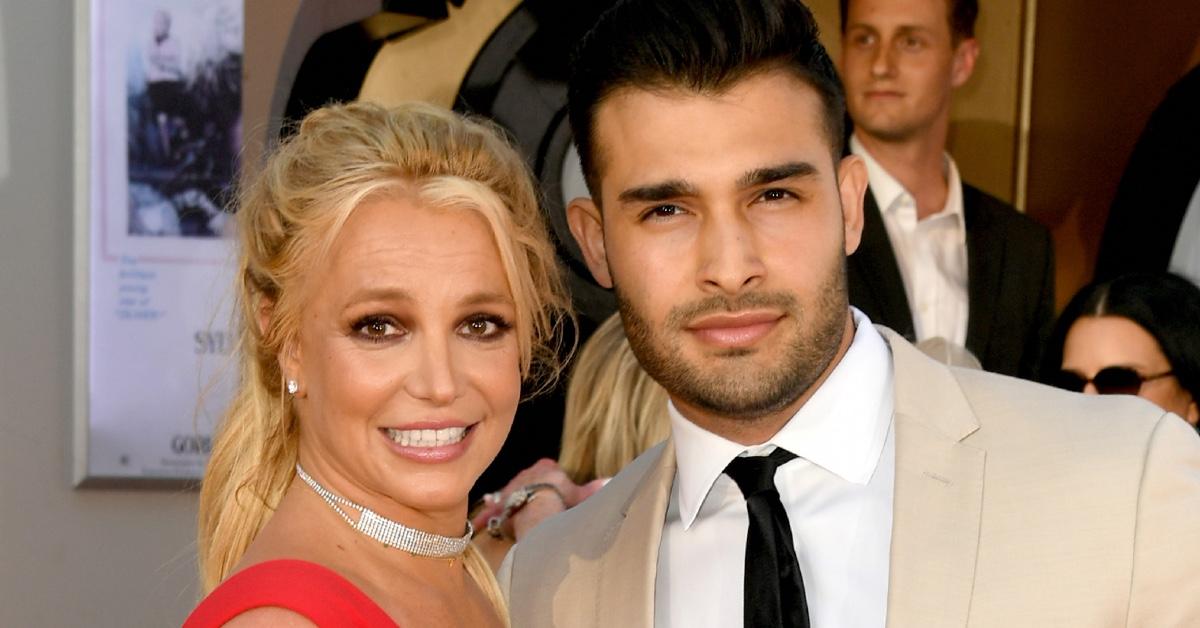 Article continues below advertisement
Britney Spears and Sam Asghari take a romantic vacation.
In late February 2022 and leading into the early days of March, Britney and Sam took a romantic getaway to celebrate his birthday. While we're not sure where they traveled to exactly (Britney deserves all the privacy), we do know that it was somewhere warm, sunny, and tropical. During their trip, she shared several nude photos of herself on the beach.
On March 3, she also shared a sweet photo of her and Sam on the beach at dusk to celebrate his big day. "Happy Birthday to my Fiancé … I love you so much … I want a family with you … I want it all with you," she wrote in the caption.
Article continues below advertisement
Later, Britney took to Instagram again to share another cute vacation moment. This is where fans started to get suspicious.
Article continues below advertisement
Britney calls Sam her "husband" on Instagram.
Britney shared a second Instagram post on March 3. The post was a video of baby turtles leaving their hatch. "My husband @samasghari sent me this," she wrote in the first line of her caption.
She then proceeded to give followers a mini-lesson in marine biology by dropping some sea turtle statistics. "100 baby turtles leave the hatch, but only 20 make it to reefs because most get eaten by sharks," she wrote, adding that of those 20 turtles, only one would survive and reproduce.
Article continues below advertisement
While that number is pretty shocking, fans were more concerned about why the crooner was referring to Sam as her husband.
"Did someone say husband?" one user wrote in the comments. "She said husband, not fiancé," another confirmed. A third wrote: "This is Britney telling us she is married."
Confused followers continued to sound off in the comment section about Sam's new title. Twitter also began discussing the post — with many users speculating that the couple eloped on the beach.
Article continues below advertisement
But this isn't the first time that fans thought that the couple may have wedded in privacy. On Feb. 14, Sam penned a sweet Valentine's Day post for Britney where he used the phrase "Happy wife, happy life." While he could have just been using it figuratively, his choice of words did raise some brows.
Furthermore, one month after their September 2021 engagement, Britney had referred to Sam as her boyfriend in a post, rather than her fiancé, which also perplexed fans.
Article continues below advertisement
Britney Spears has eloped in the past.
Britney definitely doesn't have a problem with ditching the traditional ceremony for something short and sweet. In January 2004, she was briefly married to childhood friend Jason Alexander after a booze-filled weekend in Las Vegas. Just 55 hours after they exchanged vows; however, she had their union annulled, per Rolling Stone.
Article continues below advertisement
Furthermore, on Sept. 18 2004, she married Kevin Federline in a secret ceremony at her wedding planner's house. Only 27 guests were in attendance, according to Mirror. While they had planned an official ceremony at a luxury resort in Santa Barbara the following month, the details had been leaked to the paparazzi, which resulted in this surprise ceremony.
So, is Britney Spears currently married?