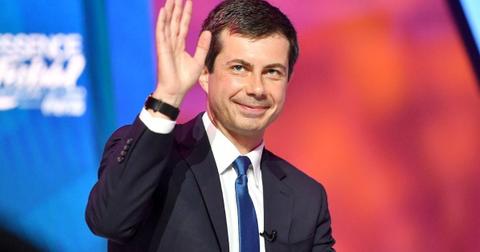 Did Pete Buttigieg Resign as Mayor? Not Exactly
By Devan McGuinness

Updated
The year 2020 was an interesting one for Pete Buttigieg. He made history as the first openly gay man to launch a campaign for president and actually have a shot at it. He broke down barriers with his run being the first gay candidate to become a primary delegate on a major party for a presidential nomination.
During his run, it was the first time many had heard his name, but he wasn't new to politics. He'd served as mayor for South Bend, Ind. for several years, but did Pete Buttigieg resign as mayor after not winning the Democratic nomination?
Pete Buttigieg was the mayor of South Bend, Ind. for eight years.
Buttigieg is used to breaking records and becoming the first to do anything, which was evident when he was elected as mayor of South Bend, Ind. in 2011. At the time, he was only 29-years-old and with that, he was named the youngest mayor of a United States population that had at least 100,000 people, according to ABC News. He served for four years and in 2014, Buttigieg announced that he would seek another term in the 2015 election.
Buttigieg took a seven-month leave during his mayoral term to deploy to Afghanistan with the military where he was a member of a unit assigned to identify and disrupt terrorist finance networks. Thankfully for him, this leave didn't impact his re-election plans, and he came back to the United States and launched his campaign for a second term of mayor of South Bend.
In 2015, Buttigieg won the Democratic primary for the mayoral office with a huge win over Henry Davis Jr., who was the city councilman from the Second District. He went on to win the election in November 2015, winning with over 80 percent of the vote, beating Kelly Jones, the Republican nominee.
He was starting to get some attention at that time, with The Washington Post calling him, "the most interesting mayor you've never heard of" because of his military background, his education, and his age.
And on Jan. 23, 2019, Buttigieg announced his intentions to form an exploratory committee so he could run for president of the United States in the 2020 election.
Did Pete Buttigieg resign as mayor when he announced he was running for president?
In the year before Buttigieg announced that he would be running for the Democratic nomination for the United States presidency, he announced that he was not going to run for a third term as mayor for South Bend. So, he didn't resign as mayor as he completed out his second term, and he didn't lose his seat either. Instead, in February 2019, he endorsed James Mueller for the mayoral election.
Mueller's campaign promised to the people of South Bend that they would continue along the same progress that Buttigieg did, which is likely why Mueller ultimately won the election, beating out Republican nominee Sean M. Haas with 63 percent of the vote.
Mueller took office on New Year's Day 2020, and Buttigieg then focused his time and energy on his run for president of the United Stats. As we know, he wasn't successful in winning the nomination for Democratic nominee, but he's still working with the party to help bring forward Joe Biden as the one to win the upcoming election.