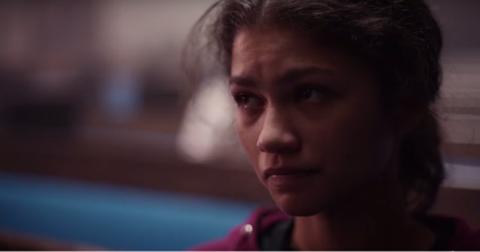 The 'Euphoria' Season 1 Finale Is Giving Us All Kinds of Feelings (SPOILERS)
By Rebecca Macatee
Warning: Spoilers ahead for Euphoria's Season 1 finale!
HBO's Euphoria has kept us on our toes throughout its entire first season, but the August 4 finale "And Salt the Earth Behind You" left us all sorts of shaken up. At the end of the dramatic episode, Rue Bennett (played by Zendaya) relapses and succumbs to her addiction once again.
It was tough to tell, though, what exactly went down in those final scenes. Did Rue die on Euphoria? Was her overdose fatal? Here's what you need to know.
Did Rue die on Euphoria?
Zendaya's character, Rue, definitely relapsed during the Euphoria finale, but audiences didn't really see the aftermath. Fans were frantic that the final scenes depicted the end of Rue's life, but they didn't definitively show her fate one way or another.
"They really left so many things unanswered," tweeted @kitkatsthunder. "is fez [Angus Cloud] gonna die? is rue gonna die? where did jules [Hunter Schafer] go? this show is gonna be the end of me."