Ron DeSantis Sure Is Telling Some Tall Tales With His Shoes — Is He Wearing Heels?
Eagle-eyed social media users have noticed that Ron DeSantis might be lying about one more thing. Is he wearing heels? Let's walk and talk about it.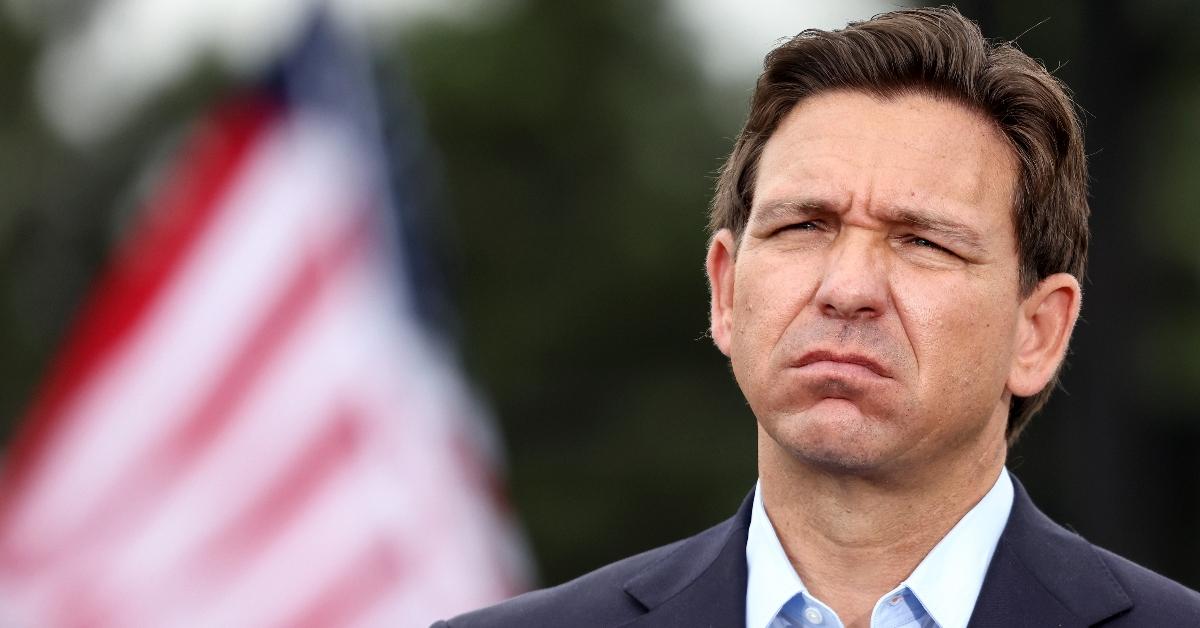 The Gist:
Ron DeSantis's footwear has been a topic of conversation.
People on social media have definitely spotted a pair of heels on DeSantis.
Turns out men wearing heels is gender-affirming care.
Article continues below advertisement
As governor of the often-maligned state of Florida, Ron DeSantis has been quite the busy little bee since taking office in January 2019. He has signed bills into law that ban abortion after six weeks, prohibit the word gay from being used in classrooms of children through third grade, prevent pronouns from being used in schools, and removed state and federal funding for diversity programs. Don't worry, this is just the horrifying tip of the hate iceberg.
When he's not carving Florida into one of the most conservative states in the union, DeSantis is running for president so he can bring his bigotry and prejudice to the entire country. No thanks, we're good! I'm not a fan of ridiculing a person's physical appearance, especially when there are so many other things to condemn, but fashion choices are a free-for-all. Eagle-eyed folks on social media have noticed DeSantis's odd footwear while on the campaign trail. Is he wearing heels?
Article continues below advertisement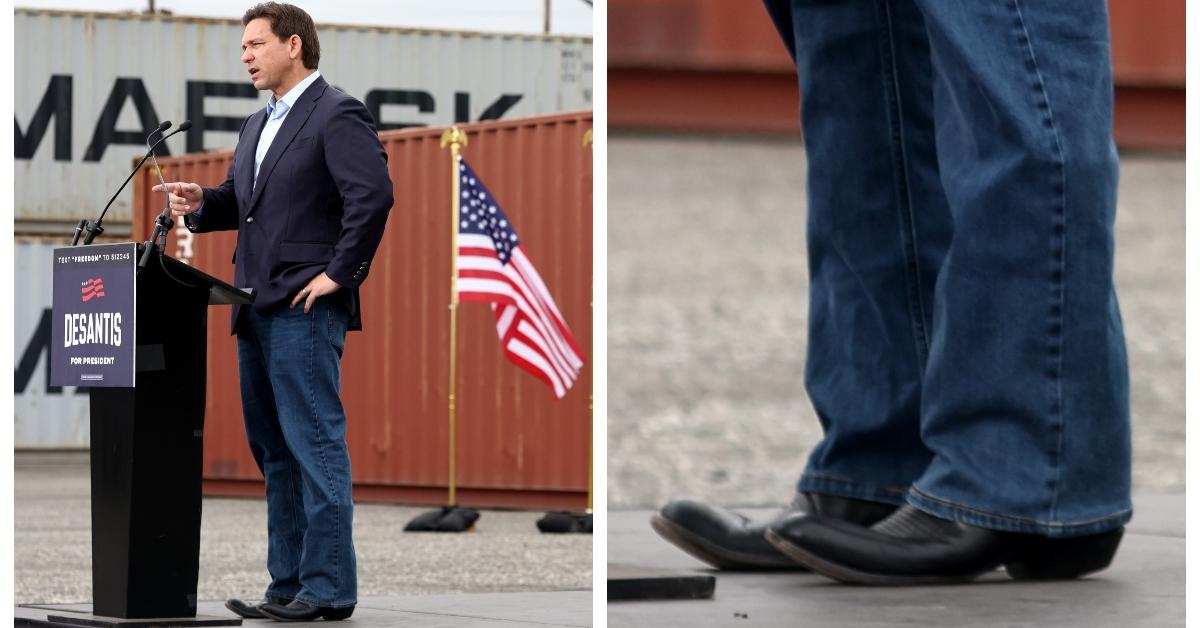 Does Ron DeSantis wearing heels? Sure looks like it.
On Oct. 5, 2023, Anthony Oliveira retweeted a photo of Ron DeSantis while he was in Tampa drumming up endorsements from Florida sheriffs.
According to Anthony's website, Anthony is "a three-time National Magazine and two-time GLAAD award-winning author, film programmer, pop culture critic, and PhD living in Toronto." He is also a shrewd observer of footwear. In other words, Anthony is boot astute.
Article continues below advertisement
In the picture, a red-faced DeSantis is sandwiched between a plastic podium and various members of law enforcement, but that's not what caught Anthony's eye. He zoomed in on DeSantis's shoes, and broke down what was going on with them physically. It's quite telling.
"Some of you are confused about the foot situation but the short guy code does not apply to Nazis," he said referring to what is clearly a pair of boots. "This man is wearing the cheapest secret heels on the market and the front is curling because he's gone too ambitious and the whole front is empty." It's as if the tip of DeSantis's boots are folding into themselves, such is the strength of their cringe.
Article continues below advertisement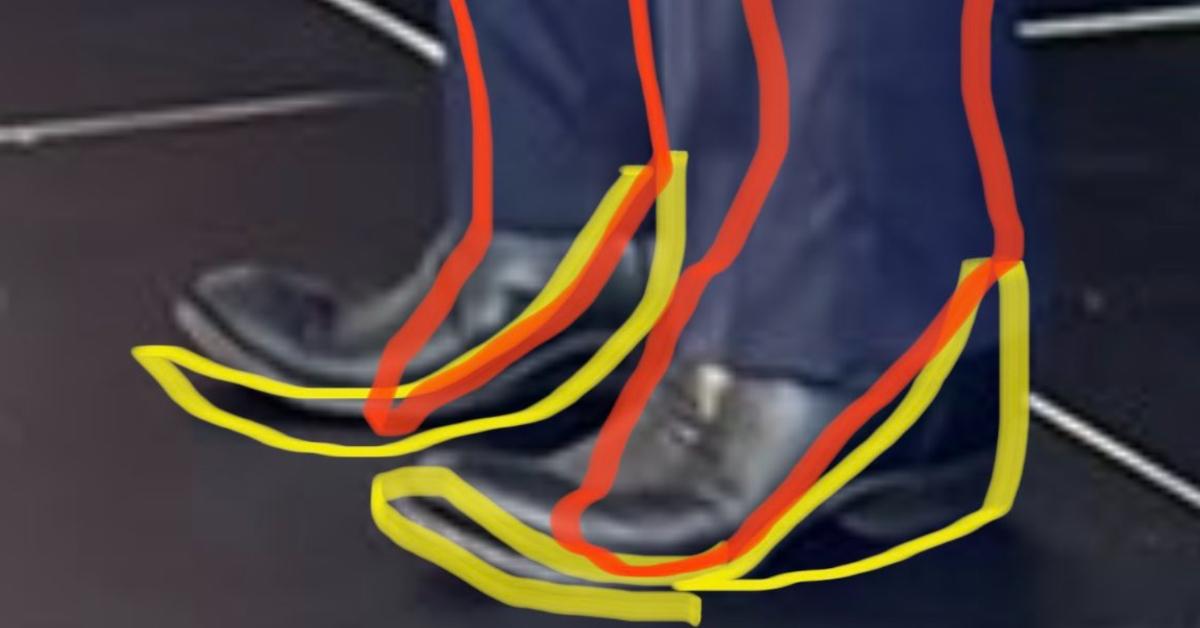 DeSantis is undoubtedly trying to make himself look taller because with great height, comes the perceived sense of power. Just ask any dating app bio; height matters. Scientifically this may also be true as the National Library of Medicine reported that "across cultures, taller stature is linked to increased social status." The theory behind this is being tall is associated with better health and greater strength.
Article continues below advertisement
Some folks referred to DeSantis's heels as gender-affirming care.
A couple of people replied to Anthony's tweet and said DeSantis's heels were gender-affirming care, and they are not far from the truth. Nowadays we tend to equate heels with women but they were "first invented in Persia in the 10th century, and they were originally designed for men," per Fast Company.

Article continues below advertisement
Valerie Steel, director of The Museum at the Fashion Institute of Technology, told the outlet, "Wealthy men wore them to give them additional height, and when they rode on horseback, the heels clicked into the stirrups." Soon, this trend spread all over Europe and the 17th century was looking a bit bigger.
When women began wearing heels in order to gain status of their own, it didn't take long for men to sexualize them. Evidently "heels began to be associated with female eroticism," said Valerie. Once this occurred, men opted for a flat boot to distinguish themselves from women. Fast-forward to today, where Ron DeSantis is bringing the heel's original intention back: an ego and height boost.